CBS ALL ACCESS' LATEST ORIGINAL SERIES, "ONE DOLLAR," TO PREMIERE ON THURSDAY, AUGUST 30
"One Dollar" Official Key Art Revealed and Now Available for Download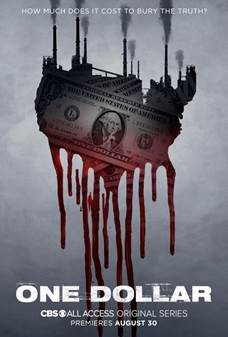 July 2, 2018 - CBS All Access announced today its latest original series, ONE DOLLAR, will premiere on Thursday, August 30. New episodes of ONE DOLLAR's 10-episode first season will be available on demand weekly on Thursdays exclusively for CBS All Access subscribers. The newly revealed official key art for ONE DOLLAR can be downloaded here.
ONE DOLLAR is a mystery set in a small rust belt town in post-recession America, where a one-dollar bill changing hands connects a group of characters involved in a shocking multiple murder. The path of the dollar bill and point of view in each episode paint a picture of a modern American town with deep class and cultural divides that spill out into the open as the town's secrets get revealed.
The cast of ONE DOLLAR includes John Carroll Lynch, Nathaniel Martello-White, Chris Denham, Philip Ettinger, Kirrilee Berger, Gracie Lawrence, Joshua Bitton, Níkẹ Uche Kadri and Hamilton Clancy. Greg Germann, Sturgill Simpson, Aleksa Palladino with Jeff Perry and Leslie Odom Jr., round out the cast with recurring roles.
ONE DOLLAR is produced by CBS Television Studios in association with Anonymous Content. Craig Zobel ("Compliance," "The Leftovers"), Matt DeRoss, Alexandre Dauman and Jason Mosberg serve as executive producers, and Zobel will direct all episodes.
CBS All Access' growing slate of original series currently includes STAR TREK: DISCOVERY, THE GOOD FIGHT, NO ACTIVITY and STRANGE ANGEL, with new episodes streaming Thursdays. CBS All Access' original series library will continue to expand with THE TWILIGHT ZONE, TELL ME A STORY and additional programming to be announced.
About CBS All Access
CBS All Access is CBS' digital subscription video on-demand and live streaming service. In addition to its original series, which includes STAR TREK: DISCOVERY, THE GOOD FIGHT, STRANGE ANGEL and NO ACTIVITY, CBS All Access gives CBS fans the ability to watch more than 10,000 episodes on demand - spanning current shows from primetime, daytime and late night, as well as past seasons of select series and classic TV hits - and stream their local CBS station live. CBS All Access is currently available online at CBS.com, on mobile devices via the CBS App for iOS, Android and Windows 10, and on Roku Players, Apple TV, Chromecast, Android TV, Xbox One, PlayStation 4, Fire TV, Samsung Smart TVs and Amazon Channels. For more details on CBS All Access, please visit: https://www.cbs.com/all-access/.