[10/04/18 - 04:36 PM]
Production on "The Mandalorian," Star Wars' First Live-Action Series, Has Begun!
The series will be written and executive produced by Emmy-nominated producer and actor Jon Favreau, as previously announced, with Dave Filoni directing the first episode.
---
[via press release from Lucasfilm]
THE MANDALORIAN FIRST IMAGE, DIRECTORS REVEALED
DETAILS EMERGE FOR LUCASFILM'S LIVE-ACTION SERIES HELMED BY JON FAVREAU.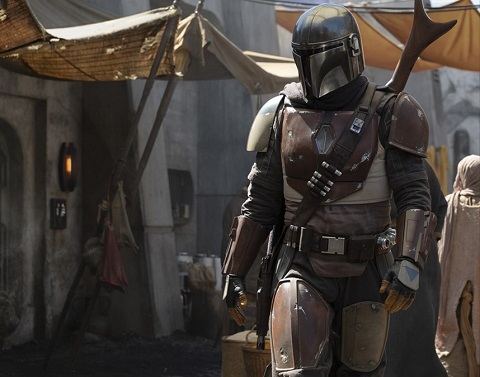 Production on the first Star Wars live-action streaming series has begun! After the stories of Jango and Boba Fett, another warrior emerges in the Star Wars universe. The Mandalorian is set after the fall of the Empire and before the emergence of the First Order. We follow the travails of a lone gunfighter in the outer reaches of the galaxy far from the authority of the New Republic. The series will be written and executive produced by Emmy-nominated producer and actor Jon Favreau, as previously announced, with Dave Filoni (Star Wars: The Clone Wars, Star Wars Rebels) directing the first episode. Additional episodic directors include Deborah Chow (Jessica Jones), Rick Famuyiwa (Dope), Bryce Dallas Howard (Solemates), and Taika Waititi (Thor: Ragnarok). It will be executive produced by Jon Favreau, Dave Filoni, Kathleen Kennedy, and Colin Wilson. Karen Gilchrist will serve as co-executive producer. Stay tuned to StarWars.com for updates.




[10/21/18 - 09:07 AM]
Saturday's Broadcast Ratings: ABC, College Football Once Again Top Charts
The Alphabet takes home top honors in total viewers and adults 18-49.


[10/20/18 - 08:45 AM]
Friday's Broadcast Ratings: FOX Edges Tight Demo Race with CBS
"Last Man Standing" once again leads the night among adults 18-49.


[10/19/18 - 03:01 PM]
CBS Gives Full-Season Orders to "God Friended Me," "Magnum P.I." and "The Neighborhood" for the 2018-2019 Broadcast Season
These series join the previously announced "FBI" as freshman shows receiving full-season orders for 2018-2019 on CBS.


[10/19/18 - 02:48 PM]
The CW's New Fall Series "All American" and "Charmed" Get Additional Local Boost as CW Affiliates Schedule Weekend Airings
CW stations nationwide are re-airing the first two episodes on a special date and time.


[10/19/18 - 01:09 PM]
Matthew Broderick Joins Cast of Netflix High School Apocalypse Dramedy "Daybreak"
He'll play Principal Burr: the cheerful, upbeat principal of Glendale High, Burr knows the name of every kid in school and their favorite character to play in Overwatch.


[10/19/18 - 11:16 AM]
"Station 19" Comes in Hot with a Full-Season Order From ABC
In the Live + 3 Day ratings, "Station 19" built on its season premiere by 24% in Total Viewers and by 25% in Adults 18-49 to set new series highs.


[10/19/18 - 11:00 AM]
FOX Places Back-Nine Order of "The Cool Kids," Joining "Last Man Standing" for a Full Season
The network has picked up nine additional episodes of the new comedy.


[10/19/18 - 10:31 AM]
Video: Showtime(R) Drops the Trailer for New Comedy "Black Monday" on Anniversary of the Historic Stock Market Crash
Don Cheadle, Andrew Rannells and Regina Hall star in the series, premiering Sunday, January 20 at 10:00/9:00c.


[10/19/18 - 10:09 AM]
Kelsea Ballerini, Luke Bryan, Kenny Chesney, Dan + Shay, Old Dominion, Carrie Underwood, and Keith Urban Set to Perform at "The 52nd Annual CMA Awards"
Ballerini is a six-time career CMA Awards nominee, returning this year with her fourth consecutive Female Vocalist of the Year nomination.


[10/19/18 - 09:21 AM]
Paloma Faith Joins "Pennyworth" for Epix and Warner Horizon Scripted Television, Based on the Characters from DC
She'll play the series regular role of "Bet Sykes," a spirited, sadistic and sharp-tongued villain.


[10/19/18 - 08:53 AM]
Showtime(R) Releases Season Six Premiere of "Ray Donovan" Early to Subscribers
The episode is now available only to Showtime subscribers via Showtime streaming, Showtime Anytime and on demand.


[10/19/18 - 08:13 AM]
Thursday's Broadcast Ratings: FOX Holds Onto Demo Crown with "Thursday Night Football"
Despite a blowout Broncos-Cardinals game, the network once again takes home top honors among adults 18-49.


[10/19/18 - 08:02 AM]
Video: Sundance TV Releases "Jonestown: Terror in the Jungle" Trailer in Advance of Two-Night Special Event
Look for said event on Saturday, November 17 and Sunday, November 18 at 9:00/8:00c.


[10/19/18 - 07:58 AM]
WE tv's Groundbreaking Docuseries "Love After Lockup" Returns Friday, December 7 at 9PM ET/PT
WE tv's explosive docuseries is back for a second season, exploring new shocking and revealing stories of couples who fall in love despite the prison bars between them.


[10/19/18 - 06:30 AM]
New Kids on the Block Singer Jonathan Knight to Star in HGTV Pilot "Farmhouse Fixer"
"Old farmhouses are American treasures," said Jonathan. "Most have been in the same family for 200 years and have never been renovated. And they're disappearing fast. If we don't save them, they're going to be gone."