[04/08/19 - 10:20 AM]
Starz Debuts First Images of "The Rook" Ahead of CanneSeries Television Festival
Emma Greenwell, Joely Richardson and Olivia Munn co-star in the drama, premiering this summer.
---
[via press release from Starz]
STARZ DEBUTS FIRST IMAGES OF "THE ROOK" AHEAD OF CANNESERIES TELEVISION FESTIVAL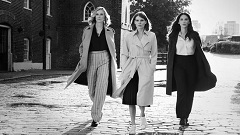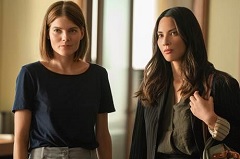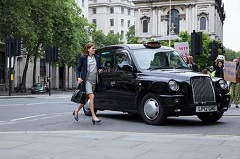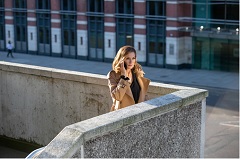 *Joely Richardson, Emma Greenwell and Olivia Munn; Emma Greenwell (Myfanwy Thomas) and Olivia Munn (Monica Reed) in "The Rook"; Emma Greenwell (Myfanwy Thomas) in "The Rook"; Joely Richardson (Linda Farrier) in "The Rook".
Ahead of STARZ's highly anticipated world premiere of "The Rook" at the CanneSeries Television Festival, the network released the first images from the show featuring Emma Greenwell as "Myfanwy Thomas," Joely Richardson as "Linda Farrier" and Olivia Munn as "Monica Reed".
STARZ Original Series "The Rook" tells the story of Myfanwy Thomas, a woman who wakes up in the rain beside London's Millennium Bridge with no memory of who she is and no way to explain the circle of latex-gloved dead bodies splayed around her. When Myfanwy discovers she is a high ranking official in the Checquy, Britain's last truly secret service for people with paranormal abilities, she will have to navigate the dangerous and complex world of the agency to uncover who wiped her memory - and why she is a target.
"The Rook" is produced by Lionsgate and Liberty Global. Writer-producers Lisa Zwerling ("Betrayal," "Flash Forward," "ER") and Karyn Usher ("Bones," "Prison Break," "Backstrom") will serve as Co-showrunners and Executive Producers under their Carpool Entertainment banner. Stephen Garrett ("The Night Manager") serves as Executive Producer under his Character 7 banner.




[10/23/19 - 11:16 AM]
Video: YouTube Originals: "Virtually History" Releases Official Trailer
In the special, viewers will see three people with a family connection to the Berlin Wall transported back in time through the power of VR centered around historic photographs from this period.


[10/23/19 - 10:41 AM]
TV One's Original Holiday Film "Dear Santa, I Need a Date" Premieres Sunday, December 8 at 7 P.M. ET/6C
Ray J, Reagan Gomez-Preston, Anne-Marie Johnson, Reginae Carter, B. Simone and MAJOR star in the romantic comedy.


[10/23/19 - 10:30 AM]
Disney Channel Greenlights Live-Action Mystery Series "Sulphur Springs"
The 11-episode series follows 12-year-old Griffin Campbell, whose family has just uprooted their lives to move to a new town and take ownership of an abandoned hotel in hopes of restoring it back to the lively vacation destination it once was.


[10/23/19 - 10:10 AM]
"Creepshow" Is a Monster Hit for AMC's Shudder - Series Seen by Record Number of Viewers
Since "Creepshow" premiered on September 26, 54% of all members on Shudder's direct-to-consumer platforms have viewed an episode of the series.


[10/23/19 - 10:05 AM]
Sparkling Cast Lineup Flirts with Love, Lust and Soulmates in AMC's New Episodic Anthology from Emmy(R) Award-Winning Writer Will Bridges and Brett Goldstein
Currently shooting in Madrid, Spain, the series will star Sarah Snook, David Costabile and Sonya Cassidy, among others.


[10/23/19 - 10:02 AM]
HBO Max Orders Four "Adventure Time: Distant Lands" Specials from Cartoon Network Studios
These four new specials will continue the "Adventure Time" stories that captured imaginations and introduced unlikely heroes Finn and Jake, best buds who traversed the mystical Land of Ooo and encountered its colorful inhabitants.


[10/23/19 - 09:15 AM]
Production Has Begun on Disney Junior's "The Chicken Squad"
Inspired by Doreen Cronin's popular book series, "The Chicken Squad" follows Coop, Little Boo and Sweetie - a trio of young chicken siblings - and Captain Tully, a seasoned watchdog, who use teamwork and critical thinking skills to solve problems in the neighborhood and keep the peace in their backyard.


[10/23/19 - 08:13 AM]
Tuesday's Broadcast Ratings: World Series Opens on Top for FOX
The network's coverage of Game 1 dominates the evening in all categories.


[10/23/19 - 08:10 AM]
Video: YouTube Originals Debuts Trailer for First Interactive Special "A Heist with Markiplier"
The first-person narrative will result in 31 possible endings with the entire production encompassing 61 videos.


[10/23/19 - 08:00 AM]
Eric Church, Luke Combs, Miranda Lambert, Reba McEntire, Maren Morris, Dolly Parton with for KING & COUNTRY and Zach Williams, P!nk and Chris Stapleton, Carrie Underwood, and Keith Urban Set to Perform at "The 53rd Annual CMA Awards" on ABC
Additional performers and presenters will be revealed in the coming weeks.


[10/23/19 - 07:03 AM]
Video: "The Devil Next Door" - Main Trailer - Netflix
A Cleveland grandfather is brought to trial in Israel, accused of being the infamous Nazi death camp guard known as Ivan the Terrible.


[10/23/19 - 06:45 AM]
Video: Seth Meyers Netflix Standup Special Trailer - "Lobby Baby" - Fake Toy
"Seth Meyers: Lobby Baby" premieres Tuesday, November 5 on the streaming service.


[10/23/19 - 06:15 AM]
Video: Official Trailer for EPIX Series "Belgravia"
The limited series is a story of secrets and scandals amongst the upper echelon of London society in the 19th century.


[10/22/19 - 09:14 PM]
Video: Netflix Previews Quartet of Upcoming Anime Series
Get your first look at "Eden," "Ghost in the Shell: SAC_2045," "The Disastrous Life of Saiki K.: Reawakened" and "Levius."


[10/22/19 - 04:00 PM]
All Five CBS Freshman Series Receive New Production Orders
The critically acclaimed new drama "Evil" has been renewed for a second season in 2020-2021.