[04/18/19 - 10:17 AM]
It's a Bird, It's a Plane, It's "Krypton" Season 2 on Syfy June 12 at 10PM
Plus: the brand new, full-length trailer puts a spotlight on villains, both familiar and new, as the fate of our much-loved heroes is threatened once more.
---
[via press release from Syfy]
IT'S A BIRD...IT'S A PLANE...IT'S "KRYPTON" SEASON 2 ON SYFY JUNE 12 AT 10PM
Official Full-Length Trailer Available
What better way to celebrate the anniversary of Superman's first comic book appearance than to announce the return of SYFY's KRYPTON airing June 12? Our brand new, full-length trailer puts a spotlight on villains, both familiar and new, as the fate of our much-loved heroes is threatened once more.
OFFICIAL TRAILER:
BEHIND THE SCENES:
KEY ART: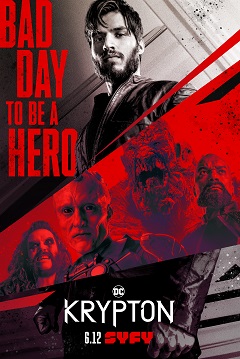 ABOUT KRYPTON:
What if Superman never existed? Set two generations before the destruction of Superman's home planet, KRYPTON follows Seg-El (Cameron Cuffe), the legendary Man of Steel's grandfather, as a young man who fights to save his home planet from destruction. Season 2 brings us back to a changed Kandor, locked in a battle over its freedom and its future. General Dru-Zod (Colin Salmon) is now in control. He's on a ruthless mission to rebuild Krypton according to his ideals and to secure its future by conquering the universe. Faced with a bleak outlook, our hero, Seg-El, attempts to unite a dispersed group of resisters in an effort to defeat Zod and restore hope to their beloved planet. Their chance at redemption is threatened however, by their opposing tactics, shifting alliances and conflicting moral boundaries - forcing each of them to individually determine how far they're willing to go in pursuit of a better tomorrow.
KRYPTON is from Warner Horizon Scripted Television and is executive produced by David S. Goyer (Man of Steel, Batman v Superman: Dawn of Justice, The Dark Knight Trilogy) through his Phantom Four banner, alongside Cameron Welsh (Constantine, The Last Ship), who serves as showrunner. Based on the DC characters created by Jerry Siegel and Joe Shuster, the series stars Cameron Cuffe (The Halcyon) as Seg-El, Georgina Campbell (Broadchurch) as Lyta-Zod, Shaun Sipos (The Vampire Diaries) as Adam Strange, Colin Salmon (Arrow) as General Dru-Zod, Ann Ogbomo (World War Z) as Jayna-Zod, Aaron Pierre (Britannia) as Dev-Em, Rasmus Hardiker (Your Highness) as Kem, Wallis Day (Will) as Nyssa-Vex, Blake Ritson (Da Vinci's Demons) as Brainiac and Ian McElhinney (Game of Thrones) as Val-El.




[05/19/19 - 08:23 AM]
Saturday's Broadcast Ratings: NBC Tops Viewers, Shares Demo Crown with FOX
The Peacock's "Dateline" leads the night in both categories.


[05/19/19 - 06:53 AM]
ESPN's Second Highest Rated NBA Conference Finals Game 3 Ever
ESPN spins the numbers for Saturday, May 18.


[05/18/19 - 08:34 AM]
Friday's Broadcast Ratings: NBC Tops Demos with "The Blacklist" Finale
The Peacock takes home the adults 18-49 crown while CBS is the most-watched network.


[05/17/19 - 02:06 PM]
CBS to Broadcast Encore of "The Big Bang Theory" Final Episodes, Monday, May 20
"The Change Constant" and "The Stockholm Syndrome" will air back-to-back beginning at 8:00/7:00c.


[05/17/19 - 12:37 PM]
FOX Drops Monday, Wednesday Editions of "Paradise Hotel"; "So You Think You Can Dance" Return Moved Up to June 3
Repeats of "9-1-1" and "Gordon Ramsay's 24 Hours to Hell and Back" will instead fill said time periods as "Paradise Hotel" will now only air on Thursday nights through June 6.


[05/17/19 - 12:02 PM]
HBO Drama Series "Euphoria," Starring Zendaya, Debuts June 16
The series follows 17-year-old Rue Bennett (Zendaya), a drug addict fresh from rehab, who's struggling to make sense of her future.


[05/17/19 - 11:21 AM]
ID and People's Hit Series "People Magazine Investigates: Cults" Returns for Shocking Second Season Exploring the Seductive World of Cults
The six-episode new season premieres Monday, June 3 at 9:00/8:00c on Investigation Discovery.


[05/17/19 - 10:10 AM]
Netflix Unveils the Next Big Thing in Fashion!
Tan France and Alexa Chung will host "Next In Fashion," a high-stakes competition series featuring some of the world's best and quietly innovative designers who compete for a chance to become the next big name in fashion.


[05/17/19 - 10:07 AM]
Taylor Swift ft. Brendon Urie, BTS, Jonas Brothers, Halsey, Khalid, OneRepublic, Hootie & the Blowfish and More to Perform on Live "Voice" Finale
Each finalist will perform three times - one new solo cover, a special duet with their coach and the debut of their first original single.


[05/17/19 - 10:02 AM]
Innovative World War II Documentary "The Cold Blue," From Director Erik Nelson and Paul G. Allen's Vulcan Productions, Debuts June 6 on HBO
A meditation on youth, war, the film debuts on the 75th anniversary of D-Day.


[05/17/19 - 08:39 AM]
WE tv's No Holds Barred Spinoff Series "Love After Lockup: Life After Lockup" Premieres Friday, June 14
The new series follows five returning couples who fans have grown to know and love - or love to hate - as they face parole restrictions, temptation, and turbulence in their lives outside of prison walls.


[05/17/19 - 08:32 AM]
Cinemax Drama Series "Jett" Debuts June 14
Fresh out of prison, retired professional thief Daisy "Jett" Kowalski (Carla Gugino) is reluctantly drawn back into doing what she does best after being forced to quit following the birth of her child.


[05/17/19 - 08:14 AM]
Thursday's Broadcast Ratings: "The Big Bang Theory" Goes Out on Top
CBS easily wins the night in both total viewers and adults 18-49.


[05/17/19 - 08:00 AM]
Families Turn Homes Into Money-Making Short-Term Rental Properties in HGTV's "My House Is Your House"
The series showcases a Nashville-based mother-daughter duo, Victoria and Teryn, and a San Diego-based husband-wife team, Ryan and Claire, who help clients transform unused areas of their homes or lackluster rental spaces into stunning vacation properties.


[05/17/19 - 07:54 AM]
ESPN's Second Highest Rated NBA Western Conference Finals Game 2 Ever
ESPN spins the numbers for Thursday, May 16.