[04/18/19 - 10:17 AM]
It's a Bird, It's a Plane, It's "Krypton" Season 2 on Syfy June 12 at 10PM
Plus: the brand new, full-length trailer puts a spotlight on villains, both familiar and new, as the fate of our much-loved heroes is threatened once more.
---
[via press release from Syfy]
IT'S A BIRD...IT'S A PLANE...IT'S "KRYPTON" SEASON 2 ON SYFY JUNE 12 AT 10PM
Official Full-Length Trailer Available
What better way to celebrate the anniversary of Superman's first comic book appearance than to announce the return of SYFY's KRYPTON airing June 12? Our brand new, full-length trailer puts a spotlight on villains, both familiar and new, as the fate of our much-loved heroes is threatened once more.
OFFICIAL TRAILER:
BEHIND THE SCENES:
KEY ART: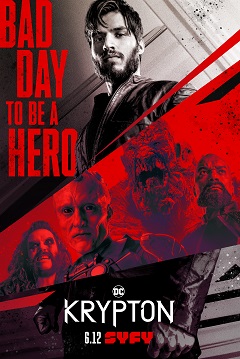 ABOUT KRYPTON:
What if Superman never existed? Set two generations before the destruction of Superman's home planet, KRYPTON follows Seg-El (Cameron Cuffe), the legendary Man of Steel's grandfather, as a young man who fights to save his home planet from destruction. Season 2 brings us back to a changed Kandor, locked in a battle over its freedom and its future. General Dru-Zod (Colin Salmon) is now in control. He's on a ruthless mission to rebuild Krypton according to his ideals and to secure its future by conquering the universe. Faced with a bleak outlook, our hero, Seg-El, attempts to unite a dispersed group of resisters in an effort to defeat Zod and restore hope to their beloved planet. Their chance at redemption is threatened however, by their opposing tactics, shifting alliances and conflicting moral boundaries - forcing each of them to individually determine how far they're willing to go in pursuit of a better tomorrow.
KRYPTON is from Warner Horizon Scripted Television and is executive produced by David S. Goyer (Man of Steel, Batman v Superman: Dawn of Justice, The Dark Knight Trilogy) through his Phantom Four banner, alongside Cameron Welsh (Constantine, The Last Ship), who serves as showrunner. Based on the DC characters created by Jerry Siegel and Joe Shuster, the series stars Cameron Cuffe (The Halcyon) as Seg-El, Georgina Campbell (Broadchurch) as Lyta-Zod, Shaun Sipos (The Vampire Diaries) as Adam Strange, Colin Salmon (Arrow) as General Dru-Zod, Ann Ogbomo (World War Z) as Jayna-Zod, Aaron Pierre (Britannia) as Dev-Em, Rasmus Hardiker (Your Highness) as Kem, Wallis Day (Will) as Nyssa-Vex, Blake Ritson (Da Vinci's Demons) as Brainiac and Ian McElhinney (Game of Thrones) as Val-El.




[06/14/21 - 12:38 PM]
Four Frugal Families Cash in on TLC's New Penny-Pinching Series "So Freakin Cheap"
Meet the four unique families that share one extraordinary ability to turn everything into a deal.


[06/14/21 - 12:03 PM]
TBS Commemorates and Honors Juneteenth with Movie Marathon Celebrating Black Storytellers
To commemorate and honor Juneteenth, TBS will kick off the weekend with the premiere of "Friday Night Vibes" on Friday, June 18 at 7:30/6:30c.


[06/14/21 - 12:02 PM]
Lauren Alaina Joins Hallmark Family in Fall Harvest Film "Roadhouse Romance"
Tyler Hynes also stars in the film, the first movie of the 2021 "Fall Harvest" programming event.


[06/14/21 - 11:31 AM]
Bravo's "Below Deck Sailing Yacht" Joins "Watch What Happens Live with Andy Cohen" for a Virtual Two-Part Reunion Beginning Monday, June 21 at 9PM ET/PT
Host Andy Cohen catches up with the Parsifal III crew including Captain Glenn Shephard, Natasha De Bourg, Daisy Kelliher, Colin MacRae, Gary King, Dani Soares, Alli Dore, Sydney Zaruba and Jean-Luc Cerza-Lanaux.


[06/14/21 - 11:18 AM]
Pushing the Boundaries of What's Possible in Adult Animation
Netflix details its upcoming animated projects "The House," "Inside Job" and "Human Resources."


[06/14/21 - 10:31 AM]
HBO to Debut Documentary Series "Catch and Kill: The Podcast Tapes"
The documentary series brings to life Ronan Farrow's intimate, revealing interviews with whistleblowers, journalists, private investigators and other sources, conducted for the Pulitzer-Prize winning journalist's podcast and bestselling book.


[06/14/21 - 10:16 AM]
ABC Ranks as Monday's Most-Watched Network
ABC further spins the numbers for Monday, June 7.


[06/14/21 - 10:01 AM]
Video: truTV Debuts Official Trailer for "Backyard Bar Wars"
Based on the rising trend of DIY at-home bars, "Backyard Bar Wars" is a send-up of the classic home reno show combined with hilarious moments of comedian and host, Chris Distefano, roasting the builders in a way that only he can.


[06/14/21 - 10:00 AM]
Meet the Starship Crew Featured in Paramount+ Original Animated Kids' Series "Star Trek: Prodigy"
Rylee Alazraqui, Brett Gray, Angus Imrie, Jason Mantzoukas, Ella Purnell and Dee Bradley Baker will join the previously announced Kate Mulgrew.


[06/14/21 - 09:48 AM]
Netflix Acquires Global Rights to Canadian Sci-fi Sequel "Code 8: Part II"
Robbie Amell and Stephen Amell will reprise their roles from the first film.


[06/14/21 - 09:06 AM]
"Bargain Block" Delivers Strong Season One Performance For HGTV
Attracting more than 19 million total viewers since its April 14 premiere, "Bargain Block" ranked as the #2 cable premiere in the Wednesday 9-10 p.m. timeslot among P2+ and households.


[06/14/21 - 08:33 AM]
YouTube Originals Global Livestream "YouTube Pride 2021" Announces Additional Hosts Elton John and David Furnish
The multi-hour, star-studded livestream event celebrates the LGBTQ+ community through musical performances, giving challenges, special guests, live moments and much more.


[06/14/21 - 08:30 AM]
CBS Announces Summer Premiere Dates for Two Reality Series
"Secret Celebrity Renovation" and "The Greatest #AtHome Videos" are both bound for Friday nights.


[06/14/21 - 08:17 AM]
Peacock Comedy Series "Girls5eva" Renewed for Second Season (Cuz 1 Season Is 2 Short)
"We are so excited to continue 'Girls5eva' alongside this incredibly talented group of cast and producers," said Lisa Katz, President, Scripted Content, NBCUniversal Television and Streaming.


[06/14/21 - 08:01 AM]
Video: "Atypical" Season 4 - Official Trailer - Netflix
With Casey and Sam both on the cusp of leaving the nest, each member of the Gardner family faces big decisions about where life will go next.