[05/15/19 - 09:01 AM]
First-Look Photos: Season 4 of AMC's "Preacher" Premieres August
The show's final season kicks off Sunday, August 4 at 9:00/8:00c.
---
[via press release from AMC]
FIRST-LOOK PHOTOS: SEASON 4 OF AMC'S PREACHER PREMIERES AUGUST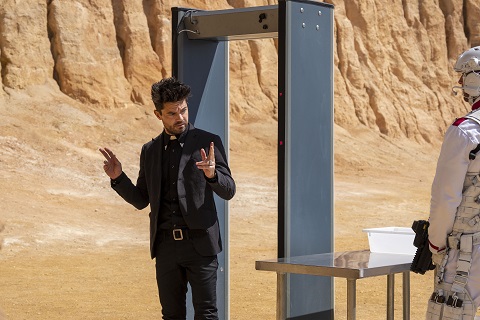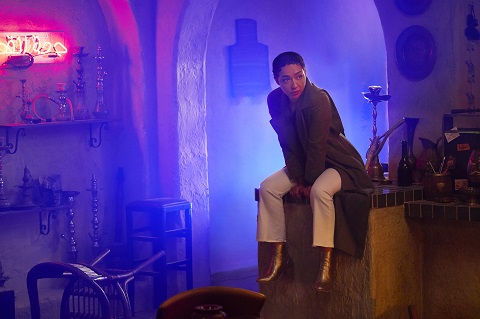 AMC has released three first-look images from the upcoming fourth and final season of "Preacher," premiering Sunday, August 4 at 9pm ET.
"Preacher" stars Dominic Cooper, Academy Award(R) nominee Ruth Negga and Joseph Gilgun, along with series regulars Ian Colletti, Graham McTavish, Pip Torrens, Julie Ann Emery, and Noah Taylor. As the series inches closer to the finale, God's endgame for the universe begins to click into place. Trapped between heavenly prophecies, hellish prisons, and all-out nuclear war, Jesse, Tulip, and Cassidy make their bloody way to the Most High. Whether they can reach God in time - or whether all this carnage is part of His divine plan - will soon be revealed as "Preacher" barrels towards the end of the world.
The Sony Pictures Television-AMC Studios co-production is developed for television by executive producer and showrunner Sam Catlin and executive producers Seth Rogen and Evan Goldberg.




[04/22/21 - 03:30 PM]
Riz Ahmed and Viola Davis to Join 93rd Oscars(R) Cast
Ahmed and Davis round out the previously announced lineup that includes Angela Bassett, Halle Berry, Bong Joon Ho, Don Cheadle, Bryan Cranston, Laura Dern, Harrison Ford, Regina King, Marlee Matlin, Rita Moreno, Joaquin Phoenix, Brad Pitt, Reese Witherspoon, Renée Zellweger and Zendaya.


[04/22/21 - 01:52 PM]
Sofia Alvarez to Adapt and Direct "Along for the Ride;" Emma Pasarow and Belmont Cameli to Star in Lead Roles
The Netfilx film is based on the YA novel of the same name from New York Times bestselling author Sarah Dessen.


[04/22/21 - 01:08 PM]
Spectrum Originals to Debut Golden Globe(R) and Emmy(R) Nominated Team Robert and Michelle King's Series "The Bite" on May 21
The six-episode series follows the lives of two neighbors Rachel (Audra McDonald) and Lily (Taylor Schilling) as they embark on unprecedented times when a deadly new strain of a virus arrives.


[04/22/21 - 11:35 AM]
Video: "Stuck with You" - Season 2 - Official Trailer - An ALLBLK Original Series
The series returns to the streaming service on Thursday, May 6.


[04/22/21 - 11:02 AM]
Netflix Teams Up with Bubba Wallace for Documentary Series
The series follows NASCAR Cup Series driver Bubba Wallace as he competes for the newly formed 23XI Racing team.


[04/22/21 - 11:01 AM]
Angelina Jolie in "Those Who Wish Me Dead," "Tenet," "In Treatment," New Dark Comedy Series "Hacks" and "Adventure Time: Distant Lands - Together Again" Arrive on HBO Max This May
Also on tap are a new season of "Gomorrah" and the Andrew Scott/Ruth Wilson-led film "Oslo."


[04/22/21 - 11:01 AM]
Bravo's "Summer House" Two-Part Reunion Begins Thursday, April 29th at 9:15 PM ET/PT
Host Andy Cohen sits down with Kyle Cooke, Amanda Batula, Lindsay Hubbard, Danielle Olivera, Carl Radke, Hannah Berner, Paige DeSorbo, Luke Gulbranson, and season newcomer Ciara Miller.


[04/22/21 - 10:02 AM]
Kouvr Annon, Nikita Dragun, Sienna Mae Gomez, Chase Hudson, Larri Merritt, Thomas Petrou, Alex Warren, and Jack Wright - a.k.a Hype House - Will Star in a New Unscripted Series for Netflix
The series will reveal a side of themselves (and their relationships) that we rarely see.


[04/22/21 - 10:01 AM]
Wednesday's Broadcast Ratings: "The Masked Singer" Expands to Victory for FOX
A full night of the reality competition puts the network on top in both total viewers and adults 18-49.


[04/22/21 - 09:03 AM]
Angie Harmon Joins New Lifetime Unscripted Series "Cellmate Secrets" Debuting Fridays During Network's First Annual "Summer of Secrets" Following Enhanced Versions of Lifetime Original Movies
The series reveals new insights and information as former friends, guards, cellmates and lovers give first-hand accounts of their time with the famed felons and defendants.


[04/22/21 - 09:00 AM]
HBO Max Orders Docuseries "Take Out," Chronicling the Cultural Contributions and Unique Stories of Asian Restaurants from Award-Winning Journalist Lisa Ling
The six-part series follows Ling as she takes viewers behind the counter and into the lives of the people and families who run some of America's over 45,000 Asian restaurants.


[04/22/21 - 09:00 AM]
Disney Channel Announces One Night Only Season One Marathon of Disney+ Original Series, "High School Musical: The Musical: The Series," on Saturday, May 8
The break-free, one-time-only marathon will also feature sneak peeks of season two, a new musical number performed by Nini and Ricky, special messages from and fun facts about the cast, fan-favorite "Buspool Karaoke" music videos and much more.


[04/22/21 - 08:54 AM]
Annie Murphy Returns to Television in the Groundbreaking New Series "Kevin Can F**k Himself" Sunday, June 13 on AMC+ and Sunday, June 20 on AMC
The remaining episodes will continue to debut on AMC+ one week ahead of the AMC linear airings on Sundays at 9:00/8:00c.


[04/22/21 - 08:00 AM]
The 90 Day Universe Sizzles with New Series, "90 Day: Foody Call" Streaming on discovery+ May 29
Expect a dash of sass and a lot of fun when couples from the franchise invite you into their kitchens and dish on recipes for relationship success, all while preparing traditional meals from their home countries.


[04/22/21 - 07:00 AM]
Video: "Fathom" - Official Trailer - Apple TV+
Watch as Dr. Michelle Fournet and Dr. Ellen Garland journey to opposite hemispheres on an undertaking as colossal as their humpback whale subjects - deciphering the complex communication of whales to uncover a culture in the oceans older than humankind.