[05/15/19 - 09:01 AM]
First-Look Photos: Season 4 of AMC's "Preacher" Premieres August
The show's final season kicks off Sunday, August 4 at 9:00/8:00c.
---
[via press release from AMC]
FIRST-LOOK PHOTOS: SEASON 4 OF AMC'S PREACHER PREMIERES AUGUST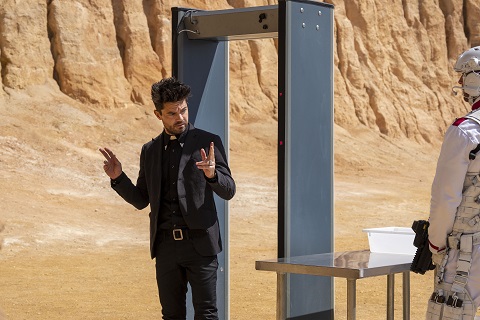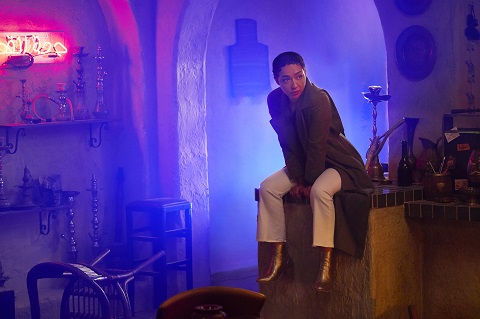 AMC has released three first-look images from the upcoming fourth and final season of "Preacher," premiering Sunday, August 4 at 9pm ET.
"Preacher" stars Dominic Cooper, Academy Award(R) nominee Ruth Negga and Joseph Gilgun, along with series regulars Ian Colletti, Graham McTavish, Pip Torrens, Julie Ann Emery, and Noah Taylor. As the series inches closer to the finale, God's endgame for the universe begins to click into place. Trapped between heavenly prophecies, hellish prisons, and all-out nuclear war, Jesse, Tulip, and Cassidy make their bloody way to the Most High. Whether they can reach God in time - or whether all this carnage is part of His divine plan - will soon be revealed as "Preacher" barrels towards the end of the world.
The Sony Pictures Television-AMC Studios co-production is developed for television by executive producer and showrunner Sam Catlin and executive producers Seth Rogen and Evan Goldberg.




[01/19/20 - 01:13 PM]
Apple Announces "Defending Jacob" Starring Chris Evans and Michelle Dockery to Premiere April 24
Based on the best-selling novel of the same name by William Landay, "Defending Jacob" will premiere its first three episodes exclusively on Apple TV+ starting Friday, April 24, and new episodes will premiere weekly thereafter every Friday.


[01/19/20 - 12:31 PM]
"Dear..." Complete First Season Premieres June 5 on Apple TV+
The series will profile internationally recognized leaders including Oprah Winfrey, Gloria Steinem, Spike Lee, Lin-Manuel Miranda, Yara Shahidi, Stevie Wonder, Aly Raisman, Misty Copeland, Big Bird and more.


[01/19/20 - 12:30 PM]
"Mythic Quest: Raven's Banquet" Renewed for Second Season
"Mythic Quest: Raven's Banquet" follows a team of video game developers as they navigate the challenges of running a popular video game.


[01/19/20 - 12:27 PM]
Apple Announces New Comedy Series "Trying" to Premiere May 1
Starring Rafe Spall and Esther Smith, "Trying" is a new comedy series about growing up, settling down and finding someone to love.


[01/19/20 - 12:25 PM]
New Documentary Series "Home" to Premiere April 17 on Apple TV+
"Home" is a new documentary series that offers viewers a never-before-seen look inside the world's most innovative homes.


[01/19/20 - 12:24 PM]
Apple Announces Premiere Date for Steven Spielberg's "Amazing Stories" and Unveils First Look Image
A reimagining of the original anthology series, each episode of "Amazing Stories" will transport the audience to worlds of wonder through the lens of today's most imaginative filmmakers, directors and writers.


[01/19/20 - 10:35 AM]
Apple Reveals "Central Park," A New Animated Musical Comedy from Emmy Award Winner Loren Bouchard, to Debut in Early Summer 2020
The series voice cast includes Josh Gad, Leslie Odom Jr., Kristen Bell, Kathryn Hahn, Tituss Burgess, Daveed Diggs and Stanley Tucci.


[01/19/20 - 10:12 AM]
Video: "Visible: Out on Television" - Official Trailer - Apple TV+
The docuseries features never-before-seen interviews with Ellen DeGeneres, Oprah Winfrey, Anderson Cooper, Billy Porter, Rachel Maddow, Don Lemon, Sara Ramirez, Jesse Tyler Ferguson, and dozens more.


[01/19/20 - 10:02 AM]
Apple Announces Early Season Two Renewal for New Mystery Series "Home Before Dark" Ahead of Global Premiere
The series will premiere its first three episodes Friday, April 3 exclusively on Apple TV+, and new episodes will premiere weekly thereafter every Friday.


[01/19/20 - 09:12 AM]
Saturday's Broadcast Ratings: ABC Tops Demos with NBA Return
"NBA Saturday Primetime on ABC" wins the night among adults 18-49.


[01/19/20 - 02:02 AM]
BYUtv Announces Winter Premiere Dates for New and Returning Shows
Newcomers "Story Trek: Trending" and "All-Round Champion" will be joined by new episodes of "Show Offs," "Random Acts," "Dwight in Shining Armor" and "Studio C."


[01/19/20 - 02:01 AM]
Wayne Brady Joins with BYUtv to Create and Host Comedy Competition Series
"Wayne Brady's Comedy IQ," which counts Queen Latifah among its executive producers, will premiere on April 6.


[01/18/20 - 06:18 PM]
Two-Part Doc Series "Laurel Canyon" to Premiere on EPIX on May 31st, 2020
Directed by Alison Ellwood, the series features an intimate portrait of the artists who created a music revolution through a wealth of rare and newly unearthed footage and audio recordings.


[01/18/20 - 06:17 PM]
EPIX Unveils Development Slate
Highlights include drama series adaptations of Bernard Cornwell's trilogy "The Warlord Chronicles" and Ken Follett's "A Column of Fire."


[01/18/20 - 06:16 PM]
EPIX to Premiere Carnival Films' "Belgravia" on Sunday, April 12
The six-part limited series is a story of secrets and scandals amongst the upper echelon of London society in the 19th Century.