[05/15/19 - 09:01 AM]
First-Look Photos: Season 4 of AMC's "Preacher" Premieres August
The show's final season kicks off Sunday, August 4 at 9:00/8:00c.
---
[via press release from AMC]
FIRST-LOOK PHOTOS: SEASON 4 OF AMC'S PREACHER PREMIERES AUGUST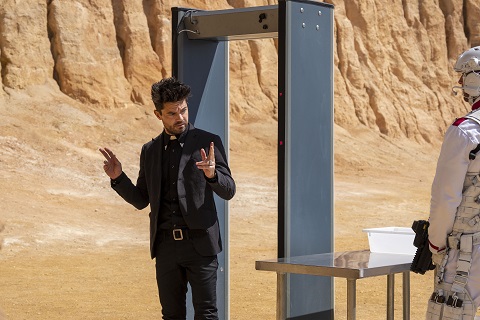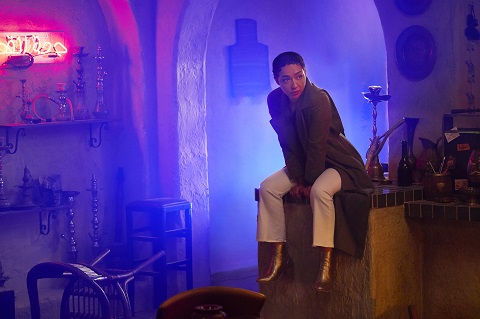 AMC has released three first-look images from the upcoming fourth and final season of "Preacher," premiering Sunday, August 4 at 9pm ET.
"Preacher" stars Dominic Cooper, Academy Award(R) nominee Ruth Negga and Joseph Gilgun, along with series regulars Ian Colletti, Graham McTavish, Pip Torrens, Julie Ann Emery, and Noah Taylor. As the series inches closer to the finale, God's endgame for the universe begins to click into place. Trapped between heavenly prophecies, hellish prisons, and all-out nuclear war, Jesse, Tulip, and Cassidy make their bloody way to the Most High. Whether they can reach God in time - or whether all this carnage is part of His divine plan - will soon be revealed as "Preacher" barrels towards the end of the world.
The Sony Pictures Television-AMC Studios co-production is developed for television by executive producer and showrunner Sam Catlin and executive producers Seth Rogen and Evan Goldberg.




[05/19/19 - 08:23 AM]
Saturday's Broadcast Ratings: NBC Tops Viewers, Shares Demo Crown with FOX
The Peacock's "Dateline" leads the night in both categories.


[05/19/19 - 06:53 AM]
ESPN's Second Highest Rated NBA Conference Finals Game 3 Ever
ESPN spins the numbers for Saturday, May 18.


[05/18/19 - 08:34 AM]
Friday's Broadcast Ratings: NBC Tops Demos with "The Blacklist" Finale
The Peacock takes home the adults 18-49 crown while CBS is the most-watched network.


[05/17/19 - 02:06 PM]
CBS to Broadcast Encore of "The Big Bang Theory" Final Episodes, Monday, May 20
"The Change Constant" and "The Stockholm Syndrome" will air back-to-back beginning at 8:00/7:00c.


[05/17/19 - 12:37 PM]
FOX Drops Monday, Wednesday Editions of "Paradise Hotel"; "So You Think You Can Dance" Return Moved Up to June 3
Repeats of "9-1-1" and "Gordon Ramsay's 24 Hours to Hell and Back" will instead fill said time periods as "Paradise Hotel" will now only air on Thursday nights through June 6.


[05/17/19 - 12:02 PM]
HBO Drama Series "Euphoria," Starring Zendaya, Debuts June 16
The series follows 17-year-old Rue Bennett (Zendaya), a drug addict fresh from rehab, who's struggling to make sense of her future.


[05/17/19 - 11:21 AM]
ID and People's Hit Series "People Magazine Investigates: Cults" Returns for Shocking Second Season Exploring the Seductive World of Cults
The six-episode new season premieres Monday, June 3 at 9:00/8:00c on Investigation Discovery.


[05/17/19 - 10:10 AM]
Netflix Unveils the Next Big Thing in Fashion!
Tan France and Alexa Chung will host "Next In Fashion," a high-stakes competition series featuring some of the world's best and quietly innovative designers who compete for a chance to become the next big name in fashion.


[05/17/19 - 10:07 AM]
Taylor Swift ft. Brendon Urie, BTS, Jonas Brothers, Halsey, Khalid, OneRepublic, Hootie & the Blowfish and More to Perform on Live "Voice" Finale
Each finalist will perform three times - one new solo cover, a special duet with their coach and the debut of their first original single.


[05/17/19 - 10:02 AM]
Innovative World War II Documentary "The Cold Blue," From Director Erik Nelson and Paul G. Allen's Vulcan Productions, Debuts June 6 on HBO
A meditation on youth, war, the film debuts on the 75th anniversary of D-Day.


[05/17/19 - 08:39 AM]
WE tv's No Holds Barred Spinoff Series "Love After Lockup: Life After Lockup" Premieres Friday, June 14
The new series follows five returning couples who fans have grown to know and love - or love to hate - as they face parole restrictions, temptation, and turbulence in their lives outside of prison walls.


[05/17/19 - 08:32 AM]
Cinemax Drama Series "Jett" Debuts June 14
Fresh out of prison, retired professional thief Daisy "Jett" Kowalski (Carla Gugino) is reluctantly drawn back into doing what she does best after being forced to quit following the birth of her child.


[05/17/19 - 08:14 AM]
Thursday's Broadcast Ratings: "The Big Bang Theory" Goes Out on Top
CBS easily wins the night in both total viewers and adults 18-49.


[05/17/19 - 08:00 AM]
Families Turn Homes Into Money-Making Short-Term Rental Properties in HGTV's "My House Is Your House"
The series showcases a Nashville-based mother-daughter duo, Victoria and Teryn, and a San Diego-based husband-wife team, Ryan and Claire, who help clients transform unused areas of their homes or lackluster rental spaces into stunning vacation properties.


[05/17/19 - 07:54 AM]
ESPN's Second Highest Rated NBA Western Conference Finals Game 2 Ever
ESPN spins the numbers for Thursday, May 16.