[06/11/19 - 08:06 AM]
First Look: Hulu's "Little Fires Everywhere"
Reese Witherspoon and Kerry Washington star in the Celeste Ng adaptation, due in 2020.
---
[via press release from Hulu]
This morning, Reese Witherspoon and Kerry Washington debuted the first look at Little Fires Everywhere on their social media handles.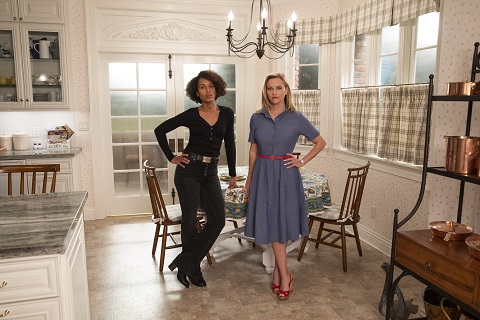 · Social Handle (Instagram, Twitter and Facebook): @LittleFiresHulu
· Logline: Based on Celeste Ng's 2017 bestseller, Little Fires Everywhere follows the intertwined fates of the picture-perfect Richardson family and an enigmatic mother and daughter who upend their lives. The story explores the weight of secrets, the nature of art and identity, the ferocious pull of motherhood - and the danger in believing that following the rules can avert disaster.
· The cast includes: Reese Witherspoon (Elena Richardson), Kerry Washington (Mia Warren), Rosemarie DeWitt (Linda McCullough), Joshua Jackson (Bill Richardson), Jade Pettyjohn (Lexie Richardson), Jordan Elsass (Trip Richardson), Gavin Lewis (Moody Richardson), Megan Stott (Izzy Richardson), and Lexi Underwood (Pearl Warren).
· The series is produced by Reese Witherspoon's Hello Sunshine, Kerry Washington's Simpson Street and ABC Signature Studios. Liz Tigelaar ("Life Unexpected," "Casual") will serve as creator, showrunner and executive producer. Witherspoon, Washington, Lauren Levy Neustadter (Hello Sunshine), Pilar Savone (Simpson Street), and Lynn Shelton will also executive produce.
The series is expected to debut on Hulu in 2020.




[07/16/19 - 12:32 PM]
Video: New Trailer for "The Red Sea Diving Resort" Starring Chris Evans and Michael K. Williams
Inspired by remarkable true life rescue missions, the film is the incredible story of a group of international agents and brave Ethiopians who in the early 80s used a deserted holiday retreat in Sudan as a front to smuggle thousands of refugees to Israel.


[07/16/19 - 12:19 PM]
Netflix Orders Variety Sketch Series "Astronomy Club" from Khalabo Ink Society and Irony Point
As the group has done successfully with its improv and sketch performances, the series will use comedy to discuss complex and nuanced real-world topics.


[07/16/19 - 11:04 AM]
Nickelodeon's "Henry Danger The Musical" to Make "Note"-worthy Debut on Saturday, July 27, at 8:00 PM (ET/PT)
The special, which features 26 original Broadway-style songs, marks the return of the villainous Frankini (Frankie Grande) who puts a musical curse over the town of Swellview, while Kid Danger and Captain Man are forced to find a way to stop him.


[07/16/19 - 10:39 AM]
Disney Channel's "Amphibia" Delivers Its Strongest Week Yet
Disney Channel further spins the numbers for July 8-11.


[07/16/19 - 10:09 AM]
Watch the "WE Day" Special Friday, Aug. 9, Featuring Inspiring Change-Makers and Special Guests, on ABC
Mahershala Ali, Chance The Rapper, Selena Gomez, Joe Jonas, Bill Nye, Natalie Portman, Lilly Singh, Hailee Steinfeld, Pentatonix, Meghan Trainor, Eddie Vedder and host Neil Patrick Harris are all on tap.


[07/16/19 - 08:45 AM]
71st Emmy(R) Awards Nominations Announcements
"Better Call Saul," "Bodyguard," "Game of Thrones," "Killing Eve," "Ozark," "Pose," "Succession" and "This Is Us" will compete for Outstanding Drama Series.


[07/16/19 - 08:19 AM]
Monday's Broadcast Ratings: "The Bachelorette" Continues Its Reign
ABC leads the evening in both total viewers and adults 18-49.


[07/16/19 - 07:40 AM]
For the First Time, Animal Planet Goes Behind the Scenes at the San Diego Zoo and Safari Park in an All-New Series
Look for a special two-hour premiere on Saturday, August 10 at 8:00/7:00c.


[07/16/19 - 07:30 AM]
The Stunning Conclusion to Hannah's Journey to Find Love Will Unfold Live Over a Two-Night, History-Making Finale Event, July 29 and 30, on ABC's "The Bachelorette"
Hannah will join Chris Harrison and a studio audience on both nights as America watches her gut-wrenching journey of love and self-discovery come to its unpredictable end.


[07/15/19 - 09:56 PM]
Quibi Announces Partnership with NBC News to Produce Original Daily News Shows to Reach Millennial Audience
NBC News' morning and evening news shows for Quibi will each be under six minutes, seven days a week, and created only for mobile.


[07/15/19 - 07:14 PM]
Zack Snyder's "Army of the Dead" Rounds Out Cast
Omari Hardwick, Chris D'Elia, Hiroyuki Sanada, Garret Dillahunt, Matthias Schweighöfer, Raúl Castillo, Nora Arnezeder, Samantha Win, and Rich Cetrone join the previously announced Dave Bautista, Ella Purnell, Ana De La Reguera, Theo Rossi and Huma Qureshi.


[07/15/19 - 02:24 PM]
AMC Premiere Crosses the "Rubicon"
All 13 episodes of the critically acclaimed 2010 AMC suspense drama "Rubicon" are now available, commercial-free, to AMC Premiere subscribers.


[07/15/19 - 02:20 PM]
"The Late Show with Stephen Colbert" to Air Live Following Both Nights of the Second Democratic Debate, Tuesday, July 30 and Wednesday, July 31
The most recent live broadcasts aired following the first Democratic candidate debate last month on June 26 and June 27.


[07/15/19 - 01:48 PM]
Oliver Jackson-Cohen to Join Victoria Pedretti in "The Haunting of Bly Manor"
He will play Peter, a resident of Bly Manor, who makes life very difficult for everyone who lives there.


[07/15/19 - 01:25 PM]
Video: Showtime(R) Debuts Trailer and Official Poster for "On Becoming a God in Central Florida"
Starring Emmy and Golden Globe nominee Kirsten Dunst, the 10-episode series is a story about the cult of free enterprise and one woman's relentless pursuit of the American Dream.