[01/17/20 - 01:01 PM]
Freeform Releases First Look Photo of "Siren" Season Three and Announces April 2 Premiere Date
Freeform's mermaid drama "Siren" returns for a third season with a two-episode premiere on Thursday, April 2.
---
[via press release from Freeform]
FREEFORM RELEASES FIRST LOOK PHOTO OF "SIREN" SEASON THREE AND ANNOUNCES APRIL 2 PREMIERE DATE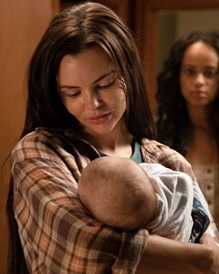 Photo Credit: Freeform/Jack Rowand*
Freeform's mermaid drama "Siren" returns for a third season with a two-episode premiere on THURSDAY, APRIL 2 (9:00-11:00 p.m. EDT). Ben's shocking decision to let the reporter die at the end of season two has ripple effects in his relationship with Maddie and Ryn. Meanwhile, a dangerous, sophisticated new mermaid arrives in Bristol Cove, challenging Ryn's leadership and igniting an epic undersea battle between rival tribes. All of this is complicated by the fact that Ryn's baby, now being carried by a surrogate, must be protected at all costs.
"Siren" stars Eline Powell, Alex Roe, Fola Evans-Akingbola, Ian Verdun and Rena Owen. The series is executive produced by Emily Whitesell and Eric Wald.
Season two of "Siren" ranked as Freeform's most-watched series of last year on the network.




[10/27/20 - 01:20 PM]
HBO Max Offering Free Viewing of "A West Wing Special to Benefit When We All Vote"
The special is available to watch for free now until the end of the year.


[10/27/20 - 01:01 PM]
BET Presents New Original Groundbreaking Documentary "Smoke: Marijuana + Black America" Executive Produced and Narrated by Multi-Platinum Rapper and Entrepreneur Nasir "Nas" Jones
The two-hour special - set to premiere on Wednesday, November 18 - examines marijuana's cultural, social, economic and legal impact on American society and the Black community.


[10/27/20 - 12:27 PM]
Showtime(R) Sports Documentary Films Announces "Macho: The Hector Camacho Story"
Premiering Friday, December 4, the documentary debuts just two weeks after the eighth anniversary of Camacho's fatal shooting in Bayamon, Puerto Rico.


[10/27/20 - 11:59 AM]
HBO Announces the Return of Critically Acclaimed Drama Series "In Treatment" Starring Uzo Aduba
Production is slated to begin this fall under COVID-19 guidelines, with a debut scheduled for 2021.


[10/27/20 - 11:16 AM]
Amazon Prime Video Enjoys "Great Success" with "Borat Subsequent Moviefilm" Opening Weekend
During its opening weekend it was streamed by tens of millions of customers.


[10/27/20 - 11:14 AM]
Lifetime Announces "Lifetime: Live!" Kicking Off with "It's a Wonderful Lifetime: Live!"
"Lifetime: Live!" is a series of fan-focused live virtual events will further extend the content experience for audiences.


[10/27/20 - 11:02 AM]
Magic Is Pushed to the Limit as truTV Greenlights "Big Trick Energy"
Chris Ramsay, Eric Leclerc, Wes Barker and Alex Boyer venture into the real world to both shock and awe unsuspecting spectators - and each other - with their unique brand of extreme, provocative, mind-blowing magic.


[10/27/20 - 10:09 AM]
It's Time to Focus on "The F-Spot with Derrick Beckles" Premiering Thursday, November 26 at 12:30 a.m. ET/PT on Adult Swim
Combining absurd stunts with an even more absurd host, viewers will witness absolute mayhem as Derrick Beckles does what he wants and takes participants along with him.


[10/27/20 - 10:00 AM]
Allison Tolman and Nick Frost to Star in Second Season of "Why Women Kill" on CBS All Access
Tolman will play Alma, a timid and awkward housewife, who remains optimistic in the face of the world's cruelty.


[10/27/20 - 09:35 AM]
Sheila Ducksworth Named President of CBS/NAACP Production Venture
In her new role, Ms. Ducksworth will supervise development and production of scripted, unscripted and documentary content for linear television networks and streaming platforms.


[10/27/20 - 09:19 AM]
Multi-Platinum Singer/Songwriter Demi Lovato to Host the 2020 "E! People's Choice Awards"
The singer/songwriter has dominated the music industry and racked up People's Choice Awards over the past decade, receiving five wins and 12 nominations across top categories such as "Favorite Female Artist" and "Favorite Music Fan Following."


[10/27/20 - 09:01 AM]
Showtime(R) Documentary Films Announces All-New "Couples Therapy: The COVID Special" Will Air Sunday, December 13 at 8 PM ET/PT
The critically acclaimed docu-series, which allows viewers an authentic and visceral look at weekly sessions, will return for a second season in 2021.


[10/27/20 - 08:30 AM]
Apple TV+ Orders "Platonic," Starring Rose Byrne and Seth Rogen
"Platonic" is a 10-episode, half-hour comedy which explores the inner workings of platonic friendship.


[10/27/20 - 08:11 AM]
Monday's Broadcast Ratings: NBC Tops Viewers; Shares Demo Crown with ABC
"The Voice" and "Dancing with the Stars" lead their respective networks to victory.


[10/27/20 - 08:00 AM]
Former President Barack Obama Joins LeBron James and Maverick Carter for a Special Edition of HBO's "The Shop: Uninterrupted," Debuting October 30
The episode will be available for free viewing for non-HBO subscribers from Saturday, October 31 at 10:00 a.m. ET through Saturday, November 28.