[06/16/21 - 01:02 PM]
Showtime(R) Documentary Films Announces New Docu-Series "UFO" from Emmy(R) Winner J.J. Abrams' Bad Robot
Showtime will release all four episodes of the new series to its subscribers at midnight on Sunday, August 8, prior to its on-air debut that night at 9 p.m. ET/PT.
---
[via press release from Showtime]
SHOWTIME(R) DOCUMENTARY FILMS ANNOUNCES NEW DOCU-SERIES "UFO" FROM EMMY(R) WINNER J.J. ABRAMS' BAD ROBOT
All Four Episodes Will Be Available to SHOWTIME Subscribers on Premiere Date Sunday, August 8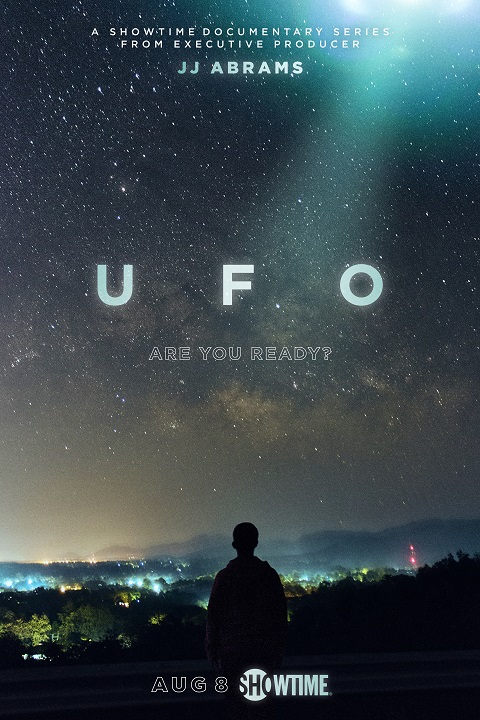 LOS ANGELES - June 16, 2021 - SHOWTIME announced it will air UFO, a four-part docu-series from J.J. Abrams' Bad Robot and Glen Zipper exploring our fascination with unidentified flying objects, and what clandestine influence the American government, lucrative private companies and the military may have in shielding the truth behind extraterrestrial phenomena to further their own agendas. Directed by Mark Monroe (Icarus) and Paul Crowder (Riding Giants), the series explores unsettling theories of a subject that recently reached national headlines, and has historically been the focus of powerful politicians and CEOs, while average citizens pursuing the very same truth have been ridiculed and ostracized. The series is a co-production by Bad Robot and Zipper Bros Films. SHOWTIME will release all four episodes of the new series UFO to its subscribers at midnight on Sunday, August 8, prior to its on-air debut that night at 9 p.m. ET/PT.
Ignited by the bombshell New York Times story in 2017 revealing that the Pentagon had been secretly tracking UFOs for years, the series examines the history of the phenomenon through cultural and political touchpoints, including shocking testimony from eyewitnesses across the country. As the conversation grows more bizarre and reaches the mainstream by virtue of credible investigations into alien encounters, UFO confronts the most enigmatic questions of all: Why do we believe what we believe? And what is the elusive truth beyond this decades long mystery?
UFO is executive produced by J.J. Abrams, Glen Zipper, Mark Monroe and Sean Stuart along with Ben Stephenson and Rachel Rusch Rich from Bad Robot. The series is co-executive produced by Kevin Lincoln and produced by Maren Domzalski and Paul McGuire.
Showtime Networks Inc. (SNI), a wholly owned subsidiary of ViacomCBS Inc., owns and operates the premium service SHOWTIME(R), which features critically acclaimed original series, provocative documentaries, box-office hit films, comedy and music specials and hard-hitting sports. SHOWTIME is available as a stand-alone streaming service across all major streaming devices and Showtime.com, as well as via cable, DBS, telco and streaming video providers. SNI also operates the premium services THE MOVIE CHANNEL(TM) and FLIX(R), as well as on demand versions of all three brands. SNI markets and distributes sports and entertainment events for exhibition to subscribers on a pay-per-view basis through SHOWTIME PPV(R). For more information, go to www.SHO.com.




[10/19/21 - 03:01 PM]
Netflix Details Its Top 10 Series & Films to Date in Hours Viewed
The streaming service will shift to reporting on hours viewed rather than the number of accounts that choose to watch them.


[10/19/21 - 03:00 PM]
ESPN's "Monday Night Football" Grows Year-Over-Year Viewership for Fourth Consecutive Week; 12.6 Million Watch Buffalo-Tennessee Week 6 Thriller
"Monday Night Football" is continuing a banner year, up 17% and 15% season-to-date from the 2020 and 2019 seasons (seven games), respectively, averaging 13.8 million viewers this season (six games).


[10/19/21 - 02:27 PM]
Dark Secrets and Hidden Treasures Found in the Coldest Places on Earth: An All New Season of "Secrets in the Ice" Premieres October 26 on Discovery
In an all new season, experts, historians and scientists are exposing dark secrets, forgotten treasures and lost relics from the coldest and harshest places on Earth.


[10/19/21 - 02:00 PM]
FOX Kicks Off Midseason with Special Premieres of "Next Level Chef," "Call Me Kat" and "Pivoting," Following "NFL on FOX" Doubleheaders
Time period premieres for all three programs will be announced soon.


[10/19/21 - 12:00 PM]
The CW Network Adds Two New Series to Its Expanding Roster of Scripted Acquisitions
On tap are the one-hour Italian drama "Leonardo," starring Aidan Turner in the titular role, and the half-hour Australian comedy-drama, "Bump," starring Nathalie Morris.


[10/19/21 - 12:00 PM]
"The Late Show with Stephen Colbert" Announces a New Daily Podcast Hosted on Megaphone, A Spotify Company
The showcast will be an audio lift of the linear show, featuring all the hilarious monologues, performances and revealing conversations with guests across entertainment, politics, news, music and comedy.


[10/19/21 - 11:25 AM]
ABC Wednesday Comedies Up Week to Week
"The Wonder Years" built over the prior week by 7% in Total Viewers (3.2 million vs. 3.0 million) and held even week to week among Adults 18-49 (0.6/4).


[10/19/21 - 11:17 AM]
A&E's Hit-Series "Storage Wars" Returns for an All-New Season on Tuesday, November 2 at 9pm ET/PT
Ahead of the season premiere, there will be two new specials welcoming Barry Weiss back to the team which will air back-to-back on October 26.


[10/19/21 - 11:16 AM]
Apple TV+ Announces Star-Studded Cast for Highly Anticipated Anthology Series "Extrapolations" from Prolific Writer, Director and Producer Scott Z. Burns
Meryl Streep, Sienna Miller, Kit Harington, Tahar Rahim, Matthew Rhys, Daveed Diggs, Gemma Chan, David Schwimmer and Adarsh Gourav will lead the new series, which is now in production.


[10/19/21 - 11:13 AM]
Executive Produced by Kris Jenner, Four-Episode Series "Foodgod" Premieres Sunday, November 14th on discovery+
Foodgod is a lifelong foodie who has gained 11 million followers for his unique celebration of all things food on social media.


[10/19/21 - 11:02 AM]
FOX's "The Simpsons" Wins Week in L7 Ratings for First Time in Nearly Seven Years
The network also had the #1 drama ("9-1-1") and #1T unscripted series of the week ("The Masked Singer").


[10/19/21 - 11:01 AM]
Video: "Johnny Test's Ultimate Meatloaf Quest Trailer" - Netflix Futures
Join Johnny and Dukey on an epic interactive quest to find the perfect meatloaf - and save themselves from eating Dad's gross "garbage loaf" for dinner.


[10/19/21 - 11:00 AM]
"Mr. A & Mr. M: The Story of A&M Records" - Two-Part Docuseries Premieres on EPIX December 5th, 2021 at 10PM ET/PT
This two-part documentary series takes an in-depth look at the company's distinct approach of focusing on their artists, discovering unique talent and evolving with the ever-changing music industry.


[10/19/21 - 11:00 AM]
New Unscripted Series "Tampa Baes" to Premiere Friday, November 5 on Prime Video
The eight-episode docuseries from 3 Ball Productions follows a young group of lesbian friends in Tampa Bay, an ever-growing gay hotspot on the Florida shoreline.


[10/19/21 - 10:59 AM]
Lifetime Announces Three New Movies with All-Star Casting Premiering for Winter 2022
"We are so excited for these upcoming movies - they are a rollercoaster ride full of suspense, secrets and scandals that our audience just cannot resist," said Amy Winter, EVP and Head of Programming, Lifetime and LMN.