[06/18/21 - 09:00 AM]
Amazon Studios Will Release "Jolt" on Prime Video July 23rd, 2021
Bobby Cannavale, Jai Courtney, Laverne Cox, David Bradley, Ori Pfeffer, with Susan Sarandon and Stanley Tucci also star in the film, from director Tanya Wexler.
---
[via press release from Amazon]
Amazon Studios will release JOLT on Prime Video July 23rd, 2021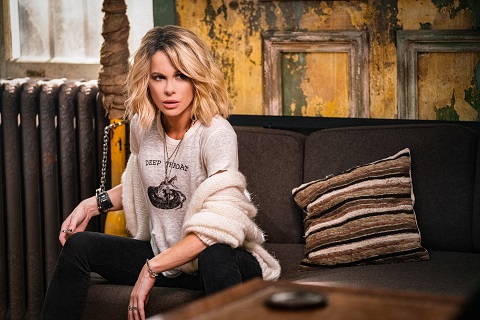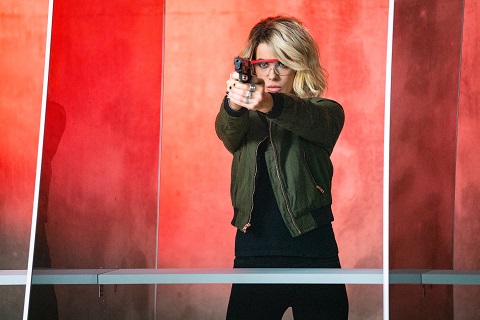 Directed by Tanya Wexler
Written by Scott Wascha
Starring Kate Beckinsale, Bobby Cannavale, Jai Courtney, Laverne Cox, David Bradley, Ori Pfeffer, with Susan Sarandon and Stanley Tucci
Lindy is a beautiful, sardonically-funny woman with a painful secret: Due to a lifelong, rare neurological disorder, she experiences sporadic rage-filled, murderous impulses that can only be stopped when she shocks herself with a special electrode device. Unable to find love and connection in a world that fears her bizarre condition, she finally trusts a man long enough to fall in love, only to find him murdered the next day. Heartbroken and enraged, she embarks on a revenge-filled mission to find his killer, while also being pursued by the police as the crime's prime suspect.
91 Minutes | Rated R




[10/18/21 - 03:05 PM]
Netflix Announces New Y/A Dramedy "XO, Kitty" - A Spinoff Series Inspired by the "To All the Boys I've Loved Before" Film Franchise Starring Anna Cathcart
The 10-episode series created by Jenny Han and Siobhan Vivian.


[10/18/21 - 10:31 AM]
Netflix Renews "Family Reunion" for a Third and Final Season
The McKellans are back for one last reunion on the streaming service.


[10/18/21 - 10:01 AM]
Brianna Bennett Named Senior Vice President, Network Drama for ABC Entertainment
Bennett arrives from ViacomCBS, where she served as vice president, Drama Development, since 2014.


[10/18/21 - 09:52 AM]
Ina Garten, The Iconic Barefoot Contessa, Expands Relationship with Discovery Inc. Across All Platforms with Multi-Year Deal
Her inaugural project under the deal is "Be My Guest" (WT), a new series in development for 2022 with a fresh take on Ina's signature style of welcoming viewers into her home.


[10/18/21 - 09:36 AM]
Lifetime Partners with the Art of Elysium And Artist Colette Miller for Seven City Global Angel Wings Project Art Installation in Celebration of "Highway to Heaven"
Starring Jill Scott and Barry Watson, "Highway to Heaven" debuts on November 6 at 8:00/7:00c.


[10/18/21 - 09:31 AM]
Video: "The Lost Daughter" - Official Trailer - Netflix
A woman's quiet seaside vacation takes an unsettling turn when her fixation on a young mother staying at a nearby villa awakens memories from her past.


[10/18/21 - 09:30 AM]
"Vice" Returns to Air Sunday, November 14 on Showtime
The second half of the season covers a range of topics, from an investigation into the disturbing number of deaths in the Black community living in Louisiana's so called "Cancer Alley," to the new revolution in Cuba.


[10/18/21 - 09:30 AM]
discovery+ Takes Viewers Alongside the Biggest "Space Titans" of the New Private Space Race
"Space Titans: Musk, Bezos, Branson," an all-new special streaming Thursday, November 4 on discovery+, will follow the world's most successful entrepreneurs who are putting billions of dollars on the line to launch a revolution in space.


[10/18/21 - 09:28 AM]
Heather Anderson Moves to ESPN as Vice President, Programming and Acquisitions
Prior to joining ESPN, she served as vice president and assistant chief counsel at The Walt Disney Company.


[10/18/21 - 08:25 AM]
YouTube Originals Announces Premiere Dates and Offers First Look at Slate of Sustainability Series and Specials Starting October 23 with "Dear Earth"
The upcoming YouTube Originals programming slate aims to address sustainability challenges the world faces and offer solutions that can be adopted to inspire change.


[10/18/21 - 08:06 AM]
Special Guest Stars Announced for the "2021 Rock & Roll Hall of Fame Induction Ceremony," Debuting November 20 on HBO
The Ceremony honors this year's Inductees: Tina Turner, Carole King, The Go-Go's, JAY-Z, Foo Fighters, and Todd Rundgren in the Performer category.


[10/18/21 - 08:05 AM]
Video: "Marvel's Hit-Monkey" - Official Trailer
This is a story of a monkey on a mission. "Marvel's Hit-Monkey" premieres November 17, only on Hulu.


[10/18/21 - 08:01 AM]
"Destination Fear" Returns with All-New Episodes - and Terrifying Sleepovers - Inside Haunted Abandoned Locations Including the Team's First-Ever International Investigation
New episodes return beginning Saturday, November 6 on Travel Channel and discovery+.


[10/18/21 - 08:01 AM]
Two-Time CMA Entertainer of the Year Luke Bryan to Host "The 55th Annual CMA Awards"
Bryan, a two-time CMA Entertainer of the Year, will make his CMA Awards hosting debut on this year's stage.


[10/18/21 - 08:00 AM]
"90 Day Fiance: Before the 90 Days" Turns Up the Heat with All-New Couples and One Familiar Face, When It Returns This December to Spice Up the Holidays
The new season premieres on Sunday, December 12 at 8:00/7:00c and will stream concurrently on discovery+, the definitive non-fiction, real life subscription streaming service.