[06/24/21 - 09:01 AM]
AMC Reveals Script Page from "The Walking Dead" Writer Jim Barnes, Along with Episode Titles for the First Eight Episodes of Season 11
"Acheron: Part I" will kick off said run on Sunday, August 22.
---
[via press release from AMC]
As part of AMC's "11 Weeks of Reveals until Season 11" of The Walking Dead, which returns Sunday, August 22 at 9pm ET/8pm CT, AMC revealed today a script page from writer Jim Barnes, along with episode titles for the first eight episodes of season 11 and descriptions for episodes 1101 and 1102.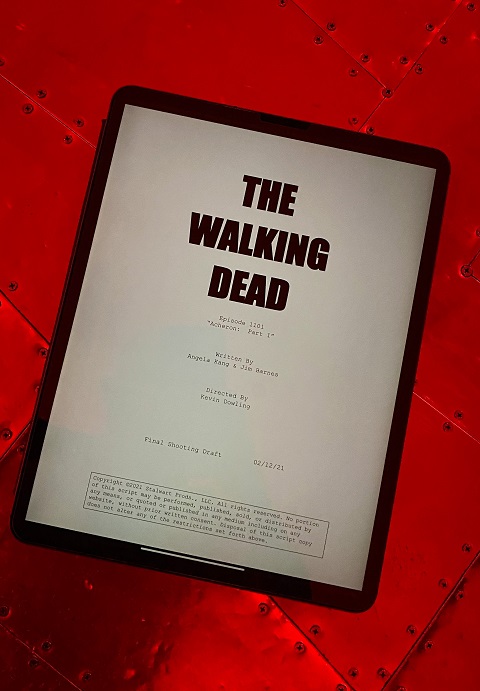 Season 11A Episode Titles
1101 - Acheron: Part I
1102 - Acheron: Part II
1103 - Hunted
1104 - Rendition
1105 - Out of the Ashes
1106 - On the Inside
1107 - Promises Broken
1108 - For Blood
Episode 1101: "Acheron: Part I"
Director: Kevin Dowling
Writers: Angela Kang and Jim Barnes
Returning to Alexandria from a critical food mission, the group realizes it isn't enough. Maggie proposes a new plan, potentially a suicide mission. What choice do they have? They must find more food for all their people in order to survive and efficiently rebuild Alexandria. If they don't, Alexandria falls, taking them down with it. Once on the road, a violent storm erupts forcing them underground into a subway tunnel. As nerves fray and suspicions increase, chaos ensues. The terror is relentless as our people get a glimpse of what Maggie and her group endured prior to returning to Alexandria. Meanwhile, those captured by the strange soldiers are relocated to another undisclosed location.
Episode 1102: "Acheron: Part II"
Director: Kevin Dowling
Writers: Angela Kang and Jim Barnes
The group discovers a member did not make it to safety inside the subway car. Surrounded by walkers, going back out into the tunnel to search is a guaranteed death wish. All eyes are on Negan as the rule of survival shifts. It is no longer No Man Left Behind. The motto now is We Keep Going. With very little ammo and energy remaining, the group must ready themselves as the walkers have found a way inside the subway train. Meanwhile, Daryl is in his own intense hellish situation trying to find Dog and finding more than he expected; and Yumiko challenges the process at the Commonwealth outpost, which threatens her future and that of Eugene, Ezekiel, and Princess.
Additionally, as part of TWDU.com's "11 Weeks of TWD" each week leading up to the Season 11 premiere on August 22, a custom piece of artwork will be shared that looks back at significant moments from each season of the show's decade-long run. The second piece of custom artwork is by artist Will Sliney (Spider-Man, Star Wars) and colorist Dee Cunniffe (Crossover, Redneck, Runaways) and can be viewed here.
AMC will drop new reveals - photos, trailers and more - every Thursday counting down to the Season 11 premiere of The Walking Dead on Sunday, August 22 at 9pm ET/8pm CT.




[07/29/21 - 05:01 PM]
Video: "D.P." - Official Teaser - Netflix
A young private's assignment to capture army deserters reveals the painful reality endured by each enlistee during his compulsory call of duty.


[07/29/21 - 11:01 AM]
The Country Music Association's "CMA Summer Jam" Airs Thursday, Sept. 2, on ABC
Artists featured include Jimmie Allen, Gabby Barrett, Dierks Bentley, Brothers Osborne, Luke Bryan, Luke Combs, Florida Georgia Line, Mickey Guyton, Miranda Lambert, Carly Pearce, Blake Shelton, Gwen Stefani, Cole Swindell, Thomas Rhett, Carrie Underwood, Lainey Wilson, and Dwight Yoakam.


[07/29/21 - 10:15 AM]
TNT's Top Cable Drama Series "Snowpiercer" Wraps Production on Season Three with Renewal Announcement for a Fourth Season
Produced by Tomorrow Studios, "Snowpiercer" seasons one and two are currently available to binge on the TNT app, with season three set to premiere on TNT early next year.


[07/29/21 - 10:09 AM]
Michelle Monaghan and Matt Bomer Will Star in "Echoes" - A Mystery Thriller from Netflix
The series is about identical twins who have secretly swapped lives since childhood, culminating in them living double lives as adults: they share two homes & two husbands, but everything unravels when one goes missing.


[07/29/21 - 10:01 AM]
Time to Head Back to the Beach for "Bachelor in Paradise," Premiering Monday, Aug. 16, at 8/7c on ABC
Laugh-master David Spade is the first guest host of the season and welcomes 13 lovely ladies and 10 gorgeous guys to Paradise.


[07/29/21 - 10:00 AM]
Paramount+ Announces a Stacked Team of New and Legacy Players Joining "The Game"
Adriyan Rae, Vaughn Hebron and Analisa Velez to star with legacy cast members Brittany Daniel and Pooch Hall making special appearances.


[07/29/21 - 09:27 AM]
Video: AMC Reveals New Teaser and New Images from Season 11 of "The Walking Dead"
Pamela Milton (Laila Robins) and Lance Hornsby (Josh Hamilton) are among the new character images.


[07/29/21 - 09:03 AM]
Video: WarnerMedia Kids & Family Debuts Trailer for Cartoonito Preschool Block on HBO Max and Cartoon Network
Families were also treated to a special look at upcoming Cartoonito shows "Little Ellen" and "Lucas the Spider" in two new clips revealed today.


[07/29/21 - 09:03 AM]
Video: Showtime Releases Trailer for Return of "Billions" Season Five
The series has been renewed for season six, which will premiere early next year.


[07/29/21 - 09:01 AM]
Video: "Archer" - Official Trailer - Season 12 - FXX
In season 12 of FXX's comedy Archer, "Sterling Archer" and gang face a new threat: a spy conglomerate known as IIA (International Intelligence Agency).


[07/29/21 - 09:00 AM]
DISH Adds HBO Max, HBO and Cinemax, Brings More Content to Viewers Nationwide
Tied to the launch and for a limited time, DISH is offering customers a 10-day free preview to access HBO and Cinemax.


[07/29/21 - 08:07 AM]
HGTV Commissions 14 New Series and Pilots for Its 2021-22 Programming Lineup
As the go-to network for aspirational, inspirational and attainable home renovation, design and real estate series, HGTV has expanded its offerings to include shows covering cleaning, organization, rentals, mansions and family relationships at home.


[07/29/21 - 08:04 AM]
Netflix Announces "Sweet Tooth" Is Officially Coming Back for Season 2
The streamer broke the news on social media this morning.


[07/29/21 - 08:01 AM]
Video: "I Heart Arlo" New Series Trailer - Netflix Futures
It's a whole new world for Arlo and his one-of-a kind pals when they set out to restore a run-down New York City neighborhood - and make it their own.


[07/29/21 - 08:01 AM]
Marvel Studios' "Hawkeye" Starts Streaming Wednesday, November 24 on Disney+
The company releases a first-look at Jeremy Renner and Hailee Steinfeld on social media.