WarnerMedia Kids & Family Rolls Out Voice Cast for "Batwheels"
Ethan Hawke, Jacob Bertrand and AJ Hudson Lead Stellar Voice Cast for First DC Preschool Animated Series Produced by Warner Bros. Animation
AJ Hudson Voices First On Screen Portrayal of Duke Thomas - the First Black Robin in DC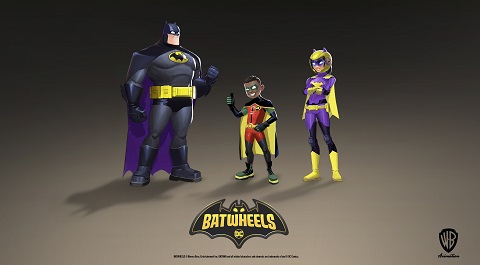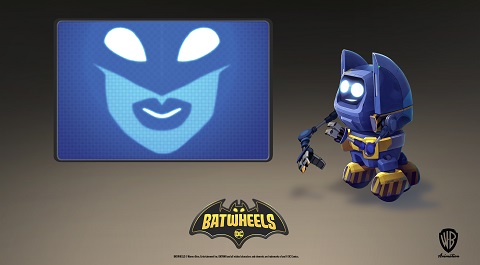 Burbank, CA (Sept. 13, 2021) - WarnerMedia Kids & Family announced today the voice cast for the upcoming Warner Bros. Animation series Batwheels. Ethan Hawke (The Good Lord Bird) as Batman and Jacob Bertrand (Cobra Kai) as Bam the Batmobile lead a talented cast for the preschool animated action-adventure comedy series featuring the most heroic and iconic vehicles from the DC universe.
The announcement was made by Bertrand during a special virtual event celebrating the launch of Cartoonito, WarnerMedia Kids & Family's new preschool programming block available on HBO Max and Cartoon Network. He was also joined by Batwheels cast mate AJ Hudson (The Good Place) who voices the character of Duke Thomas, the first Black character to don the Robin "R" in the pages of DC comics. Batwheels represents the first on screen portrayal of the character.
The main characters and voice cast includes:
The Batwheels Team
· Jacob Bertrand (Cobra Kai) as Bam - The Batmobile and leader of the Batwheels team. Like his hero Batman, Bam has a strong sense of justice and tries his best to lead the team, even though he's not always sure he's up for the task. Ultimately, the other Batwheels know they can count on him, both as a super teammate, and as a friend. Jacob Bertrand is represented by Jack Kingsrud/Zero Gravity Management, Kevin Hussey/ICM and Chad Christopher at Goodman, Genow, Schenkman, Smelkinson & Christopher.
· Jordan Reed (Chuggington) as Redbird - Robin's zippy sports car. "Red" is the kid brother of the team, always eager to prove himself a worthy sidekick to Bam but he can definitely hold his own on a mission. He's enthusiastic and extremely inquisitive, asking tons of questions, like a kid detective.
· Madigan Kacmar (Chuggington) as Bibi - Batgirl's brave and bold motorcycle. She is the fastest of the Batwheels, but also the smallest, so she sometimes has a habit of being impulsive and jumping right into the action without a plan. Madigan Kacmar is represented by Bonnie Shumofsky Bloom at Stewart Talent Agency.
· Noah Bentley (Elliott from Earth) as Buff - This Bat-styled monster truck is the team's muscle and can ram through or run over any obstacle in his path, but he's also the heart of the team - a gentle giant who doesn't really know his own strength. Noah Bentley is represented by CESD.
· Lilimar (Cleopatra in Space) as Batwing - Batman's supersonic jet plane, "Wing" is easily the most sophisticated, and confident member of the team. Lilimar is represented by CESD and LINK.
· Kimberly D. Brooks (DC Super Hero Girls) as The Batcomputer - She is the supervisor, dispatcher, and trainer of the team - but most importantly she is also their mother figure. In addition to training and advising them, she must be there to comfort them and even hold their mechanical hands when needed. Kimberly D. Brooks is represented by Cynthia McLean at SBV Talent.
· Mick Wingert (What If?) as Moe - Batman's robot repairman who facilitates repairs and upkeep on his fleet of vehicles. He is well-equipped, highly efficient mechanic who can fix almost any vehicular glitch, but not without a healthy dose of sarcasm. Mick Wingert is represented by Heather Dame at Atlas Talent Agency.
The Bat-Family
· Ethan Hawke (The Good Lord Bird) as Batman - Gotham City's greatest protector who keeps the streets safe from any and all threats. Even though Batman doesn't communicate directly with the Batwheels, he acts as a father figure. They absolutely seek his approval and trust while they fight alongside him. Ethan Hawke is represented by CAA, MGMT Entertainment and ID.
· AJ Hudson (The Good Place) as Duke Thomas/Robin - The Boy Wonder who loves sinking his teeth into a great detective mystery while he strives to prove himself alongside Batman. AJ Hudson is represented by Abbie Waters from Osbrink Agency and Tanesia Tramell from Eleven 7 Artist Management.
· Leah Lewis (Nancy Drew) as Cassandra Cain/Batgirl - The first Asian-American Batgirl as first introduced in the comics. In Batwheels Cassandra is the "big sister", tech-savvy daredevil of the Bat-Family. She loves ripping around the streets of Gotham City on her motorcycle and always wants to be in the center of the action. Leah Lewis is represented by Commercial Talent Agency, Paradigm, Strong Management, Morris, Yorn, Barnes, Levine, Krintzman, Rubenstein, Kohner & Gellman.
Additional cast and characters will be announced at a later time.
They are a team of incredible crimefighters who have banded together to oppose evil, combat crime and clean up the streets of Gotham City. They are... okay, they're NOT Batman and Robin. They're the Batwheels - an awesome group of sentient super-powered crime-fighting vehicles defending Gotham City alongside Batman, Robin, Batgirl and a host of DC Super Heroes.
Having just been created by the Batcomputer, our heroes are essentially kids with little to no life experience. Led by Bam (The Batmobile), the Batwheels - Bibi (The Batgirl Cycle), Redbird (Robin's Sports Car), The Batwing and Buff (The Bat Truck) - must navigate the growing pains of being a newly formed super team as well as the growing pains that come with just being a kid. This relatable and aspirational series will follow the journey of this dynamic team as they thrill and entertain with their heroic adventures as well as demonstrate to kids the value of self-confidence, friendship and teamwork.
Batwheels is produced by Warner Bros. Animation. Sam Register (Looney Tunes Cartoons) serves as executive producer. Michael G. Stern (Doc McStuffins) serves as co-executive producer, Simon J. Smith (Baymax Dreams) is supervising producer and Steven Fink of Bang Zoom Ltd. is producer.
About WarnerMedia Kids & Family
WarnerMedia Kids & Family is the united group within the WarnerMedia enterprise that offers an expansive content slate on HBO Max and Cartoon Network. As the umbrella brand for all kids and family content, Cartoon Network reenergized its brand promise through its new tagline Redraw Your World, which empowers individuality and aims to be the place where kids are free to be themselves. With hundreds of hours of original series, specials and acquisitions, the WarnerMedia Kids & Family portfolio features its Cartoonito preschool programming block; a roster of upcoming animation and live-action originals that appeal to kids of all ages; and ACME Night, a weekend entertainment destination for families to enjoy a line-up of library favorites and blockbuster hits as well as new originals that will include Batman: Caped Crusader, Gremlins: Secrets of the Mogwai, Unicorn: Warriors Eternal, and more. A marquee collection of powerhouse brands and expertise marks WarnerMedia Kids & Family as a global leader wherever its brands live and engage with audiences all over the world.
About Cartoonito
Cartoonito is the WarnerMedia Kids & Family preschool programming block on HBO Max and Cartoon Network. Inspired by Positive Psychology and 21st Century Learning, Cartoonito is based on the proprietary preschool educational framework of Humancentric Learning, which aims to support every child's humanness by celebrating their unique selves. With a roster of originals actively in development, Cartoonito will offer modern programming that leans into WarnerMedia's Kids & Family iconic IP that stems from Warner Bros. Animation and Cartoon Network Studios. Mush-Mush & the Mushables and Thomas & Friends: All Engines Go are among a slate of 20 new series that will be available at launch. In addition, a portfolio of originals including Batwheels, Sesame Workshop's Bea's Block, Bugs Bunny Builders, Little Ellen, and a collection of projects from bestselling children's book author Mo Willems will add to thousands of hours of content from WarnerMedia's legacy library and global acquisitions.
About Warner Bros. Animation
Warner Bros. Animation (WBA) is one of the leading producers of animation in the entertainment industry, producing and developing projects for multiple platforms, both domestically and internationally. WBA's current series include Animaniacs for Hulu, Green Eggs and Ham and Wings of Fire for Netflix, Aquaman: King of Atlantis, Batman: Caped Crusader, Batwheels, Gremlins: Secrets of the Mogwai, Harley Quinn, Jellystone!, Little Ellen, Looney Tunes Cartoons, My Adventures with Superman, Tiny Toons Looniversity, Tom and Jerry in New York, Velma and Young Justice for HBO Max, DC Super Hero Girls, Teen Titans Go!, ThunderCats Roar for Cartoon Network, Dorothy and the Wizard of Oz, Scooby-Doo! and Guess Who?, The Tom and Jerry Show and Yabba-Dabba Dinosaurs! for Boomerang. WBA is also in production on a series of animated longform movie specials for ACME Night, WarnerMedia Kids & Family's family programming block on Cartoon Network and HBO Max. Programs include Did I Do that to the Holidays? A Steve Urkel Story, Merry Little Batman and an Untitled Looney Tunes Cartoons movie. The studio is currently in production with New Line Cinema on the upcoming original anime feature film, The Lord of the Rings: The War of the Rohirrim. WBA's full-length theatrical film, Teen Titans GO! to the Movies, was released in summer 2018. As home to the iconic animated characters from the DC, Hanna-Barbera, MGM and Looney Tunes libraries, WBA also produces highly successful animated films - including the DC Universe Movies - for DVD, Blu-ray(R) and digital media. One of the most-honored animation studios in history, WBA has won six Academy Awards(R), 40 Emmy(R) Awards, the George Foster Peabody Award, a BAFTA Children's Award, an Environmental Media Award, a Parents' Choice Award, the HUMANITAS Prize, two Prism Awards and 21 Annie Awards (honoring excellence in animation).
About DC
DC, a WarnerMedia Company, creates iconic characters, enduring stories, and immersive experiences that inspire and entertain audiences of every generation around the world. It is one of the world's largest publishers of comics and graphic novels. As a creative division, DC is charged with strategically integrating its stories and characters across film, television, consumer products, home entertainment, interactive games, and the DC Universe Infinite digital subscription service and community engagement portal. For more information visit dccomics.com and dcuniverseinfinite.com.