[12/13/21 - 10:01 AM]
Nickelodeon to Air "California Dreaming," From Simon Fuller and Ryan Tedder, Thursday, Dec. 16, at 7 P.M. (ET/PT)
The hour-long event follows a group of talented young musicians auditioning to attend an esteemed performing arts boarding school, and features original songs written by Tedder.
---
[via press release from Nickelodeon]
NICKELODEON TO AIR "CALIFORNIA DREAMING," FROM SIMON FULLER AND RYAN TEDDER, THURSDAY, DEC. 16, AT 7 P.M. (ET/PT)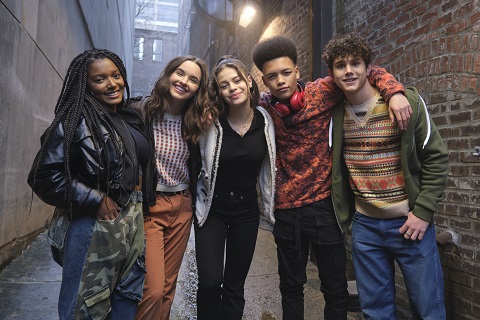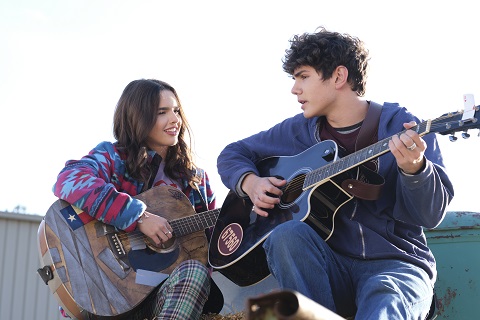 Nickelodeon is set to air California Dreaming, a scripted musical event from legendary, multi-hyphenate creator, producer and manager Simon Fuller and three-time Grammy award winning songwriter and producer, Ryan Tedder. The hour-long event follows a group of talented young musicians auditioning to attend an esteemed performing arts boarding school, and features original songs written by Tedder. California Dreaming airs Thursday, Dec. 16, at 7 p.m. (ET/PT) on Nickelodeon.
California Dreaming stars Jenna Raine Simmons (Hyperlinked) as "Jenna," Liv Simone (Raven's Home) as "Liv," Angelina Green (America's Got Talent) as "Nina," Ben Krieger (National tour of "Finding Neverland") as "Ben" and Max Fincham (Invasion) as "Max."
California Dreaming is produced by Swirl Films (Saints & Sinners) and is created and executive produced by Fuller (American Idol, So You Think You Can Dance) and Tedder (Songland). The teleplay is by Genna Ryan (Young Sheldon, The Thundermans) and story is by Janae Bakken (Greenhouse Academy) and Ryan, who are also executive producers. It is directed and executive produced by Matt Stawski (Side Effects). Marc Dworkin & Sean Cunningham (Julie and the Phantoms) served as consulting producers. Production of California Dreaming for Nickelodeon was overseen by Shauna Phelan and Zack Olin, Co-Heads of Nickelodeon & Awesomeness Live-Action. Laura Courtie served as Nickelodeon's Executive in Charge of Production.




[01/26/22 - 09:10 AM]
A&E Network to Showcase R&B Legend Bobby Brown with Two New Projects for an Intimate Look at the Grammy Award Winner's Past, Present and Future
"Biography: Bobby Brown," a two-night event, airs Monday, May 30 and Tuesday, May 31 at 8:00/7:00c.


[01/26/22 - 09:02 AM]
Apple Original Films and Skydance Animation's Highly Anticipated "Luck" to Premiere Globally on Apple TV+ on Friday, August 5
Eva Noblezada, Simon Pegg, Flula Borg, Lil Rel Howery, Colin O'Donoghue, John Ratzenberger and Adelynn Spoon join the cast, starring alongside Jane Fonda and Whoopi Goldberg.


[01/26/22 - 08:00 AM]
HGTV Renews "Help! I Wrecked My House" for 10 Episode Third Season
The new season is slated to premiere in fall of 2022.


[01/26/22 - 08:00 AM]
HBO and RAI's "My Brilliant Friend: Those Who Leave and Those Who Stay," Based on the Third Book in Elena Ferrante's Quadrilogy, Debuts February 28
Filmed in Italian and starring Margherita Mazzucco and Gaia Girace, season three picks up with Elena and Lila, both now grown women, during the great open sea of the 1970s.


[01/26/22 - 06:01 AM]
"Rowdy's Places" Available Exclusively on ESPN+
Join Ronda Rousey on a journey to explore one of civilization's oldest sports, competitive fighting.


[01/25/22 - 04:32 PM]
NBC Gives Pilot Order to Shaun Cassidy's Drama "Unbroken"
In the project, three dynastic ranch families on the central coast of California make love and war in a passionate struggle to survive, ultimately setting the stage for a group of fiercely determined young women to win big for all at the National Championship of Rodeo.


[01/25/22 - 03:34 PM]
Timed to the 40th Anniversary of NBC's "Late Night," David Letterman Will Join Seth Meyers for an Interview on "Late Night with Seth Meyers" on Feb. 1
Adam Duritz of Counting Crows will perform as musical guest.


[01/25/22 - 02:34 PM]
Nat Geo WILD Roars Into 2022 with Annual "Big Cat Week," A Special Six-Part Series from Award-Winning Filmmakers Dereck and Beverly Joubert, and the Premiere of "Russia's Wild Tiger" on Jan. 30
This special event includes 11 in-depth programs, each exploring an entirely different big cat species, their struggles as they face extinction, as well as rare, never-before-seen footage in their natural habitats spanning from the Okavango Delta to the Serengeti to Thailand and more.


[01/25/22 - 12:01 PM]
HBO Renews Comedy Series "The Righteous Gemstones" for a Third Season
Created, written and executive produced by Danny McBride, the series tells the story of a world-famous televangelist family with a long tradition of deviance, greed and charitable work.


[01/25/22 - 11:01 AM]
VH1's Powerhouse Franchises "Love & Hip Hop" and "Black Ink Crew" Team Up for Two-Part Special Event Uniting Cast Members Across Both Series as They Explore Their African Ancestry
Cast members will come together with host Dometi Pongo in this thought-provoking special that will examine the harsh effects of slavery and challenging stereotypes about Black culture, while also celebrating Africa's rich history, music, craftsmanship, style, dance and food.


[01/25/22 - 10:01 AM]
Get Into the Valentine's Day Spirit with "Looney Tunes Cartoons Valentine's Extwavaganza!" a New Special Streaming Feb. 3
In this love-struck episode, Porky's sweet on Petunia, but Daffy is sweet on Porky's sweets.


[01/25/22 - 10:01 AM]
Host Anthony Anderson Reveals "To Tell the Truth" Return Date Via Instagram Post
Cynthia Erivo, Gary Owen and Donald Faison make up the celebrity panel on its return episode, airing Tuesday, February 22 at 10:00/9:00c.


[01/25/22 - 09:50 AM]
Video: A Message from Rick Riordan - "Percy Jackson and the Olympians" - Disney+
The author reveals "Percy Jackson and the Olympians" is officially coming to Disney+.


[01/25/22 - 09:23 AM]
Video: "Before I Forget" - Official Trailer - Paramount+
Paramount+ presents the story of Pascual León, a retired, bitter 65-year-old, diagnosed with the beginning stages of Alzheimer's.


[01/25/22 - 09:21 AM]
NBC & FOX to Air USFL's Inaugural Game in Historic Prime Time Simulcast
The game pits the New Jersey Generals against the Birmingham Stallions, and it will be televised live on NBC and FOX, making it the first scheduled sports competition to air at the same time on two competitive broadcast networks since Super Bowl I aired on NBC and CBS, January 15, 1967.