"THE IN BETWEEN," STARRING JOEY KING, TO PREMIERE FEB. 11 EXCLUSIVELY ON PARAMOUNT+
Official Trailer and Key Art for "The In Between" Now Available!
From Paramount Players, the Paramount+ Original Movie Also Stars Kyle Allen, Kim Dickens, John Ortiz and Celeste O'Connor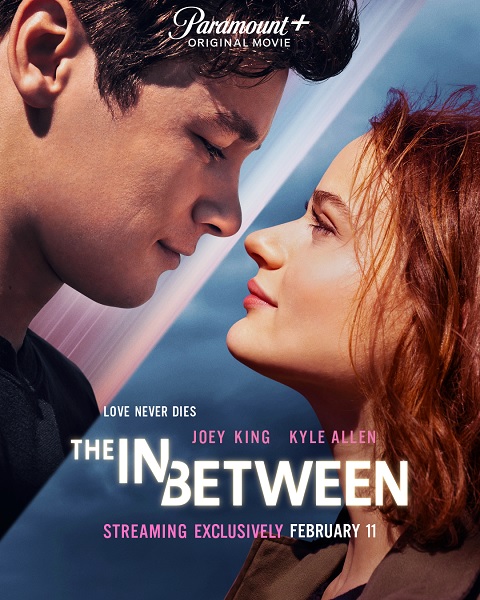 Jan. 12, 2022 - Paramount+, the streaming service from ViacomCBS, today announced that the feature film THE IN BETWEEN, from Paramount Players, will premiere on Friday, Feb. 11, exclusively for Paramount+ subscribers in the U.S. The official trailer and key art were also revealed today.
THE IN BETWEEN is a supernatural love story that centers on a teenage girl, Tessa (Joey King), who, after bouncing around in foster homes for most of her childhood, doesn't believe she deserves her own love story. Everything changes after she has a chance encounter with Skylar (Kyle Allen), a senior from a neighboring town who's a true romantic. As her heart begins to open, tragedy strikes when a car accident takes Skylar's life, while Tessa survives. As Tessa searches for answers in the aftermath of the accident, she soon believes Skylar is attempting to reconnect with her from the afterworld. With the help of her best friend and a newfound belief that love never dies, Tessa attempts to contact Skylar one last time, in order to give their love story the epic ending it deserves.
Starring and produced by Joey King ("The Kissing Booth"), THE IN BETWEEN also stars Kyle Allen ("West Side Story"), Kim Dickens ("Gone Girl"), John Ortiz ("Silver Linings Playbook") and Celeste O'Connor ("Ghostbusters: Afterlife").
Directed by Arie Posin ("The Face of Love") and based on an idea by Marc Klein ("Serendipity"), who penned the script, the feature film is produced by Robbie Brenner ("Dallas Buyers Club"), Andrew Deane ("The Double") and Joey King. Executive producers are Marc Klein and Jamie King.
THE IN BETWEEN will be available to stream exclusively on Paramount+ in the U.S. and is coming soon to Netflix internationally.
About Paramount+
Paramount+, a direct-to-consumer digital subscription video on-demand and live streaming service from ViacomCBS, combines live sports, breaking news, and a mountain of entertainment. The premium streaming service features an expansive library of original series, hit shows and popular movies across every genre from world-renowned brands and production studios, including BET, CBS, Comedy Central, MTV, Nickelodeon, Paramount Pictures and the Smithsonian Channel. The service is also the streaming home to unmatched sports programming, including every CBS Sports event, from golf to football to basketball and more, plus exclusive streaming rights for major sports properties, including some of the world's biggest and most popular soccer leagues. Paramount+ also enables subscribers to stream local CBS stations live across the U.S. in addition to the ability to stream ViacomCBS Streaming's other live channels: CBSN for 24/7 news, CBS Sports HQ for sports news and analysis, and ET Live for entertainment coverage. For more information about Paramount+, please visit www.paramountplus.com and follow @ParamountPlus on social platforms.
About Paramount Pictures Corporation:
Paramount Pictures Corporation (PPC), a global producer and distributor of filmed entertainment, is a unit of ViacomCBS (NASDAQ: VIAC; VIACA), a leading content company with prominent and respected film, television and digital entertainment brands. Paramount controls a collection of some of the most powerful brands in filmed entertainment, including Paramount Pictures, Paramount Animation, Paramount Television Studios, and Paramount Players. PPC operations also include Paramount Home Entertainment, Paramount Pictures International, Paramount Licensing Inc., and Paramount Studio Group.