[10/26/22 - 10:27 AM]
"Tug of Words" Hosted by Samantha Harris - New Season Premieres on Game Show Network November 14 at 3:30 PM ET
In the fast-paced game show, two teams compete to answer word clue questions correctly and pull the flag on the "tug of war rope" to their side.
---
[via press release from GSN]
"TUG OF WORDS" HOSTED BY SAMANTHA HARRIS - New Season Premieres on Game Show Network NOV 14 at 3:30 pm ET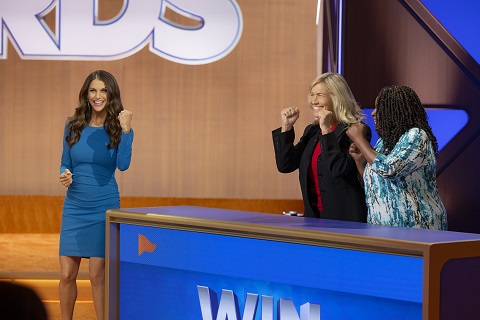 Samantha Harris, left, hosts Tug of Words
Season 2 of TUG OF WORDS will premiere on Monday, November 14 at 3:30 p.m. ET on Game Show Network and air weekdays.
ABOUT TUG OF WORDS
From the producing team behind "Who Wants to Be a Millionaire," TUG OF WORDS is a fast-paced game where two teams compete to answer word clue questions correctly and pull the flag on the "tug of war rope" to their side. In round one, each answer involves changing a single letter in the word that appears on the board. For example, with 'TUG' on the board, the answer to the clue 'a label inside a garment' is 'TAG,' and with 'TAG' then on the board, the answer to the clue 'hopefully the upstairs neighbors aren't learning this dance' is 'TAP.' With each round, an additional letter is added creating four and five letter words to solve. The team with the flag on their side after three rounds wins the game, qualifying them for the bonus round where they have opportunity to compete for $10,000.
About Game Show Network, LLC Game Show Network, LLC ("Game Show Network") is the leader in game show entertainment across multimedia, which presents original and classic game programming and skill-based competitive entertainment and games via its cable network, the digital ad supported network, Game Show Central, the GameShowNetwork.com website and its position as one of the leading social casino games companies in the world at GSN.com. Game Show Network LLC's cross-platform content gives game lovers the opportunity to win cash and prizes, through its popular TV game shows and GSN Games' free casual games, mobile and social games, and skill-game tournaments. Game Show Enterprises, the production arm of the network, develops and produces hundreds of hours of original episodes, making Game Show Network the premiere destination for fun, family-friendly programming. Game Show Network is distributed throughout the U.S., Caribbean and Canada by all major cable operators, satellite providers and telcos. Game Show Network is owned by Sony Pictur
es Entertainment, a subsidiary of Tokyo-based Sony Group Corporation. For further information, please visit GameShowNetwork.com




[12/05/22 - 03:44 PM]
Peacock Announces Ric Flair Biographical Documentary "Woooooo! Becoming Ric Flair"
"Many stories have been told about The Nature Boy over the past 50 years," said Flair, "I'm thrilled to have partnered with WWE and Peacock to produce the most accurate depiction of my life to date and hope audiences enjoy the ride. Woooo!"


[12/05/22 - 03:29 PM]
HBO to Air 1996 Original Film "If These Walls Could Talk" on December 9
"We are so grateful to HBO for allowing us to make this film and the conversations it inspired in 1996," says executive producer Suzanne Todd. "HBO Max making it available to a new generation of audiences will hopefully once again bring attention to the issue of women's healthcare."


[12/05/22 - 12:01 PM]
Ninth and Final Season of "The Flash" to Premiere on The CW Network on Wednesday, February 8, 2023
"'The Flash' will be remembered as one of the greatest shows in the history of The CW, and everyone involved in its excellent nine-season run should be very proud," said Brad Schwartz, President, Entertainment, The CW Network.


[12/05/22 - 12:00 PM]
Meet the 12 New Crew Members Competing on the Fourth Season of "Tough as Nails," Beginning Wednesday, Jan. 4
The cast includes construction workers, a firefighter, a pipeline laborer and a welder, among others.


[12/05/22 - 11:41 AM]
Video: Prime Video Announces Release Date and Trailer for Australian Amazon Original Documentary "The Test" Season Two
The new four-part docuseries will see the return of director Adrian Brown, who is co-directing with Sheldon Wynne, and will be available exclusively on Prime Video in more than 240 countries and territories worldwide on January 13.


[12/05/22 - 11:17 AM]
Lifetime Rings in 2023 with Some Southern Charm as "Married at First Sight" Heads to Nashville for the Sweet 16 Season Premiering on January 4th
Season 16 will reunite experts Pastor Cal and Dr. Pepper with DeVon Franklin, New York Times Bestselling Author and Relationship Advisor and Dr. Pia Holec, a renowned psychotherapist who specializes in sex and couples therapy.


[12/05/22 - 09:50 AM]
Shudder Acquires Viral Sensation "Skinamarink" from Bayview Entertainment
Written, directed and produced by Kyle Edward Ball, making his directorial debut, the film had its premiere at Fantasia Fest and has since taken social media by storm creating an unprecedented viral sensation for an independently produced horror film.


[12/05/22 - 09:05 AM]
Season 5 of marblemedia's Award-Winning Series "All-Round Champion" Scores Premiere Dates on BYUtv and TVOkids
This latest season comes at the heels of the series winning Best Children's or Youth Non-Fiction Program or Series at the 2022 Canadian Screen Awards.


[12/05/22 - 09:03 AM]
TBS' Original Unscripted Series "The Cube," Hosted by NBA Champion & Entrepreneur Dwyane Wade Returns for Season Two on Sunday, January 8, 2023, at 9:00PM
Actress Gabrielle Union-Wade and TV personality La La Anthony partner to kick off the first episode to beat "The Cube" and win money for charity.


[12/05/22 - 09:01 AM]
"Dahmer - Monster: The Jeffrey Dahmer Story" Surpasses 1 Billion Hours Viewed
The anthology series' first installment from Ryan Murphy and Ian Brennan is only the third title in Netflix history to cross the 1 billion hour viewing mark within 60 days, and only the second ever English Language series.


[12/05/22 - 08:10 AM]
MGM+ Announces Cast for "Domina" Season Two
Taking place during one of the most provocative periods in Roman history, the series follows the extraordinary rise of Gaius/Emperor Augustus Caesar's third wife, Livia Drusilla, played by Kasia Smutniak.


[12/05/22 - 08:06 AM]
Power Couple Egypt Sherrod and Mike Jackson Return in New Season of HGTV Hit Series "Married to Real Estate" on Thursday, Jan. 12, at 9 p.m. ET/PT
The compelling couple - who inspired 19 million season one viewers with their positive perspective on running successful property businesses, managing a home and raising three daughters - will help more families buy houses with potential in their ideal Atlanta neighborhoods and transform them into stunning dream homes.


[12/05/22 - 08:01 AM]
Video: Apple TV+ Unveils Trailer for Fourth and Final Season of M. Night Shyamalan's Thriller "Servant"
"Servant" will debut with the first episode of its 10-episode fourth and final season, followed by one new episode weekly, every Friday through March 17.


[12/05/22 - 07:31 AM]
Video: "You People" - feat. Eddie Murphy and Jonah Hill - Official Teaser - Netflix
A new couple (Jonah Hill, Lauren London) fall in love and find themselves confronting societal expectations and generational differences amidst their families (Eddie Murphy, Nia Long, Julia Louis-Dreyfus, David Duchovny) clashing cultures, in this comedy from Kenya Barris.


[12/05/22 - 07:10 AM]
Jeff Bridges to Be Honored with Lifetime Achievement Award at the 28th Annual Critics Choice Awards
Bridges is one of Hollywood's most successful actors and a seven-time Academy Award nominee, as well as a singer and producer.