SHOWTIME(R) DOCUMENTARY FILMS AND BLEECKER STREET TO RELEASE "2ND CHANCE" FROM OSCAR(R) NOMINATED FILMMAKER RAMIN BAHRANI
Feature To Open in New York and Los Angeles on December 2 And in Additional Cities on December 9 Network Premiere Next Spring on SHOWTIME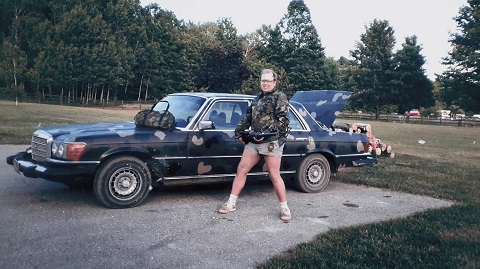 Photo Credit: VESPUCCI/Courtesy of SHOWTIME
LOS ANGELES - October 27, 2022 - SHOWTIME Documentary Films announced today they are teaming up with Bleecker Street to release 2ND CHANCE, the documentary from director and Oscar-nominated screenwriter Ramin Bahrani (The White Tiger, 99 Homes, Chop Shop), in theatres. The film will open in New York and Los Angeles on Friday, December 2, expanding to additional cities December 9. SHOWTIME will then premiere the film on air, on streaming and on demand for all SHOWTIME subscribers next Spring. Bahrani's feature-length documentary debut is an exploration of the life and legacy of Richard Davis, the charming yet brash inventor of the modern-day bulletproof vest who shot himself 192 times to prove his product worked. A hero to police and the military until tragedy brought him down, Davis offers an American story of guns, violence, lies and self-deception. The announcement was made by Vinnie Malhotra, Executive Vice President, Nonfiction Programming, Showtime Networks Inc., and Andrew Karpen, CEO of Bleecker Street.
Davis parlayed his self-tested invention into the launch of Second Chance, which became one of the largest body armor companies in the world. He directed sensational marketing films, earning him celebrity status among police and gun owners across the country. But the death of a police officer wearing a Second Chance vest catalyzed Davis' fall, revealing a man full of contradictions cultivated over decades of reckless behavior. Equally as questionable as he was captivating, Davis saved thousands of lives while endangering exponentially more.
Bahrani's film continues his fascination with the perilous pursuit of the American Dream as seen through a uniquely individual lens. The film shrewdly juxtaposes Davis' actions with those of his righteous right-hand man, Aaron Westrick. Unwilling to passively present questionable truths, Bahrani instead lays bare the complexities of one man's supposed virtue while speaking to the nature of power and impunity in America.
The film made its world premiere at the 2022 Sundance Film Festival and has gone on to play at HotDocs, True False Film Festival, BAMCinemaFest and CPH:DOX, and will showcase at the upcoming DOC NYC. It has won awards at Miami Film Festival and most recently at the Chicago International Film Festival.
"With this extraordinary film, Ramin Bahrani yet again puts his masterful storytelling on display in his documentary feature debut. In exploring the turbulent life of Richard Davis, he examines the pursuit of the American dream and one man's desire to attain it at any cost," said Malhotra. "We're thrilled to be partnering with Bleecker Street to give 2ND CHANCE the broader audience it deserves, by taking this film into theaters."
"I'm very happy to work with SHOWTIME and Bleeker Street for the release," said Bahrani. "The film is a timely wild ride that I hope audiences experience together in a cinema and then on SHOWTIME."
Said Karpen: "We're excited to be working with SHOWTIME on Ramin's incredible film. We've been fans of Ramin's films since 99 HOMES and are looking forward to bringing this riotous story to theaters this December."
Bahrani is the Iranian-American writer, director and producer of films such as Man Push Cart, Chop Shop, Goodbye Solo, 99 Homes and The White Tiger. His two short documentaries, Life You Up and Blood Kin, screened at Venice, Telluride and Toronto. Bahrani is a Guggenheim Fellowship winner, and his cinematic oeuvre is housed in the permanent collection at the Museum of Modern Art in NYC.
The film is written, directed by Bahrani, who also produces. Daniel Turcan & Johnny Galvin of Vespucci, Charles Dorfman and Jacob Grodnik also serve as producers. The film is executive produced by Oscar-nominated filmmaker Joshua Oppenheimer (The Act of Killing, The Look of Silence), Myles Estey, Bahareh Azimi and Marlon Vogelgesang. Fifth Season and Samuel Marshall Films produced and financed the film.
Showtime Networks Inc. (SNI), a wholly owned subsidiary of Paramount, owns and operates the premium service SHOWTIME(R), which features critically acclaimed original series, provocative documentaries, box-office hit films, comedy and music specials and hard-hitting sports. SHOWTIME is available as a stand-alone streaming service across all major streaming devices and Showtime.com, as well as via cable, DBS, telco and streaming video providers. SNI also operates the premium services THE MOVIE CHANNEL(TM) and FLIX(R), as well as on demand versions of all three brands. SNI markets and distributes sports and entertainment events for exhibition to subscribers on a pay-per-view basis through SHOWTIME PPV(R). For more information, go to www.SHO.com.
Bleecker Street Media is an independently financed distributor based in New York City that was founded in August 2014 by Andrew Karpen. The company has released more than 45 films and established itself as a trusted label and champion of original cinema, cumulating an impressive and lauded slate including Debra Granik's Leave No Trace; Steven Soderbergh's Logan Lucky; the Academy Award(R)-nominated Captain Fantastic; the hit thriller Eye in the Sky, and the Academy Award(R)-nominated Trumbo. Recent notable titles include: Independent Spirit Award winner Mass starring Reed Birney, Ann Dowd, Jason Isaacs and Martha Plimpton; Dream Horse starring Toni Collette and Damian Lewis; Together Together with Ed Helms and Patti Harrison; and Breaking, starring John Boyega and Connie Britton. Bleecker Street has recently entered an exclusive three-year output deal with Showtime Networks Inc.