New MGM+ Original Movie "The Portable Door" Coming Exclusively to MGM+ in April
The fantasy-adventure features three-time Golden Globe nominee Sam Neill and Patrick Gibson leading an ensemble cast that includes two-time Academy Award winner Christoph Waltz and Sophie Wilde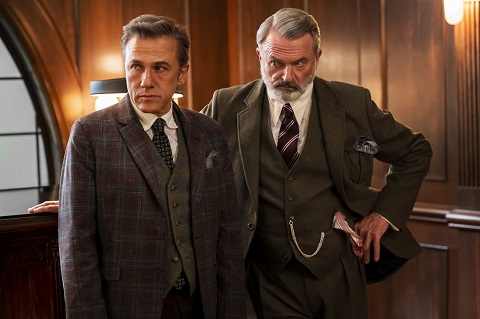 Photo Credit: Mark Taylor
BEVERLY HILLS, California - February 7, 2023 - MGM+ announced today the pickup of a new fantasy-adventure comedy, The Portable Door, an MGM+ original film that will be coming exclusively to the U.S. market in April. The comedy stars multi-time Golden Globe nominee Sam Neill (Peter Rabbit, Jurassic Park) and Patrick Gibson (The OA, Tolkien), joining two-time Academy Award winner Christoph Waltz (Django Unchained, No Time to Die) and Sophie Wilde (Eden, You Don't Know Me). The award-winning Jeffrey Walker (Ali's Wedding, Lambs of God) directed the film, which is adapted by Leon Ford (Griff the Invisible) from Tom Holt's popular seven-book fantasy series.
The movie centers on Paul Carpenter (Gibson) and Sophie Pettingel (Wilde), lowly, put-upon interns who begin working at the mysterious London firm J.W. Wells & Co., and become increasingly aware that their employers are anything but conventional. Charismatic villains Humphrey Wells (Waltz), the CEO of the company, and middle manager Dennis Tanner (Neill) are disrupting the world of magic by bringing modern corporate strategy to ancient magical practices, and Paul and Sophie discover the true agenda of the vast corporation.
The cast also includes Miranda Otto (The Lord of the Rings, Chilling Adventures of Sabrina), Chris Pang (Crazy Rich Asians, Charlie's Angels), Jessica De Gouw (Gretel & Hansel, Pennyworth), and Rachel House (Soul, Thor: Ragnarok).
A Jim Henson Company, Story Bridge Films, and Sky production, The Portable Door is produced by Todd Fellman from Story Bridge Films (Daybreakers, Bait 3D) and Blanca Lista (The Dark Crystal: Age of Resistance). The Jim Henson Company's Lisa Henson and Chris Lytton are executive producing, as are Arclight Films' Gary Hamilton, Brian Beckmann, Ying Ye, and Ryan Hamilton, alongside Julia Stuart and Laura Grange from Sky, and Cailah Scobie and Shana Levine with Stan. Arclight Films is handling international rights to the movie. UTA's Independent Film Group and CAA Media Finance are jointly representing the film's North American rights.
"The Portable Door  is a charming young-adult action-adventure fantasy with a British sensibility that is an excellent addition to our curated film library," said Michael Wright, head of MGM+. "With Sam Neill, Christoph Waltz, Patrick Gibson, and its wonderful cast of excellent actors, we're thrilled to offer this delightful film to our audience of movie lovers."
"There is no better home for this delightful and comedic adventure than on the prestigious new MGM+. Featuring deeply funny performances from our incredible cast, and a rich, high-fantasy setting, The Portable Door allowed us to create the kind of memorable, exciting world-building that The Jim Henson Company does best," said executive producer Lisa Henson. "The Portable Door is poised to be the next Henson fan favorite."
The Portable Door is the newest original film announced by MGM+, joining an expansive library of film titles from MGM and other major Hollywood Studios. The library of titles includes blockbusters like Top Gun: Maverick; MGM hits No Time to Die and House of Gucci; and beloved franchises like James Bond and Rocky. The service also offers fan favorites like The Silence of the Lambs, Platoon, Robocop, The Magnificent Seven, The Wolf of Wall Street, Star Trek: Into Darkness, The Lost City, Barbershop, The Pink Panther, In the Heat of the Night, The Thomas Crown Affair, A Quiet Place, and Father of the Bride.
About MGM+
MGM+, an Amazon company, is a premium linear channel and streaming service delivering a broad lineup of quality original series and docuseries, the latest movie releases, and classic film franchises - all available in the U.S. on TV, on-demand, online, and across devices. MGM+ is a destination for original premium content, with original series including sci-fi horror series FROM; Emmy-winning series Godfather of Harlem; the Western adventure Billy the Kid; and cinematic dramatic series War of the Worlds, Rogue Heroes, and Belgravia. The network is also the home of acclaimed docuseries, including Emmy-nominated Laurel Canyon, Helter Skelter, Slow Burn, My Life as a Rolling Stone, NFL Icons, and Blumhouse's Compendium of Horror. Premium movies are also available, including Top Gun: Maverick, No Time to Die, House of Gucci, Cyrano, and Licorice Pizza.   
MGM+ will continue to be available nationwide through cable, telco, satellite, and emerging digital distribution channels, as well as through its MGM+ app, providing more movies than any other network with thousands of titles available for streaming. For more information about the current MGM+ lineup, go to [www.mgmplus.com ] or follow on [Twitter, Instagram, Facebook, TikTok, and YouTube].    
About The Jim Henson Company
The Jim Henson Company has remained an established leader in family entertainment for over 65 years and is recognized as an innovator in puppetry, animatronics, and digital animation. The Company's most recent credits include the acclaimed Guillermo Del Toro's Pinocchio for Netflix, the Emmy(R)-winning Fraggle Rock: Back to the Rock for Apple TV+, and the feature film The Portable Door for MGM+. Other television credits include Slumberkins, Harriet the Spy and Fraggle Rock: Rock On!, all for Apple TV+, Word Party for Netflix, Earth to Ned for Disney+, and the Emmy-winning Netflix Original series The Dark Crystal: Age of Resistance. Other TV productions include Dinosaur Train (PBS), Splash and Bubbles (PBS), Sid the Science Kid (PBS), and Julie's Greenroom (Netflix), as well as Fraggle Rock, The Storyteller, and the sci-fi series Farscape. Feature film credits include The Star (Sony Pictures Animation), Alexander and the Terrible, Horrible, No Good, Very Bad Day (Disney), and the groundbreaking fantasy classics The Dark Crystal, and Labyrinth. 
With additional locations in New York and London, The Jim Henson Company is headquartered in Los Angeles on the historic Charlie Chaplin lot, complete with soundstage and post-production facilities. The Company is home to Jim Henson's Creature Shop(TM), a pre-eminent character-building and visual effects group with international film, television, theme park and advertising clients, as well as Henson Recording Studios, one of the music industry's top recording facilities known for its world-class blend of state-of-the-art and vintage equipment. The Company's Henson Alternative credits include The Curious Creations of Christine McConnell (Netflix), the feature film The Happytime Murders, and the popular live puppet improvisational show Puppet-Up! - Uncensored.
Story Bridge Films
Story Bridge Films is one of Australia's most prolific independent film production companies specializing in the development, financing and production of Australian feature films and international co-productions. Recent credits include Daybreakers, Bait3D, IMAX Under the Sea 3D, A Few Best Men, Mental, Jungle, Guardians of the Tomb, At Last, Legend of Sun and Moon, Escape From Pretoria and Black Site. Based in Brisbane, Story Bridge Films is actively involved in a diverse range of upcoming local and international projects.
About Sky
Sky is one of Europe's leading media and entertainment companies and is part of Comcast Corporation, a global media and technology company that connects people to moments and experiences that matter. At Sky we Believe in Better. It's in our DNA. We're famous for innovation. We offer streaming services NOW and WOW; the world's smartest TV, Sky Glass; Sky Stream, the new, easy way to get the Sky Glass experience on any TV; and the best aggregation platform, Sky Q. We provide connectivity you can count on in mobile, and fast, secure, reliable residential and business broadband.
We're Europe's premium content producer. We create award-winning original content, produce the biggest live sporting events, and we provide free access to news and the arts. We believe that we can have a positive impact on society, by supporting and creating tens of thousands of jobs, addressing digital inequality, being a diverse and inclusive employer, and becoming net zero carbon by 2030.
Arclight Films
For more information about Arclight Films, please visit: www.arclightfilms.com