LIFETIME SETS AUGUST 5 AIRDATE FOR "BOY IN THE WALLS," FROM EXECUTIVE PRODUCER AND DIRECTOR CONSTANCE ZIMMER
MOVIE STARS RYAN MICHELLE BATHE, LUKE CAMILLERI, CASSANDRA SAWTELL, MIKKAL KARIM-FIDLER AND JONATHAN WHITESELL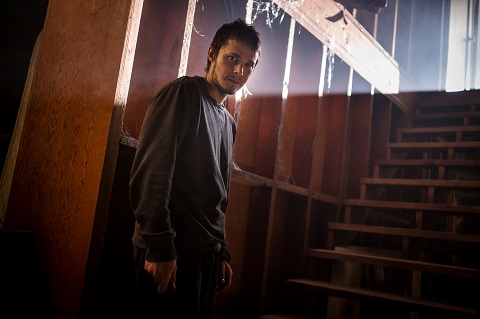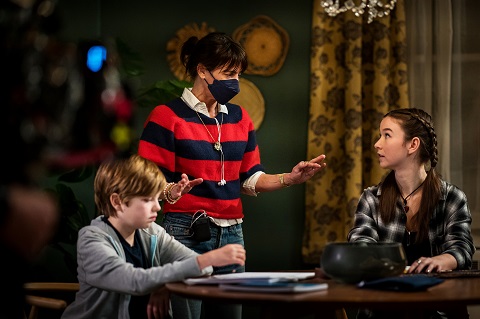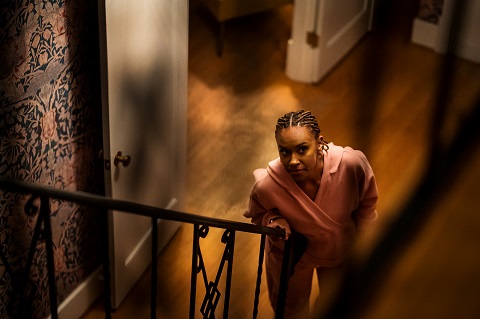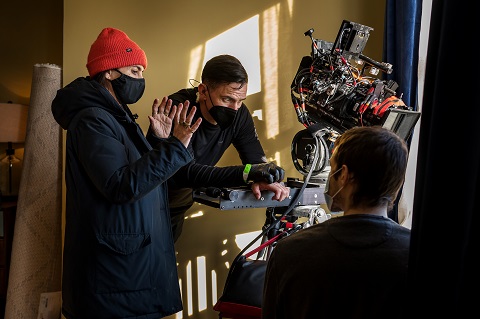 LOS ANGELES, CA (June 8, 2023) - Lifetime has set the premiere date for Boy in the Walls, starring Ryan Michelle Bathe (End Game, Sylvie's Love), Luke Camilleri (Hemlock Grove) Cassandra Sawtell (Disappearance in Yellowstone), Mikkal Karim-Fidler (Chilling Adventures of Sabrina) and Jonathan Whitesell (The X-Files) for Saturday, August 5 at 8p/7c. Directed by Emmy nominee Constance Zimmer, Boy in the Walls tells the story of people who discover there is someone secretly living inside their home.
In Boy in the Walls, recently married Alisa Jensen (Ryan Michelle Bathe) has given up her vibrant Manhattan lifestyle for a quiet existence in rural Connecticut but struggling to adjust to her new role as a stepmother to Maya (Cassandra Sawtell) and Theo (Mikkal Karim-Fidler). Hoping this move can be a fresh start, Alisa finds herself cracking under the pressure with her husband Chris (Luke Camilleri) constantly away at work, limited job prospects, and a rebellious Maya to contend with. But when Alisa begins to hear strange noises in the house, she can't shake the feeling that someone is always watching her. Alisa later makes a terrifying discovery of what is truly within the walls. Jonathan Whitesell stars as Joe, who is secretly watching Alisa and her family.
This film marks Zimmer's return to Lifetime, having previously starred in the Peabody Award winning drama UnReal, in which she made her directorial debut in as well.
Boy in the Walls is produced by Lighthouse Pictures for Lifetime. Constance Zimmer, Manu Boyer, Kevin Leeson, Shawn Williamson and Jamie Goehring are executive producers. Zimmer (Big Sky, Good Trouble, House of Cards) also directed from a script written by Katrina Onstad and David Weaver.
###
ABOUT LIFETIME
Celebrating over 35 years of entertaining audiences, Lifetime is a premier entertainment destination for women dedicated to offering the highest quality original programming spanning award-winning movies, high-quality scripted series and breakout non-fiction series. Lifetime has an impressive legacy in public affairs, bringing attention to social issues that women care about with initiatives such as the long-running Stop Breast Cancer for Life, Stop Violence Against Women, and Broader Focus, a major global initiative dedicated to supporting and hiring female directors, writers and producers, including women of color, to make its content. Lifetime Television(R), LMN(R), Lifetime Real Women(R) and Lifetime Digital(TM) are part of Lifetime Entertainment Services, LLC, a subsidiary of A+E Networks. A+E Networks is a joint venture of the Disney-ABC Television Group and Hearst Corporation.