Adult Swim's Revival of Iconic Animated Comedy "Aqua Teen Hunger Force" Arrives Sunday, November 26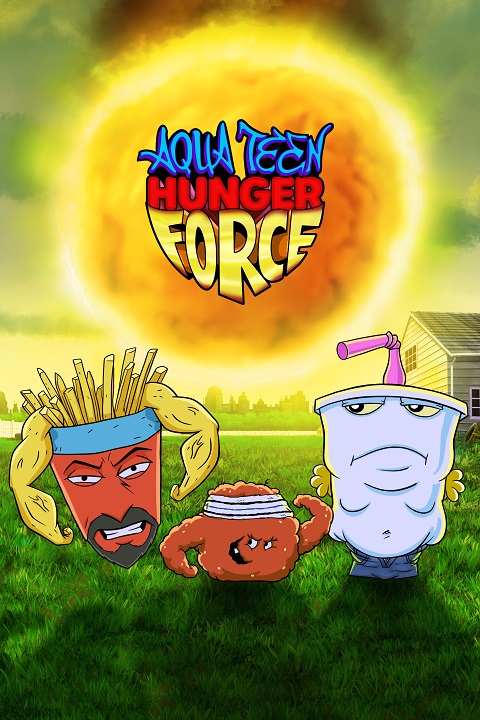 One of Adult Swim's first original series, "Aqua Teen Hunger Force" will make its long-awaited return for a 12th season on Sunday, November 26 at 11:30pm ET/PT. From creators Dave Willis ("Squidbillies," "Your Pretty Face is Going to Hell") and Matt Maiellaro ("12 oz. Mouse"), new episodes of the quarter-hour comedy that follows the fast-food trio of Master Shake, Frylock and Meatwad will feature guest appearances from Emmy(R) winner Eric Bauza, Emmy winner Brian Cox, Dan Fogler, Emmy winner Maurice LaMarche, and Gary Anthony Williams.
Coming off last year's original film "Aqua Teen Forever: Plantasm," the new season marks the return of stars Carey Means ("The Brak Show") as Frylock, Dana Snyder ("Squidbillies") as Master Shake, and co-creator Willis as Meatwad and Carl. "Aqua Teen Hunger Force" Season 12 is written, produced, and directed by Maiellaro and Willis.
Their official season description is below:
"Aqua Teen Hunger Force" is back to make television watchable again, and to fill your empty, content-starved lives with a magical season 12! Don't call it a comeback! Even though by all accounts it seems to be just that. It's a micro-itty-bitty-mini season, five brand new episodes of attention-whittling stupidity - but don't worry, the laugh-per-episode density is far higher than anything else you willingly agree to place before your swollen, encrusted eyes. The new season picks up where we left off in 2015, as Master Shake, Frylock, and Meatwad have returned to solve all of life's modern issues, and Carl returns because he can't sell his crappy house because he lives next door to food. Look for your favorite trio of "detectives" to go head-to-head with A.I. appliances, join an apocalyptic fitness cult, and search for friendship through ancient Egyptian pyramid schemes. In the end, all problems shall be solved, and all brains shall be melted. Did Adult Swim mess with a winning formula? You better believe it! Master Shake now has two all-new facial expressions..."Bemused" and "Lips Pursed in Thought"! And Shake can close his hands now, as if to hold things! Also, Frylock is sixty stories high and Meatwad bounces to get around. Tune in to see if we're telling the truth!
New episodes of "Aqua Teen Hunger Force" will also be available the next day on Max.
Adult Swim is the leader in adult animation and #1 destination for young adults for over fifteen years, offering critically acclaimed, award-winning original and acquired series such as "Rick and Morty," "Genndy Tartakovsky's Primal," "The Eric Andre Show," "SMILING FRIENDS," "Unicorn: Warriors Eternal" and "My Adventures with Superman." Fan favorite anime block, Toonami, airs on Saturday nights and has expanded beyond acquisitions, producing original series including "Housing Complex C," "Uzumaki," and "FLCL." The annual Adult Swim Festival reaches a global audience, and features performances by top musicians and comedians. Adult Swim airs nightly from 5 p.m. to 6 a.m. (ET/PT) on its linear channel and reaches fans via Max. Connect with Adult Swim on Facebook, Twitter, Instagram and Tik Tok. Subscribe to Adult Swim on YouTube.
Warner Bros. Discovery (NASDAQ: WBD) is a leading global media and entertainment company that creates and distributes the world's most differentiated and complete portfolio of content and brands across television, film and streaming. Available in more than 220 countries and territories and 50 languages, Warner Bros. Discovery inspires, informs and entertains audiences worldwide through its iconic brands and products including: Discovery Channel, Max, discovery+, CNN, DC, Eurosport, HBO, Max, HGTV, Food Network, OWN, Investigation Discovery, TLC, Magnolia Network, TNT, TBS, truTV, Travel Channel, MotorTrend, Animal Planet, Science Channel, Warner Bros. Film Group, Warner Bros. Television Group, Warner Bros. Games, New Line Cinema, Cartoon Network, Adult Swim, Turner Classic Movies, Discovery en Español, Hogar de HGTV and others. For more information, please visit www.wbd.com.