HBO Original Documentary DAVID HOLMES: THE BOY WHO LIVED Debuts November 15
The Extraordinary Story Of Daniel Radcliffe's Stunt Double, David Holmes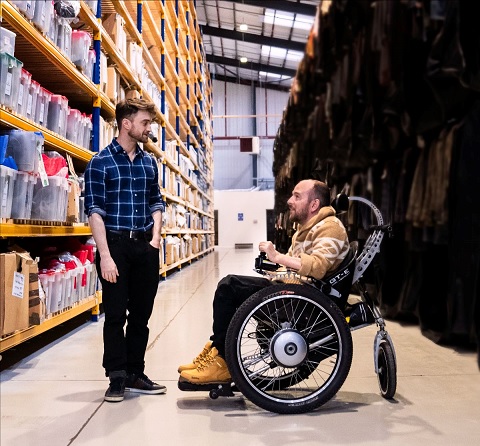 · The HBO Original documentary DAVID HOLMES: THE BOY WHO LIVED, executive produced by Daniel Radcliffe and directed by Dan Hartley ("Lad: A Yorkshire Story"), debuts WEDNESDAY, NOVEMBER 15 (9:00-10:30 p.m. ET/PT) on HBO and will be available to stream on Max.
· Synopsis: The film is a coming-of-age story of stuntman David Holmes, a prodigious teenage gymnast from Essex, England, who is selected to play Daniel Radcliffe's stunt double in the first Harry Potter film, when Daniel is just eleven. Over the next ten years, the two form an inextricable bond, but on the penultimate film a tragic accident on set leaves David paralyzed with a debilitating spinal injury, turning his world upside down. As Daniel and his closest stunt colleagues rally to support David and his family in their moment of need, it is David's extraordinary spirit of resilience that becomes their greatest source of strength and inspiration.
· Featuring candid personal footage shot over the last decade, behind-the-scenes material from Holmes' stunt work, scenes of his current life and intimate interviews with David, Daniel Radcliffe, friends, family, and former crew, the film also reflects universal themes of living with adversity, growing up, forging identities in an uncertain world, and the bonds that bind us together and lift us up.
· Credits: HBO Documentary Films presents DAVID HOLMES: THE BOY WHO LIVED in association with SKY, a Lightbox / Ripple Production. Directed by Dan Hartley; produced by Simon Chinn, Jonathan Chinn, Vanessa Davies, Amy Stares; executive produced by Daniel Radcliffe, David Holmes, Dan Hartley, Sue Latimer, Sarah Spahovic. For HBO: executive producers Nancy Abraham, Lisa Heller, Tina Nguyen. For SKY: executive producer, Poppy Dixon.