THE CW NETWORK PICKS UP SECOND SEASON OF APOCALYPTIC COMEDY "EVERYONE ELSE BURNS"
Season 2 Produced by Jax Media and Universal International Studios, in Association with The CW and Channel 4
Critically Acclaimed Series Makes its CW Debut on Thursday, October 26 at 9:30pm ET/PT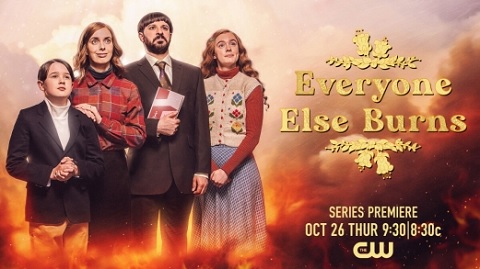 October 24, 2023 (Burbank, CA) - The CW Network has ordered a second season of the critically acclaimed apocalyptic family comedy EVERYONE ELSE BURNS, it was announced today by Brad Schwartz, President of Entertainment, The CW Network. The first season of the series that The Guardian described as "a comedy to become religiously devoted to" will premiere on The CW on Thursday, October 26 (9:30-10:00pm ET/PT).
"EVERYONE ELSE BURNS is a brilliant and bitingly funny series that is as much about family as it is about the end of days," commented Schwartz. "There is truly no other comedy on television like it, and we are thrilled to work alongside the immensely talented writers and producers to bring the uniquely hilarious Lewis family to The CW for another season."
EVERYONE ELSE BURNS follows the Lewises, a strictly religious family who believe the world will end within the decade. Patriarch David (Simon Bird, "Friday Night Dinner," "The Inbetweeners") longs for the church to promote him. Long-suffering Fiona (Kate O'Flynn, "Landscapers") hungers for a life beyond sermons and squash. Aaron (Harry Connor) is a model young believer - except his drawings feature the rest of the family burning in hell. And anxious 17-year-old Rachel (Amy James-Kelly, "Three Families," "Military Wives") is about to fall for someone who could save her social life, but also damn her soul.
EVERYONE ELSE BURNS is written by Dillon Mapletoft and Oliver Taylor and season two is co-produced by Jax Media (part of Imagine Entertainment) and Universal International Studios (a division of Universal Studio Group), in association with The CW Network and Channel 4. Executive producers include Brooke Posch, Tony Hernandez and Jax Media's Molly Seymour as well as Dillon Mapletoft and Oliver Taylor.
###
ABOUT THE CW NETWORK
The CW Network, LLC is one of America's major broadcast networks and reaches 100% of US television households. The CW delivers 15 hours of primetime entertainment programming per week in addition to over 300 hours of sports per year as the broadcast home to LIV Golf, ACC football and basketball games, "Inside the NFL" and the NASCAR Xfinity Series beginning in 2025. The fully ad-supported CW App, with more than 96 million downloads to date, is available for free to consumers on all major platforms and is home to the latest episodes and seasons of The CW's primetime programming, live streaming of LIV Golf tournaments and a library of entertaining film and television content for on-demand viewing. The CW is 75%-owned by Nexstar Media Group, Inc. (NASDAQ: NXST), a leading diversified media company and largest CW affiliate group with 42 CW and CW Plus affiliates, covering 39% of the population. For more information about The CW, please visit www.cwtv.com.
ABOUT UNIVERSAL INTERNATIONAL STUDIOS
Universal International Studios, a division of Universal Studio Group, partners with storytellers from around the globe to create bold and distinctive shows with universal resonance. Based in London and led by President Beatrice Springborn, the business' in-house production companies include: Carnival Films ("The Day of the Jackal," "Downton Abbey," "Belgravia," "The Last Kingdom"), Monkey ("Made in Chelsea," "That's My Jam" with Mo Gilligan, "The Real Housewives of Cheshire"), Matchbox Pictures ("Bad Behaviour," "Clickbait," "Things I Know To Be True"), Working Title Television ("We Are Lady Parts," "Everything I Know About Love," "The Luminaries") and Heyday Television ("Apples Never Fall," "The Capture," "Clickbait"). UIS also backs Tony Ayres Productions ("Clickbait," "Fires") and owns an equity stake in Lark Productions ("Fortunate Son"). Additionally, UIS houses a scripted unit that develops and produces original series such as "Hanna," "Everyone Else Burns" and BAFTA Award winner "Dodger," as well as NBCUniversal Formats, the international sales division that brings content to the global market, including "Top Chef," "Hollywood Game Night," "Saturday Night Live," "The Real Housewives," "That's My Jam," "The Good Place," "Superstore" and more.
ABOUT JAX MEDIA
Founded in 2011, Jax Media is a television and film production juggernaut with offices in New York, Los Angeles, and London. Jax Media has created a production model that enables talent to fully realize their creative visions, and the results have been answered with awards and critical acclaim. As a company, they provide comprehensive production services from development through post, with a highly experienced in-house production team that expertly implements the unique Jax model that has proven itself time and time again as a success for studios, networks, and creatives alike.
Jax Media is the production company behind a number of beloved projects, including the smash hit Emily in Paris, the Emmy-winning Russian Doll, both for Netflix, as well as the Emmy-nominated A Black Lady Sketch Show (HBO), cult hits Search Party (HBO Max) and Broad City (Comedy Central), Searchlight Pictures/Hulu feature Fire Island, which has been nominated for a 2023 Emmy in the Outstanding Television Movie category, and late-night shows Full Frontal with Samantha Bee (TBS) and Desus & Mero (Showtime). Jax Media recently finished production on the Disney feature The Slumber Party and is gearing up for new seasons of UnCoupled (Netflix), My Next Guest Needs No Introduction With David Letterman (Netflix), and Animal Control (Fox). Jax Media remains regularly involved in the tapings of live stand-up comedy. Over the years, Jax has produced specials with some of the biggest names in comedy, including Chris Rock, Amy Schumer, John Mulaney, Ray Romano, Mike Birbiglia, Bert Kreischer, and Sarah Silverman.
Jax Media has received 102 Primetime Emmy nominations and 13 wins.