"LEGO(R) MARVEL AVENGERS: CODE RED" NOW STREAMING EXCLUSIVELY ON DISNEY+
Brand-new Poster for the Animated Special Available Now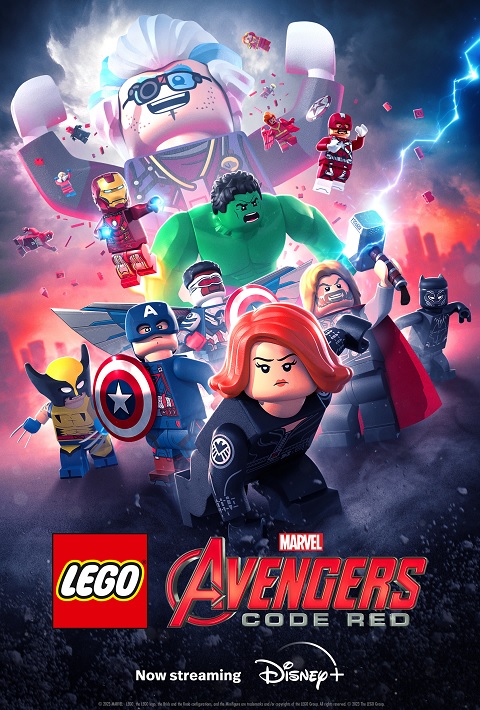 "LEGO Marvel Avengers: Code Red" began streaming today, exclusively on Disney+. To mark the debut, a brand-new poster and images are available for the exciting, all-new, animated adventure.
In the animated special, The Avengers assemble to save New York City from the threat of the Red Skull and his Hydra forces. In the midst of the battle, the Avengers are unexpectedly joined by Black Widow's father, Red Guardian, which doesn't go over well with Natasha.
After an argument with his daughter about his well-intentioned helicopter parenting, Red Guardian disappears under mysterious circumstances. As Black Widow and the Avengers investigate, they discover that the villainous Collector is kidnapping every character who has "red" in their name. But despite their best efforts, the Avengers are unable to stop the Collector from kidnapping his next victim, their friend Red She-Hulk.
Down but not out, the Avengers now seek out the one person who has the skills to help them - Wolverine. Determined more than ever to find her father, Black Widow convinces Wolverine to join the Avengers to help them find the Collector and his prisoners. But once they locate Collector's secret lair the Avengers find a lot more than they bargained for. Will the Avengers be able to rescue Red Guardian and the others, or will they permanently become part of Collectors newest collection?
The voice cast features Laura Bailey, Trevor Devall, Haley Joel Osment, Steve Blum, Will Friedle, James Mathis III, Liam O'Brien, Laura Post, Bumper Robinson, Roger Craig Smith, Fred Tatasciore, Travis Willingham and Mick Wingert.
Ken Cunningham directs "LEGO Marvel Avengers: Code Red," and Eugene Son is the writer and also an executive producer. Harrison Wilcox, Jill Wilfert and Keith Malone also serve as executive producers with Jason Cosler producing.
"LEGO Marvel Avengers: Code Red" is now streaming exclusively on Disney+.
SOCIAL MEDIA X: @DisneyPlus Facebook: @DisneyPlus Instagram: @DisneyPlus Hashtag: #DisneyPlus
ABOUT DISNEY+
Disney+ is the dedicated streaming home for movies and shows from Disney, Pixar, Marvel, Star Wars, and National Geographic, along with The Simpsons and much more. In select international markets, it also includes the general entertainment content brand, Star. The flagship direct-to-consumer streaming service from The Walt Disney Company, Disney+ offers an ever-growing collection of exclusive originals, including feature-length films, documentaries, live-action and animated series, and short-form content. With unprecedented access to Disney's long history of incredible film and television entertainment, Disney+ is also the exclusive streaming home for the newest releases from The Walt Disney Studios. Disney+ is available as a standalone streaming service, as part of the Disney Bundle in the U.S. that gives subscribers access to Disney+, Hulu, and ESPN+, or as part of Combo+ in Latin America with Star+, the standalone general entertainment and sports streaming service in the region. For more, visit disneyplus.com, or find the Disney+ app on most mobile and connected TV devices.
ABOUT THE LEGO GROUP
The LEGO Group's mission is to inspire and develop the builders of tomorrow through the power of play. The LEGO System in Play, with its foundation in LEGO bricks, allows children and fans to build and rebuild anything they can imagine.    
The LEGO Group was founded in Billund, Denmark in 1932 by Ole Kirk Kristiansen, its name derived from the two Danish words LEg GOdt, which mean "Play Well". Today, the LEGO Group remains a family-owned company headquartered in Billund. However, its products are now sold in more than 130 countries worldwide.
For more news from the LEGO Group, information about our financial performance and responsibility engagement, please visit www.LEGO.com/aboutus.