SUNDANCE NOW AND AMC+ RELEASE PREMIERE DATE AND FIRST-LOOK IMAGES FOR "SANCTUARY: A WITCH'S TALE"
The Sundance Now Original Series Debuts with a Two-Episode Premiere on Thursday, January 4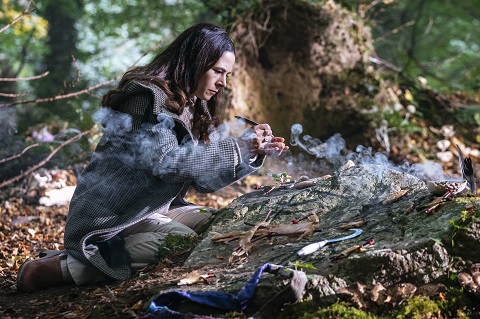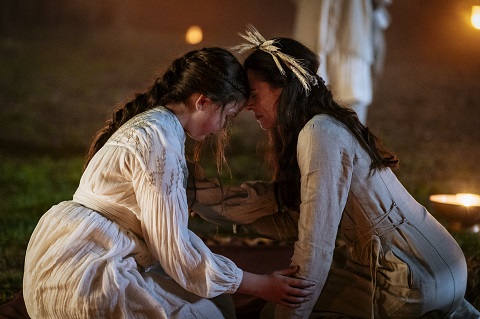 NEW YORK, October 31, 2023 - Sundance Now and AMC+ today released the premiere date and first-look images for the seven-part drama series, Sanctuary: A Witch's Tale, written and created by Debbie Horsfield, and adapted from the novel by V.V. James. The Sundance Now original series debuts with a two-episode premiere on Thursday, January 4, exclusively on Sundance Now and AMC+, with new episodes airing weekly. The series will be available on applicable platforms in the USA and Canada.
Sanctuary: A Witch's Tale is set in a contemporary world where witchcraft is real. It takes place in the idyllic English town of Sanctuary, where for hundreds of years witches have lived peacefully, as valued members of society. Until now...
At the heart of the story is Sarah Fenn (Elaine Cassidy), Sanctuary's resident witch, on whom the town relies to solve their problems when conventional remedies have failed. When local teen rugby star, Dan Whithall, dies tragically in an apparent accident, his death exposes a terrifying undercurrent of suspicion and fear towards Sarah and her teenage daughter, Harper (Hazel Doupe). Mother of the dead boy, Abigail (Amy de Bhrun), once Sarah's closest friend, is wracked with grief, and to avenge her son's death, launches a modern-day witch-hunt to get "justice", no matter what the cost.
Sanctuary: A Witch's Tale stars Cassidy, Doupe, and de Bhrun, along with Stephanie Levi-John, Valerie O'Connor, Kelly Campbell and Stephen Lord. The series is executive produced by Monumental Television (Mrs Sidhu Investigates, Harlots) and is directed by Lisa Mulcahy and Justin Molotnikov.
About AMC+
AMC+ is the company's premium streaming bundle featuring an extensive lineup of popular and critically acclaimed original programming from AMC, BBC America, IFC, and SundanceTV and full access to targeted streaming services Shudder, Sundance Now and IFC Films Unlimited, which feature content such as A Discovery of Witches, Creepshow, and Boyhood. The service features a continually refreshed library of commercial-free content, with iconic series from the AMC Networks portfolio including Mad Men, Halt & Catch Fire, Hell on Wheels, Turn: Washington's Spies, Rectify, Portlandia, Orphan Black and series from The Walking Dead Universe, among many others. The service also offers a growing slate of original and exclusive series including Gangs of London, Dark Winds, and the first two series in a new Anne Rice universe, Anne Rice's Interview with the Vampire and Anne Rice's Mayfair Witches. With new movies released every Friday, AMC+ is the newest destination for exclusive film premieres direct from theaters all year long. AMC+ is available in Canada, Australia, New Zealand, and Spain and is available in the U.S. through AMCPlus.com, the AMC+ app, and a number of digital and cable partners.
About Sundance Now
AMC Networks' Sundance Now offers cross-genre escapism for insightful viewers seeking fresh perspectives, thought-provoking experiences and transportive journeys to far-off places. With a rich selection of engrossing dramas and romance, imaginative fantasy, gripping mysteries, to riveting true crime and intelligent thrillers, Sundance Now programming features empowered characters telling one-of-a-kind of stories from around the world - all streaming commercial-free. Sundance Now houses critically-acclaimed and award-winning original and streaming exclusive series including popular supernatural thriller A Discovery of Witches (Matthew Goode, Teresa Palmer), multi-Emmy winner State of the Union (Rosamund Pike, Chris O'Dowd; Patricia Clarkson, Brendan Gleeson), recent breakout dark comedies SisterS (Sarah Goldberg, Susan Stanley) and Totally, Completely Fine (Thomasin McKenzie), glamourous coastal drama Riviera (Julia Stiles), British true crime thriller Des (David Tennant), French spy drama The Bureau, Australian psychological thriller The Secrets She Keeps (Laura Carmichael), acclaimed Swedish drama The Restaurant, Motherland (Anna Maxwell Martin, Lucy Punch, Joanna Lumley), and Total Control (Rachel Griffiths, Deborah Mailman), to name a few; alongside riveting true crime series including Dating Death, The Heiress and the Heist and the True Crime Story franchise. Sundance Now can be enjoyed for $6.99/month or $4.99/month with an annual membership. No cable subscription is needed. Facebook: @SundanceNow - Twitter: @sundance_now