Apple sets its first original Peanuts feature film, taking Snoopy and Charlie Brown on an epic adventure through the Big City
The Peanuts gang to go on their biggest adventure yet in new CG-animated film from director Steve Martino, two-time Academy Award-nominated producer Bonnie Arnold and acclaimed screenwriters Karey Kirkpatrick, Craig Schulz, Bryan Schulz, and Cornelius Uliano
New film to join an expanding lineup of beloved Peanuts specials and original series, all streaming globally now, on Apple TV+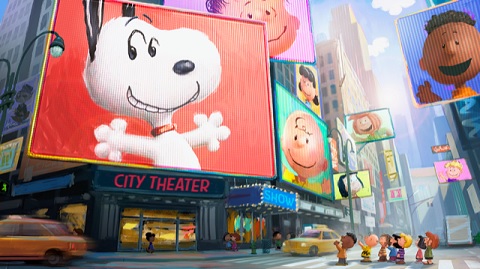 Peanuts fans rejoice! Apple TV+, the official streaming destination for all things Peanuts, today announced a new, untitled Peanuts feature film from WildBrain and Peanuts Worldwide, following Snoopy and Charlie Brown as they face their biggest challenge yet. Slated to begin production in 2024 from WildBrain Studios, the new family film will see the Peanuts gang go on an epic adventure to the Big City, learning the true meaning of friendship, while meeting some surprising new friends along the way.
The screenplay is co-written by Karey Kirkpatrick, writer of such animated favorites as "Chicken Run," "Smallfoot" and "Over the Hedge," from an original story by co-writers Craig Schulz, Bryan Schulz and Cornelius Uliano, the team that wrote the award winning "The Peanuts Movie".
The feature will be directed by two-time Annie Award nominee Steve Martino ("Horton Hears a Who," "Ice Age: Continental Drift"), director of the 2015 hit "The Peanuts Movie," and is produced by two-time Academy Award nominee Bonnie Arnold ("How to Train Your Dragon" franchise, "Toy Story," "Over the Hedge").
"Fans of all ages have been enamored with Peanuts on Apple TV+," said Tara Sorensen, Apple's head of children's programming. "With our unmatched library of Peanuts titles, and award-winning collection of stories that bring kids and families together, Apple TV+ is the preeminent home for Snoopy and friends, and offers a world class selection of series and films featuring the most globally cherished animated characters. We can't wait for everyone to experience this heartwarming new adventure with Snoopy, Charlie Brown and the gang in the Big City."
"It is so special to carry on my father's legacy with an original story from me, my son Bryan, and his writing partner Neil," said Craig Schulz. "We are excited to be partnering with Apple TV+ and working with WildBrain Studios to bring audiences a brand-new Peanuts adventure, along with the talented Bonnie Arnold as producer and Steve Martino as director. Peanuts fans have been clamoring for another feature for years, and this film will bring joy to our millions of fans around the world."
Apple's Peanuts feature is produced in partnership with WildBrain and Peanuts Worldwide, and marks the first three-way partnership between Apple TV+, Peanuts Worldwide and WildBrain on a feature film.
Apple TV+ is home to the largest library of original animated series and specials featuring the globally beloved Peanuts characters, including iconic holiday specials from Mendelson/Melendez Productions and Peanuts Worldwide "It's the Great Pumpkin, Charlie Brown," "A Charlie Brown Thanksgiving" including a free window for viewing the special on November 18 and 19; and "A Charlie Brown Christmas," including a free window for viewing the special on December 16 and 17, as well as scores of the other Classic specials always available to subscribers of Apple TV+.
The growing collection of Peanuts specials and original series on Apple TV+ includes Emmy Award-nominated "Snoopy in Space," a series of animated shorts featuring the Peanuts gang and Snoopy as he fulfills his dream of becoming a NASA astronaut; "The Snoopy Show," featuring new adventures with Snoopy, along with his best pal, Woodstock, and the rest of the Peanuts gang. Apple TV+ is also home to the Emmy Award-winning Apple Original documentary "Who Are You, Charlie Brown?," honoring "everyman" creator, Charles "Sparky" Schulz.
Craig Schulz, Bryan Schulz and Cornelius Uliano were also Executive Producers on a range of new Peanuts family specials on Apple TV+, including the Emmy Award-nominated Earth Day special "Snoopy Presents: It's the Small Things, Charlie Brown"; "Snoopy Presents: Lucy's School," an original special celebrating educators and based on the classic "Peanuts" comic strip by Charles M. Schulz; "Snoopy Presents: One-of-a-Kind Marcie," which follows endearing introvert Marcie as she helps her friends in her own unique way; Humanitas and Emmy Award nominee "Snoopy Presents: To Mom (and Dad), With Love," a sweet Mother's Day celebration of friendship and family featuring the beloved Peanuts gang; fan favorite "Snoopy Presents: For Auld Lang Syne".
Apple recently launched the first SNOOPY face for Apple Watch with watchOS 10, now available to Apple Watch users globally. Additionally, Apple TV+ has expanded its partnership with WildBrain, welcoming more new originals, including upcoming new series "Camp Snoopy," featuring Snoopy and the Beagle Scouts along with Charlie Brown and friends as they enjoy an adventure-filled summer outdoors, and the charming new "Snoopy Presents: Welcome Home, Franklin" special uncovering the origin story of one of Peanuts' most beloved characters and how he ultimately makes friends with Charlie Brown and the gang.
The award-winning slate of original films for kids and families now streaming on Apple TV+ also features this year's Academy and BAFTA Award-winning animated short film "The Boy, the Mole, the Fox and the Horse," and BAFTA Award-winning and Academy Award-nominated animated film "Wolfwalkers."
Apple TV+ offers premium, compelling drama and comedy series, feature films, groundbreaking documentaries and kids and family entertainment, and is available to watch across all your favorite screens. After its launch on November 1, 2019, Apple TV+ became the first all-original streaming service to launch around the world, and has premiered more original hits and received more award recognitions faster than any other streaming service in its debut. To date, Apple Original films, documentaries, and series have earned 392 wins and 1,629 award nominations and counting, including multi-Emmy Award-winning comedy "Ted Lasso" and historic Oscar Best Picture winner "CODA."
About Apple TV+
Apple TV+ is available on the Apple TV app in over 100 countries and regions, on over 1 billion screens, including iPhone, iPad, Apple TV, Mac, popular smart TVs from Samsung, LG, Sony, VIZIO, TCL and others, Roku and Amazon Fire TV devices, Chromecast with Google TV, PlayStation and Xbox gaming consoles, and at tv.apple.com, for $9.99 per month with a seven-day free trial. For a limited time, customers who purchase and activate a new iPhone, iPad, Apple TV, Mac or iPod touch can enjoy three months of Apple TV+ for free.*
For more information, visit apple.com/tvpr and see the full list of supported devices.