**MEDIA ALERT**
VH1 AND ENTERTAINMENT TONIGHT REMEMBER MATTHEW PERRY WITH A SPECIAL TRIBUTE, "VH1 & ET PRESENT MATTHEW PERRY: LIFE AND LEGACY," AIRING TUESDAY, NOVEMBER 7 AT 7:30 PM ET/PT ON VH1
#VH1RemembersMatthewPerry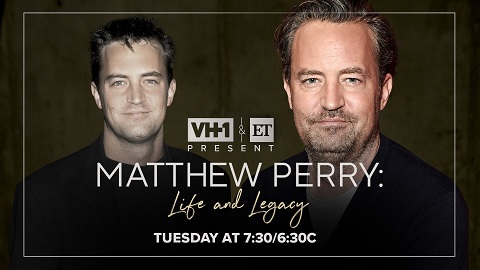 NEW YORK, NY (November 6, 2023) - VH1 will honor the legacy of Matthew Perry with an exclusive Entertainment Tonight news special, "VH1 & ET PRESENT MATTHEW PERRY: LIFE AND LEGACY," airing Tuesday, November 7 at 7:30 PM ET/PT on VH1. The tribute special will feature archival footage and never-before-seen interviews of award-winning actor Matthew Perry at various stages of his life, reflecting on his career. ET was on the set of every project Matthew did and was behind the scenes of Friends numerous times to capture the star through his career. The VH1 special will also share stories about his best moments as one of the most memorable characters in TV history, 'Chandler Bing' in Friends. From his unbreakable bond with his co-stars to his legacy as an advocate for those struggling with addiction, "VH1 & ET Present Matthew Perry: Life and Legacy" will recount some definitive moments in his life and feature new interviews with his former co-stars and the close friends he spent his final days with.
"Matthew Perry was a beloved and incredibly gifted movie and TV star. We are deeply saddened by the news of his passing," said Scott Mills, President and CEO, BET Media Group. "Matthew's versatility in numerous starring roles and cutting-edge comedy helped him become a household name. We join so many in celebration of his life, and we send our condolences to his family and all his Friends around the globe."
"VH1 & ET Present Matthew Perry: Life and Legacy" will encore on Saturday, November 11 at 10 AM ET/PT on VH1.
# # #
ABOUT BET Media Group
The BET Media Group, a unit of Paramount (NASDAQ: PARAA; PARA; PARAP), is the world's largest media company dedicated to entertaining, engaging, and empowering the Black community and championing Black culture. Connecting Black audiences through a portfolio of brands including BET, BET+, BET Gospel, BET HER, BET International, BET Jams, BET Soul, BET Studios, and VH1, the BET Media Group is a thriving media ecosystem of leading interconnected platforms across cable TV, streaming, digital, studios, live events and international.
For more information about BET, visit www.bet.com and follow @BET on social platforms. For more BET news announcements, follow us on social @BET_PR.
ABOUT Entertainment Tonight
ENTERTAINMENT TONIGHT is the #1 entertainment news show on TV with 4 million viewers a night and seven Emmy wins. On digital, ET is #1 for entertainment news video on Facebook and YouTube. ETonline.com averages 20 million monthly unique visits, and ET's social platforms generate 1.2 billion monthly impressions and more than 352 million video views across all platforms.
Produced and distributed by CBS Media Ventures, ENTERTAINMENT TONIGHT is co-hosted by Kevin Frazier and Nischelle Turner with Rachel Smith, Cassie DiLaura, and Denny Directo as correspondents. Erin Johnson serves as Executive Producer with Whitney Wallace and Leslie Kawaguchi as Co-Executive Producers.