[11/07/23 - 12:30 PM]
Geeked Week 2023: Get All the Surprise Announcements from "Damsel," "The Brothers Sun" and More
Other highlights include: "The Dragon Prince" slates book six; and a first look at "Orion and the Dark."
---
[via press release from Netflix]
Geeked Week 2023: Get All the Surprise Announcements From 'Damsel,' 'The Brothers Sun' and More
Geeked Week, our week-long virtual event highlighting the biggest, best, and most anticipated genre titles across movies, series, and games, continued Tuesday with surprise announcements across our social channels for Damsel, The Brothers Sun, and more.
Stay tuned Wednesday for more surprise announcements and don't forget to tune in Thursday at 1 pm PT for exclusive clips, teasers, breaking news and more.
Damsel: This is NOT a fairytale. Millie Bobby Brown stars in Damsel. Check out the new art before the trailer drops this Saturday.
The Dragon Prince: Get a first glimpse of Book 6: STARS with this new art. More from The Dragon Prince is on the way.
Orion and the Dark: It's time for an adventure like no other with this first-look photo from the new film.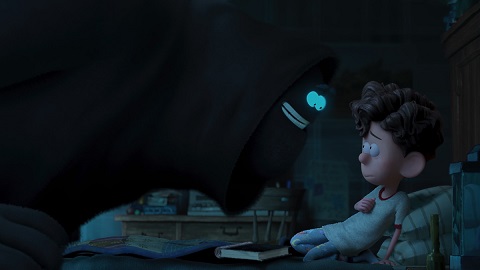 The Brothers Sun: Welcome to the dark underbelly of the 626. Check out the key art before the teaser trailer drops this Friday.




[12/11/23 - 02:28 PM]
Video: Disney+ Debuts Teaser For "Doctor Who" Christmas Special, Streaming December 25
The Christmas Special welcomes Ncuti Gatwa as The Fifteenth Doctor and Millie Gibson as his new companion, Ruby Sunday.


[12/11/23 - 02:20 PM]
ABC's "The Golden Bachelor" Season Finale Earns Largest Audience in "The Bachelor" Franchise Since March 2020
"The Golden Bachelor" built over the prior week by 11% in Total Viewers (7.13 million vs. 6.44 million), posting six consecutive weeks of growth and delivering its biggest week-to-week increase.


[12/11/23 - 02:07 PM]
Eagles-Cowboys Averages 26.3 Million Viewers on NBC and Peacock to Rank as Most-Watched December "SNF" Game Since 2016
The Average Minute Audience (AMA) for last night's live stream via Peacock, NBC Sports Digital platforms, and NFL Digital platforms, was 2.3 million viewers - marking NBC Sports' largest streaming audience ever for a regular-season Sunday NFL game.


[12/11/23 - 01:03 PM]
Prime Video Orders "Obsession" to Series
Lisa Zwerling and Karyn Usher are set to write and executive produce the series, which is based on Catherine Ryan Howard's international best-selling novel "56 Days."


[12/11/23 - 11:01 AM]
WE tv Swoops Into the Lives of NBA Champion Matt Barnes & Model Anansa Sims with New Series, "The Barnes Bunch"
Together, they parent six children ranging ages five to fifteen - Matt has two children from a previous relationship, Anansa has three from hers and, together, they have a young son.


[12/11/23 - 10:19 AM]
Bravo's Emmy-Nominated "Vanderpump Rules" Returns for Season 11 with Seismic Shifts in the Vander-Verse on Tuesday, Jan. 30 at 8 P.M. ET/PT
On Tuesday, December 12 at 10:15 p.m. ET/PT, Bravo will debut a brand new "Vanderpump Rules" special, "A Decade of Rumors and Lies," taking a look down memory lane at 10 years of the most talked about deceptions and transgressions within the friend group.


[12/11/23 - 10:01 AM]
HBO Original Documentary "Daniel" Debuts December 20
When Daniel Northcott got a hold of his father's video camera at the age of seven, a lifetime of documenting the world around him began.


[12/11/23 - 09:44 AM]
ESPN's Expanded International MLB Game Schedule in 2024 to Include Shohei Ohtani's Los Angeles Dodgers Debut as Part of the Seoul Series
ESPN will televise Shohei Ohtani's Los Angeles Dodgers debut as part of the Seoul Series on Wednesday, March 20, and Thursday, March 21, at 6 a.m. ET both days.


[12/11/23 - 09:24 AM]
TLC's "90 Day: The Single Life" Returns with Seven New Singles
This new season features two returning singles and five new singles on their quests for love.


[12/11/23 - 08:31 AM]
Video: "Trevor Noah: Where Was I" - Official Trailer - Netflix
Trevor Noah riffs on national anthems, derailing a German sightseeing tour and getting roasted in Paris in this comedy special about his world travels.


[12/11/23 - 08:01 AM]
Showtime Linear to Rebrand as Paramount+ with Showtime on January 8th, Featuring Showtime and Select Paramount+ Content
As part of the rebrand, Showtime subscribers will now have access to more premium storytelling with new Paramount+ Original series "Sexy Beast," the upcoming second season of "Halo" and the best of Paramount+, beginning January 8, including "Halo" (S1), Taylor Sheridan's "Mayor of Kingstown" (S1-2), "Star Trek: Discovery" (S1-4), "Wolf Pack" (S1) and more.


[12/11/23 - 08:01 AM]
New HGTV Competition Series "Battle on the Mountain" Showcases Peak Design in its Premiere on Monday, Jan. 22 at 9 p.m. ET/PT
During the six-episode series, three skilled teams - coached by home experts Rico León, Kim Myles and Kim Wolfe - will face-off to upgrade similar mountainside homes in Breckenridge, Colorado.


[12/11/23 - 08:01 AM]
Actor Anna Lambe and Director Anya Adams Sign on to Upcoming Arctic Comedy Series for CBC, Netflix and APTN
Lambe will star as young Inuk mother Siaja, with seven-year old Inuk actress from Iqaluit, Nunavut, Keira Cooper, making her screen debut as Siaja's daughter Bun.


[12/11/23 - 07:02 AM]
Rafael Nadal & Carlos Alcaraz Will Face Off at "The Netflix Slam", Live on Netflix on March 3
Netflix will stream its next live sports event, headlined by 22-time Grand Slam men's singles title champion Rafael Nadal facing off against World No. 2 and fellow Spaniard Carlos Alcaraz in a special one-night tennis exhibition match.


[12/11/23 - 07:01 AM]
Netflix Announces New Romantic Comedy Series "Too Much" from Award-Winning Writer, Director, Producer and Actor Lena Dunham
Megan Stalter and Will Sharpe to lead the 10-part series set in London.