**TUNE-IN ALERT**
FUSE PRESENTS "MADE FROM SCRATCH" THANKSGIVING SPECIAL FEATURING MARIO AND COURTNEY LOPEZ
This special will air November 22 at 9:00 PM ET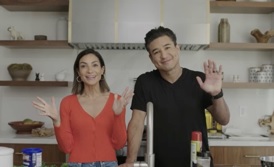 Fuse's long-running original series, Made From Scratch, is back with a new family-themed holiday special episode featuring Mario and Courtney Lopez airing Wednesday, November 22 at 9:00pm ET on Fuse and Fuse+.
Join Mario and Courtney as they prepare their family Manicotti recipe while telling stories of their upbringing, dishing on Hollywood experiences from Mario's connection to The Golden Girls, his first on-screen kiss, fun stories from his time on Saved By The Bell, how they fell in love, and most importantly, what family time means to them.
Made From Scratch featuring Mario and Courney Lopez premieres Wednesday, November 22 at 9:00 PM ET on Fuse and Fuse+.
ABOUT FUSE MEDIA:
Fuse Media is a Latino-owned, global entertainment company, and the leader in creating and distributing inclusive, purpose-driven stories and experiences for and with culturally diverse young adults. With a portfolio of award-winning original content and a growing global footprint, Fuse Media strives to authentically reflect the world of its young and diverse audience, pioneering a multicultural and creative destination. The Fuse Media family includes linear channels Fuse and FM (Fuse Music); subscription streaming service Fuse+; a rapidly growing suite of internationally distributed DEI-focused FAST Channels; Fuse Studios, its in-house production arm; Ignition Studios, a specialized production company defining the future of inclusive content; as well as a growing branded content and live events business. To learn more, visit FuseMedia.com.