[11/16/23 - 09:00 AM]
CBS Presents "Dick Van Dyke 98 Years of Magic," An Entertainment Special Honoring the Legendary Career of the Iconic Actor and Performer, Thursday, Dec. 21
The tribute will travel back in time to the iconic set of "The Dick Van Dyke Show" and feature dazzling music and dance spectacles, heartfelt performances, special guests and a magical holiday number.
---
[via press release from CBS]
CBS PRESENTS "DICK VAN DYKE 98 YEARS OF MAGIC," AN ENTERTAINMENT SPECIAL HONORING THE LEGENDARY CAREER OF THE ICONIC ACTOR AND PERFORMER, THURSDAY, DEC. 21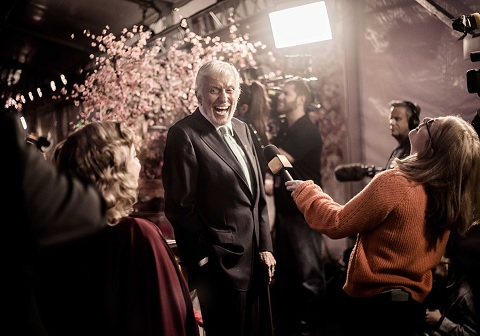 CBS presents DICK VAN DYKE 98 YEARS OF MAGIC, an entertainment special honoring and celebrating the legendary career of the iconic actor and performer for his 98th birthday, Thursday, Dec. 21 (9:00-11:00 PM, ET/PT) on the CBS Television Network, and streaming on Paramount+ (live and on demand for Paramount+ with SHOWTIME subscribers, or on demand for Paramount+ Essential subscribers the day after the episode airs)*.
GRAMMY(R), Emmy(R) and Tony(R) Award winner Van Dyke is one of the most beloved and legendary stars. He has inspired generations of performers and will be honored for his incredible contributions to the arts and entertainment. The tribute will travel back in time to the iconic set of "The Dick Van Dyke Show" and feature dazzling music and dance spectacles, heartfelt performances, special guests and a magical holiday number. The two-hour tribute event will also showcase songs and archival footage from the best of his nearly full century career encompassing "Mary Poppins," "Bye Bye Birdie," "Chitty Chitty Bang Bang" and more.
"I started with CBS under contract in 1955 with the CBS morning show, then 'The Dick Van Dyke Show' and 'Diagnosis Murder,'" said Van Dyke. "I've been with the CBS family for almost 70 years, and I couldn't be prouder. I'm incredibly honored that CBS will be throwing a 98th birthday special for me. Can't wait to be part of the show!"
DICK VAN DYKE 98 YEARS OF MAGIC is executive produced by Craig and Clara Plestis of Smart Dog Media. Deena Katz will cast and executive produce, Ashley Edens serves as showrunner, and Dick Van Dyke and his wife, Arlene Silver, will produce along with White Label Productions.
Dick Van Dyke and Smart Dog Media are represented by Paradigm.
*Paramount+ with SHOWTIME subscribers will have access to stream live via the live feed of their local CBS affiliate on the service, as well as on demand. Paramount+ Essential subscribers will not have the option to steam live but will have access to on-demand the day after the special airs.




[12/11/23 - 11:01 AM]
WE tv Swoops Into the Lives of NBA Champion Matt Barnes & Model Anansa Sims with New Series, "The Barnes Bunch"
Together, they parent six children ranging ages five to fifteen - Matt has two children from a previous relationship, Anansa has three from hers and, together, they have a young son.


[12/11/23 - 10:19 AM]
Bravo's Emmy-Nominated "Vanderpump Rules" Returns for Season 11 with Seismic Shifts in the Vander-Verse on Tuesday, Jan. 30 at 8 P.M. ET/PT
On Tuesday, December 12 at 10:15 p.m. ET/PT, Bravo will debut a brand new "Vanderpump Rules" special, "A Decade of Rumors and Lies," taking a look down memory lane at 10 years of the most talked about deceptions and transgressions within the friend group.


[12/11/23 - 10:01 AM]
HBO Original Documentary "Daniel" Debuts December 20
When Daniel Northcott got a hold of his father's video camera at the age of seven, a lifetime of documenting the world around him began.


[12/11/23 - 09:44 AM]
ESPN's Expanded International MLB Game Schedule in 2024 to Include Shohei Ohtani's Los Angeles Dodgers Debut as Part of the Seoul Series
ESPN will televise Shohei Ohtani's Los Angeles Dodgers debut as part of the Seoul Series on Wednesday, March 20, and Thursday, March 21, at 6 a.m. ET both days.


[12/11/23 - 09:24 AM]
TLC's "90 Day: The Single Life" Returns with Seven New Singles
This new season features two returning singles and five new singles on their quests for love.


[12/11/23 - 08:31 AM]
Video: "Trevor Noah: Where Was I" - Official Trailer - Netflix
Trevor Noah riffs on national anthems, derailing a German sightseeing tour and getting roasted in Paris in this comedy special about his world travels.


[12/11/23 - 08:01 AM]
Showtime Linear to Rebrand as Paramount+ with Showtime on January 8th, Featuring Showtime and Select Paramount+ Content
As part of the rebrand, Showtime subscribers will now have access to more premium storytelling with new Paramount+ Original series "Sexy Beast," the upcoming second season of "Halo" and the best of Paramount+, beginning January 8, including "Halo" (S1), Taylor Sheridan's "Mayor of Kingstown" (S1-2), "Star Trek: Discovery" (S1-4), "Wolf Pack" (S1) and more.


[12/11/23 - 08:01 AM]
New HGTV Competition Series "Battle on the Mountain" Showcases Peak Design in its Premiere on Monday, Jan. 22 at 9 p.m. ET/PT
During the six-episode series, three skilled teams - coached by home experts Rico León, Kim Myles and Kim Wolfe - will face-off to upgrade similar mountainside homes in Breckenridge, Colorado.


[12/11/23 - 08:01 AM]
Actor Anna Lambe and Director Anya Adams Sign on to Upcoming Arctic Comedy Series for CBC, Netflix and APTN
Lambe will star as young Inuk mother Siaja, with seven-year old Inuk actress from Iqaluit, Nunavut, Keira Cooper, making her screen debut as Siaja's daughter Bun.


[12/11/23 - 07:02 AM]
Rafael Nadal & Carlos Alcaraz Will Face Off at "The Netflix Slam", Live on Netflix on March 3
Netflix will stream its next live sports event, headlined by 22-time Grand Slam men's singles title champion Rafael Nadal facing off against World No. 2 and fellow Spaniard Carlos Alcaraz in a special one-night tennis exhibition match.


[12/11/23 - 07:01 AM]
Netflix Announces New Romantic Comedy Series "Too Much" from Award-Winning Writer, Director, Producer and Actor Lena Dunham
Megan Stalter and Will Sharpe to lead the 10-part series set in London.


[12/11/23 - 06:50 AM]
The Walt Disney Company Earns 27 Golden Globe Award Nominations Across Film and Television Studios, Streamers and Broadcast
Searchlight Pictures garnered eight motion picture nominations with "Poor Things" leading with seven nominations, including Best Motion Picture (Musical or Comedy).


[12/11/23 - 05:51 AM]
Nominations Announced for "81st Annual Golden Globe Awards"
The nominations were announced by Cedric the Entertainer and Wilmer Valderrama who presented nominees for each of the 27 award categories.


[12/10/23 - 06:01 PM]
Video: "Like Flowers in Sand" - Official Trailer - Netflix
Struggling to find success, a former ssireum wrestling prodigy finds himself ready to quit until he reencounters an old friend who reignites his passion.


[12/08/23 - 12:21 PM]
OWN Sets Premiere Date for New Series "First-Time Buyer's Club" on Saturday, December 30 at 9PM ET/PT
Teacher-turned-realtor Amina Stevens aims to educate and inspire clients who are intimidated by the overwhelming housing market.