HARRY HAMLIN HOSTS "IN THE KITCHEN WITH HARRY HAMLIN: A HOLIDAY SPECIAL," PREMIERING DECEMBER 13 ON AMC+ AND IFC
Special Guests Include Hamlin's Family Including Wife Lisa Rinna and Kenny G
Holiday Special, Hosted by Hamlin and His Niece Renee Guilbault, to Return as a Five-Episode Series in May 2024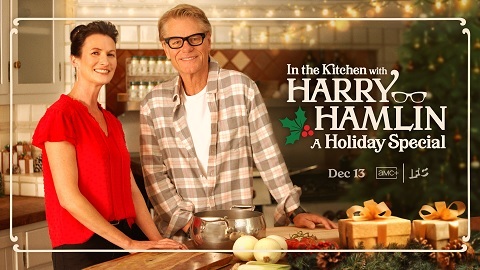 NEW YORK - Get ready for a very Hamlin Holiday! The "King of Bolognese," Harry Hamlin (Anne Rice's Mayfair Witches), along with his niece and classically trained chef Renee Guilbault, will host "In the Kitchen with Harry Hamlin: A Holiday Special" premiering Wednesday, December 13 at 11pm EST on AMC+ and IFC. Shot in Hamlin's home kitchen, the 30-minute cooking show is a unique combination of cooking, dinner party, and documentary ... all with a dash of comedy and 'feels' along the way. It arrives just in time for the holidays as the duo prepares a festive meal, putting their own spin on classic beef bourguignon, and celebrates the labor of love that is holiday cooking. They'll be joined by close family and friends, including Hamlin's wife, actress Lisa Rinna, saxophone legend Kenny G, Hamlin's daughter model, Delilah Hamlin, Hamlin's son model and actor, Dimitri Hamlin and others.
Executive produced by Hamlin and produced through AMC Networks' Content Room, which has a long history of creating award-winning original digital content, the special serves as a preview to a full, five-episode series, "In the Kitchen with Harry Hamlin," that will air weekly beginning in May 2024 on AMC+ and IFC.
"I'm passionate about a lot of things... acting, non-radioactive fusion energy, Lisa Rinna's lips, and of course, my Bolognese sauce! But, the golden thread woven through them all is family which is why I'm so excited to partner with my immensely talented chef, author, entrepreneur niece, Renee Guilbault, on 'In the Kitchen with Harry Hamlin,'" says host and executive producer, Harry Hamlin. "Each episode will invite viewers into our culinary happy place... the kitchen... where we'll host a bunch of guests from across the pop culture spectrum beginning with sharing traditions from our own family for the holiday-themed premiere episode. Join us as we go beyond Santa's usual plate of cookies to create a fun-filled, delicious, and heart-warming seasonal experience."
The series will put Hamlin's passion for cooking and Guilbault's expertise on full display as they share favorite recipes, practical kitchen tips and secrets for a successful dinner party that exudes casual elegance, welcoming new guests into the Hamlin kitchen each week.
In addition to Hamlin, the special and series is executive produced by Don Argott and Sheena M. Joyce. Whole Foods Market is an integration partner for the special, with key ingredients from 365 by Whole Foods Market featured.
"In the Kitchen with Harry Hamlin: A Holiday Special" and "In the Kitchen with Harry Hamlin" builds on AMC Networks' successful Content Room slate of originals that feature its popular network talent and IP in a variety of formats and appear across the company's full distribution ecosystem of linear networks, streaming services and digital/CTV platforms.