OVATION TV TO AIR "JACK TAYLOR" ON MYSTERY ALLEY SATURDAY NIGHTS
Starring Iain Glen (Game of Thrones) as the Self-Destructive Private Detective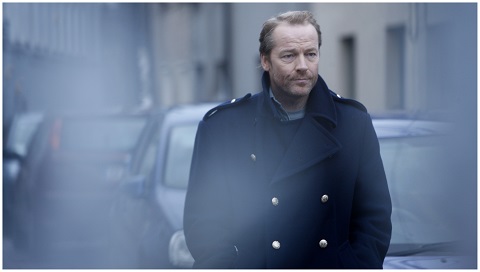 Los Angeles, CA - November 16, 2023 - Ovation TV, America's premier arts network, announces the next brilliant detective series to air during its Mystery Alley destination on Saturday nights. Jack Taylor stars Iain Glen (Game of Thrones, Downton Abbey) as Taylor, a forty-something ex-cop trying to earn a living as a private detective in his native Galway. Self-destructive, pigheaded, and over-fond of the bottle, Taylor has burned a lot of bridges, but he still has a knack for uncovering ugly truths. Co-starring Nora-Jane Noone (Hidden Assets) and Killian Scott (Secret Invasion), Jack Taylor will debut on Ovation TV on Saturday, December 16th at 7pm ET.
Season One
Episode 101 "The Guards" airs Saturday, December 16th at 7-9pm ET
After a series of apparent suicides that have left four young women dead, a worried mother hires Taylor to find her missing 18-year-old daughter. But something about his new client makes the detective uneasy. While getting to the bottom of the earlier deaths, he discovers that the mother may have an ulterior motive for her search.
Episode 102 "The Pikemen" airs Saturday, December 23rd at 7-9pm ET
Determined to restore law and order, a group of local vigilantes known as the Pikemen is meting out its own brand of rough justice on the streets of Galway. Taylor comes face-to-face with the group during one of his investigations but soon ends up on the wrong side of the law himself.
Episode 103 "The Magdalen Martyrs" airs on Saturday, December 30th at 7-9pm ET
Taylor is hired to look into past abuses at the infamous Magdalen laundries, the city's home for "wayward girls." The daughter of a former inmate wants him to track down a woman called "Lucifer," a particularly brutal nun who worked there. In the wake of two execution-style murders, Taylor realizes he's not alone in searching for Lucifer.
Season Two
Episode 201 "The Dramatist" airs on Saturday, January 6th at 7-9pm ET
Seven months after his mother's stroke, and continuing on his path of sobriety and healthier living, Jack is called on to investigate the death of a female university student, who falls from a roof while dressed in theatre costume. A ring of paper around her wrist contains an apparent suicide note written in her blood, and Gardai assume the death to be drug related.
Episode 202 "Priest" airs on Saturday, January 13th at 7-9pm ET
Jack investigates the death of a priest who has been beheaded, and discovers the cleric abused two boys several years earlier. As more secrets from the church are revealed, Jack drifts back into his old habits, and discovers more of his own demons, along with the horrendous consequences the victims of the priest's earlier abuse are still enduring.
Episode 203 "Shot Down" airs on Saturday, January 20th at 7-9pm ET
When the police make no headway in the shooting death of a woman, Taylor volunteers his services to her grieving family. He believes the woman's 11-year-old daughter saw the killer and may now be in danger.
Season Three
Episode 301 "Cross" airs on Saturday, January 27th at 7-9pm ET
When a man is found crucified, Jack discovers that the dead man's brother was responsible for the death of Nora Mitchell, whose family are in town and seeking revenge.
Episode 302 "Headstone" airs on Saturday, February 3rd at 7-9pm ET
It's a race against time for Jack who is searching for this former nemesis, Ronan Meyers, who has been kidnapped and held for ransom.
Episode 303 "Purgatory" airs on Saturday, February 3rd at 9-11pm ET
Jack is hired by a large software company to investigate the theft of valuable data.
About OVATION America's Premier Arts Network
OVATION, majority owned by Hubbard Broadcasting Inc, is an independent television, production, and digital media company with unparalleled commitment to the arts, culture, and captivating entertainment. Showcasing a lineup of critically acclaimed premium dramas, specials, documentaries, and iconic films, OVATION salutes innovative storytelling with popular programming that includes Inside the Actors Studio, Murdoch Mysteries, Frankie Drake Mysteries, Arts Engines, The Fall, Midsomer Murders, The Art Of, Celebrity Conversations, and The Sound of New York. OVATION also powers JOURNY, the dedicated streaming service where art, culture, and travel intersect. The company has provided more than $15M in contributions and in-kind support to arts institutions and arts education. Its signature advocacy platform, STAND FOR THE ARTS, includes a coalition of over 150 arts organizations, cultural institutions, and arts leaders throughout the country raising awareness about art's positive impact, protecting access for everyone, and encouraging action on behalf of the arts. OVATION is available on major providers via cable, satellite and telco systems including Comcast Cable/Xfinity, DIRECTV, Charter/Spectrum, Verizon FiOS, as well as on demand. You can follow OVATION on Facebook, Twitter, YouTube, Instagram, OvationTV.com, and through our App, OVATION NOW.