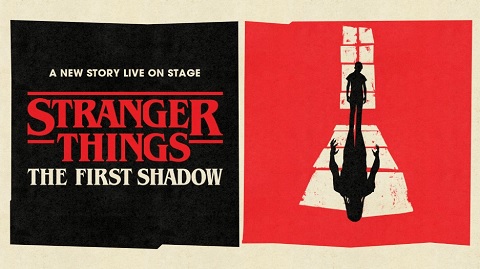 "STRANGER THINGS: THE FIRST SHADOW" REVEALS OFFICIAL FIRST LOOK & ACT ONE CHAPTER TITLE AHEAD OF FIRST PUBLIC PREVIEW
Louis McCartney as Henry Creel in Stranger Things: The First Shadow (Photo by Manuel Harlan)
Netflix and Sonia Friedman Productions today revealed the first official look at Stranger Things: The First Shadow, along with the first act title: "Chapter One: The Girl From Nowhere."
The first public preview of the original stage play based on the hit series kicked off Friday evening in London, giving lucky theatergoers and fans of the series a glimpse into the original prequel story set in the world of 1959 Hawkins, Indiana.
Stranger Things: The First Shadow by Kate Trefry is an original stage play that brings the world of Stranger Things to life in a completely new way - live on stage. The production officially opens on December 14 at the Phoenix Theatre in London's West End.
Netflix and Sonia Friedman Productions present
STRANGER THINGS: THE FIRST SHADOW
By Kate Trefry
Original story by the Duffer Brothers, Jack Thorne & Kate Trefry
Based on the Netflix Series Stranger Things, created by the Duffer Brothers
Directed by Stephen Daldry
The Duffer Brothers act as creative producers, with 21 Laps Entertainment as associate producer.
Created by the Duffer Brothers, Stranger Things debuted in July 2016 and quickly became one of Netflix's most popular television series ever with its fourth season alone amassing over 140.7 Million views globally. Rooted in 80's nostalgia, it has sparked a resurgence of pop culture items from the decade with every new season, including Eggo waffles and New Coke. Most recently, the series breathed new life into Kate Bush's track "Running Up That Hill" with the song soaring in streams on Spotify and entering the top 10 of the Billboard Hot 100 chart for the first time in its 38-year history. The series has also garnered over 70 awards worldwide including Emmys and the Screen Actors Guild Award for Outstanding Performance by an Ensemble in a Drama Series, and has been nominated for over 230 awards. Stranger Things fans everywhere celebrate November 6 - the day Will Byers went missing - as 'Stranger Things Day,' a special day to share their love for the world of Stranger Things.
About Stranger Things: The First Shadow
Hawkins, 1959: a regular town with regular worries. Young Jim Hopper's car won't start, Bob Newby's sister won't take his radio show seriously and Joyce Maldonado just wants to graduate and get the hell out of town. When new student Henry Creel arrives, his family finds that a fresh start isn't so easy... and the shadows of the past have a very long reach.
Brought to life by a multi-award-winning creative team, who take theatrical storytelling and stagecraft to a whole new dimension, this gripping new adventure will take you right back to the beginning of the Stranger Things story - and may hold the key to the end.
STRANGER THINGS: THE FIRST SHADOW is written by Kate Trefry, directed by Stephen Daldry with co-director Justin Martin, set design by Miriam Buether, costume design by Brigitte Reiffenstuel, lighting design by Jon Clark, sound design by Paul Arditti, original music & arrangements by D.J. Walde, illusions & visual effects design by Jamie Harrison & Chris Fisher, video & visual effects design by 59 Productions, choreography by Coral Messam, movement direction by Lynne Page, wigs, hair and make-up design by Campbell Young Associates, dialect by William Conacher, technical director is Gary Beestone for Gary Beestone Associates, props supervision by Mary Halliday, fight direction by Kev McCurdy, casting by Jessica Ronane Casting CDG with additional casting by Charlotte Sutton CDG, and international casting consultancy by Jim Carnahan.
***
STRANGER THINGS: THE FIRST SHADOW LISTINGS
Phoenix Theatre
Charing Cross Rd, London WC2H 0JP
For further ticket information, performance schedule, full creative team and cast biogs, please visit strangerthingsonstage.com and the official social channels:
Instagram.com/STOnStage Tiktok.com/STOnStage Facebook.com/StOnStage Twitter.com/StOnStage
***
FULL CAST:
*Please visit strangerthingsonstage.com for full cast photos and bios.*
Shane Attwooll (Wonder Woman 1984; Legend; The Last Days of Judas Iscariot) plays Chief Hopper.
Christopher Buckley (David Copperfield; Orphans; Stig of the Dump) plays Bob Newby.
Michael Jibson (Bodies; The Essex Serpent; Hamilton) plays Victor Creel.
Oscar Lloyd (The 47th; Hotel Portofino; 4 O'Clock Club) plays James Hopper, Jr.
Louis McCartney (Silent Roar; Hope Street; Game of Thrones) plays Henry Creel.
Isabella Pappas (Finding Alice; Villains of Valley View; The Nether) plays Joyce Maldonaldo.
Patrick Vaill (Oklahoma!; Macbeth; Dash & Lily) plays Dr. Brenner.
Lauren Ward (Dear Evan Hansen; Matilda; Caroline, Or Change) plays Virginia Creel.
Ella Karuna Williams (The Equalizer) plays Patty Newby.
Kemi Awoderu (Sue Anderson), Chase Brown (Lonnie Byers), Ammar Duffus (Charles Sinclair), Gilles Geary (Ted Wheeler), Florence Guy (Karen Childress), Max Harwood (Alan Munson), Matthew Pidgeon (Principal Newby), Calum Ross (Walter Henderson) and Maisie Norma Seaton (Claudia Yount).
They are joined by Tricia Adele-Turner, Lauren Arney, Reya-Nyomi Brown, Patricia Castro, Lydia Fraser, Isaac Gryn, Mark Hammersley, Tom Peters, Kingdom Sibanda, Tiana Simone, Danny Sykes and Meesha Turner.