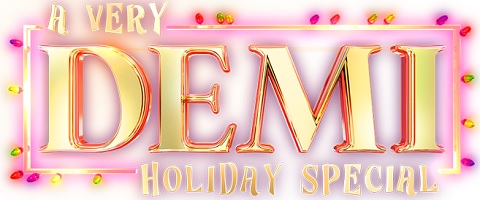 Available On The Roku Channel Friday, December 8
❄️ Celebrity Guests Revealed ❄️
JoJo
Hailey Bieber
Rich Eisen
Tiffany Haddish
Paris Hilton
Trixie Mattel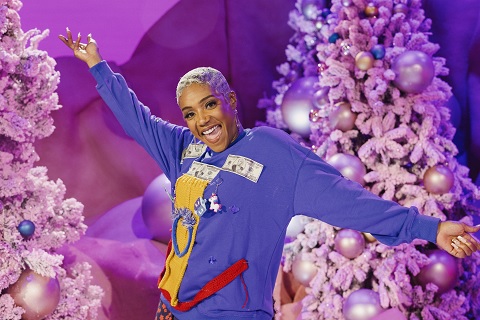 *Tori Time / OBB Media
Starring Demi Lovato
Produced by OBB Pictures
A Very Demi Holiday Special is produced by OBB Pictures, the Film & TV division of OBB Media.
A heartwarming, captivating special featuring music and plenty of out-of-this-world surprises, A VERY DEMI HOLIDAY SPECIAL will fill your home and heart with a very Demi twist on the festive spirit. Demi has invited some of her friends to help her celebrate the holidays.
Stream The Roku Channel for FREE on Roku devices, the Web, iOS and Android devices, Amazon Fire TV, Samsung TV, and Google TV and other Android TV OS devices.
About Roku
Roku pioneered streaming on TV. We connect users to the content they love, enable content publishers to build and monetize large audiences, and provide advertisers with unique capabilities to engage consumers. Roku TV(TM) models, Roku streaming players, and TV-related audio devices are available in various countries around the world through direct retail sales and/or licensing arrangements with TV OEM brands. Roku-branded TVs and Roku Smart Home products are sold exclusively in the United States. Roku also operates The Roku Channel, the home of free and premium entertainment with exclusive access to Roku Originals. The Roku Channel is available in the United States, Canada, Mexico, and the United Kingdom. Roku is headquartered in San Jose, Calif., U.S.A.
Marks included in press release are trademarks or registered trademarks of Roku, Inc. in the U.S. and in other countries. Tradenames, trademarks, and services marks of other companies appearing in this press release are the property of their respective holders.
About OBB Media
OBB Media is the award-winning multimedia production company and vertically integrated content studio, founded by entrepreneur and filmmaker Michael D. Ratner. OBB Media is the parent company to five distinct subsidiaries: OBB Pictures, the film, television, and digital arm; OBB Studios, the company's facilities and physical production arm; OBB Sound, the podcast division; OBB Branded, the branded content and commercials vertical; and OBB Cares, the social impact division. OBB Media, led by Ratner, co-founder Scott Ratner and a talented team of storytellers, is best known for amassing a global audience of over 3 billion through projects including OBB Pictures' Grammy-nominated Justin Bieber: Our World and the record breaking Seasons; the critically acclaimed SXSW opening night headliner Demi Lovato: Dancing with the Devil; Kevin Hart's Cold As Balls; Netflix's Historical Roasts; Hailey Bieber's Who's In My Bathroom?; and the upcoming feature doc Mountain Queen: The Summits of Lhakpa Sherpa, which presented a first look at TIFF 2023 and subsequently sold to Netflix for a 2024 release; along with OBB Sound's Kym from Lena Waithe; The Pursuit of Healthiness with Blake Griffin; Too Long; Didn't Watch with Rolling Stone; plus OBB Branded campaigns with Apple Music, rhode, Pepsi, Old Spice, Kylie Cosmetics, among others. OBB Cares harnesses OBB Media's unique position in the entertainment industry - through its employees, storytelling, and studios - to inspire social change, with specific impact areas including mental health, equity & opportunity, civic engagement, and the environment. The company is leading how a new generation of viewers consumes programming, while forging unique partnerships with talent that transform the way they use content to create and grow their businesses. OBB Media HQ is located in West Hollywood, CA and OBB Studios, the 15,000+ square foot state of the art production and event facility is in the heart of Hollywood, CA. For more information, visit the company website at www.obbmedia.com.