"RICKY GERVAIS: ARMAGEDDON" IS COMING TO NETFLIX ON CHRISTMAS DAY 2023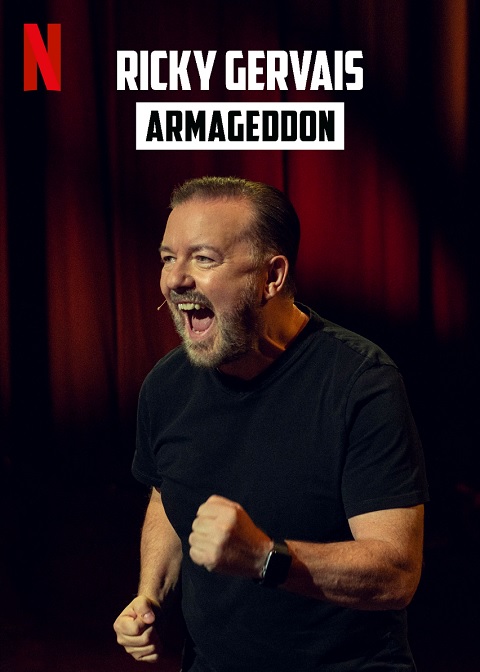 Credit: Netflix / Matt Crockett
THE EXCLUSIVE SPECIAL FROM GERVAIS' RECORD BREAKING TOUR
· Award winning comedian, actor, writer, director, Ricky Gervais, returns to Netflix with his record breaking stand-up show Armageddon on December 25 2023.
· About the special: The BAFTA and Golden Globe-winning mind behind The Office, Extras and Afterlife takes the stage for a provocative new stand-up special, riffing on the end of humanity, political correctness, family weddings, funerals and Artificial Intelligence.
· Gervais says: "For the next 2000 years people will remember the 25th December as the day 'Armageddon' was released on Netflix."
· The special is directed by John L. Spencer, produced by Derek Productions, and was recorded at the world famous London Palladium earlier this year.
· Gervais new set is his third Netflix stand-up special, following Humanity (2018) and SuperNature (2022), and alongside his critically acclaimed, award winning series Afterlife, are available exclusively on Netflix. Ricky Gervais: Supernature, reached the Netflix Top 10 in 13 countries.
· Gervais' world tour of Armageddon has broken numerous records around the world, including when his biggest ever stand-up show at the Hollywood Bowl in Los Angeles entered the Guinness World Records. It has seen him play 85 sell-out arena dates across the globe.
About Netflix:
Netflix is one of the world's leading entertainment services with over 247 million paid memberships in over 190 countries enjoying TV series, films, and games across a wide variety of genres and languages. Members can play, pause and resume watching, as much as they want, anytime, anywhere, and can change their plans at any time.