Top 10 Week of Feb 14: Anna Delvey and 'The Tinder Swindler' Continue to Steal #1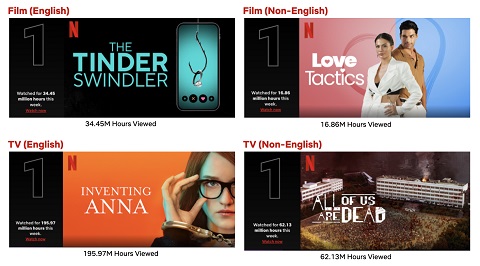 It seems we all love a fraud. On the TV side, Inventing Anna, Shonda Rhimes' limited series stole the show, taking the #1 spot for the second week in a row. With 195.97M hours viewed, the Julia Garner led series was in the Top 10 in 94 countries. The Tinder Swindler topped the film list for the third week in a row with 34.45M hours viewed.
From dating disasters to chainsaw massacres, Texas Chainsaw Massacre - a sequel to one of horror's most iconic and terrifying films - came in at #2 this week with 29.18M hours viewed. And documentary Downfall: The Case Against Boeing debuted at #8 in its first week with 7.42M hours viewed.
Elsewhere on the English TV list, Love is Blind Season 2 climbed to the number two slot with 58.96M hours viewed. With the weddings just a few days away, don't forget to watch this week to see which of the couples make it to the altar. Meanwhile, on the non-English TV list, the zombies are still clinging to power. For the fourth week, All of Us Are Dead held onto the lead spot with 62.13M hours viewed. And the Korean series continues to reach audiences all around the world, appearing in the Top 10 in 89 countries.
Love Tactics, a Turkish romantic comedy, took #1 on the non-English film list with 16.86M hours viewed. The film resonated with audiences all over the world, appearing in the Top 10 in 50 countries. Coming in second with 13.3M hours viewed was Spanish romance film Through My Window, which has also now hit the Most Popular List - clinching the #3 spot with 81.25M hours viewed since its premiere two weeks ago. Fans are screaming from their windows that there are not one, but two more sequels to come.
To download Top 10 assets, visit Top10.netflix.com.