Please note: As a courtesy, please do not reproduce these comments to newsgroups, forums or other online places. Links only please.
CAPRICA (Sci Fi)
(in stores Tuesday, April 21)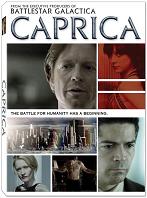 The network's description: "Set 50 years before Battlestar Galactica, Caprica follows two rival families and their patriarchs Daniel Graystone (Eric Stoltz) and Joseph Adama (Esai Morales) as they compete and thrive in the vibrant world of the 12 Colonies, a society recognizably close to our own. Enmeshed in the burgeoning technology of artificial intelligence and robotics that will eventually lead to the creation of the Cylons, the two houses go toe-to-toe blending action with corporate conspiracy and sexual politics."
What did they leave out? It's probably not what you're expecting.
The plot in a nutshell: 51 years before the fall... Zoe (Alessandra Toressani), Ben (Avan Jogia) and Lacy (Magda Apanowicz), like most teens, hate their parents, hate their school and hate the world(s) and general. But that's all about to change. When a terrorist attack credited to the STO (Soldiers of the One) - a previously dormant group that preaches monotheism for a one true God - takes the former two's lives, events are set in motion that will change life on Caprica and the rest of the Colonies forever. It's an attack that profoundly effects two men - Daniel Graystone (Eric Stoltz), Zoe's father and the inventor of "holobands" (a device which lets users enter a Holodeck-meets-Second Life world); and Joseph Adams (Esai Morales), a lawyer who lost his wife and daughter in the explosion. A chance meeting between the two sparks an unexpected friendship as they bond over their mutual loses and struggle to help their remaining loved ones recover - Joseph's son Willie (Sina Najafi, a half-century before he becomes Edward James Olmos) has retreated into his shell while Daniel's previously happy wife Amanda (Paula Malcomson) now can barely climb out of bed.
And if that wasn't enough - Daniel's company is about to lose its government contract to create a CYbernetic LifefOrm Node (read the caps at your own peril!) as its AI continues to fail while Joseph is being pressured by his brother and his fellow Tauran mobsters for yet another favor. Even worse - evidence surfaces that Zoe and Ben had something to do with the attack. The solution to all their problems however comes from a surprising source - Zoe, who it seems was quite the genius, having figured out a way to make a copy of herself in the virtual holoband world, allowing anyone to achieve a quasi-immortality of sorts. Daniel's Franksteinian plan then is, well... you can probably connect the dots from here. With the promise of being able to be reunited with his wife and daughter, Joseph too is dragged into Daniel's scheme, one that may cost him far beyond what he imagined. And that's only the beginning, Zoe had (or should we say has) some plans of her own.
What doesn't work: The first 15 minutes or so are something of a challenge - a weird mix of teen angst, hedonism and virtual reality - that the uninitiated will likely find either incomprehensible (you don't quite understand what you're seeing at first) or frustrating (tuning in to find out the origin of the Cylons and finding 15 minutes of The WB-era teen drama), making it a rocky start to say the least. And for those ultimately who just want answers here to solve the remaining questions in the current show - prepare to be disappointed. Sure there's plenty of geekasms to be had - the eight-sided paper, Pyramid, "So Say We All," the first "Centurion" (complete with voice from the '70s series), etc. - but there's nothing here that really informs what's happened on "Galactica" thus far. That's not necessarily a bad thing, it's just that for better or worse "Caprica" is very much its own entity.
What does: The good news is though once established, the world of "Caprica" has the potential to be just as compelling, interesting and multi-faceted as its "sequel" - minus of course the cool shit blowing up in space. In just 92 minutes, "Caprica" manages to dish out a surprisingly dense, but not too overwhelming, array of plot threads - the government's investigation into the attack (spearheaded by Brian Markinson's Durham); the teens' school with potentially sinister ties (run by Polly Walker's Sister Clarice Willow); Daniel's business foibles; Joseph's obligations to the Tauran mob; and whatever the STO and Zoe are ultimately up to. And that's on top of yet another fascinating window into the Colonists battle between monotheism and polytheism not to mention a surprising look at the demographics of the time (Capricans are the elite while Taurans, dubbed "dirt eaters," are the despised colony) as well as the inevitable showdown between Daniel and Joseph over what they're doing.
From a character standpoint, Stoltz and Morales do a fine job anchoring the show - Stoltz's Daniel isn't a mad scientist but rather a man too arrogant to worry about the consequences of what he's doing while Morales's Joseph is just shy of stoic, his emotions still proving to get the best of him. They're both nice twists on the Baltar and Adama archetypes established on the parent show. I'm less enthused about Toressani's Zoe, if only because we don't quite get a way into understanding her character beyond her bratish exterior. In the end, I'm excited to explore the world of "Caprica"...
The bottom line: ...even though it's probably not what most "Galactica" fans are expecting.