[03/18/16 - 10:28 AM]
Video: HBO's "Silicon Valley" Season 3 Trailer & Key Art
The series returns for its 10-episode third season on Sunday, April 24 at 10:00/9:00c.
---
[via press release from HBO]
HBO / SILICON VALLEY Season 3 Trailer & Key Art
Below please find the trailer for Season 3 of SILICON VALLEY. Attached is the key art.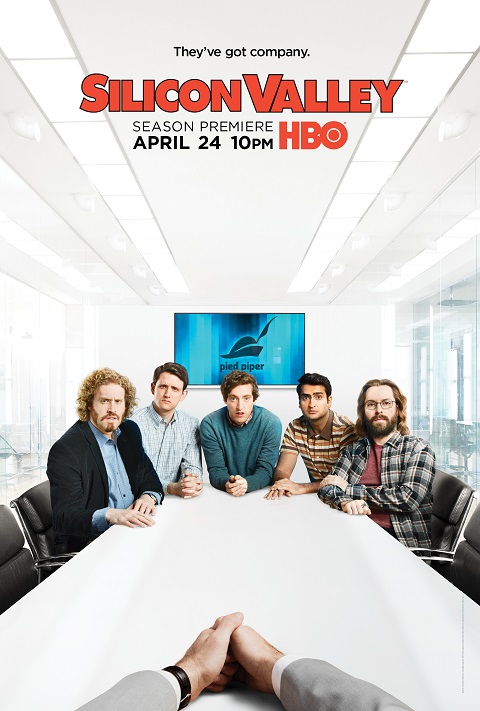 SILICON VALLEY returns for its ten-episode third season SUNDAY, APRIL 24 (10:00-10:30 p.m.). The Emmy(R)-winning and Golden Globe-nominated series takes a comic look at the modern-day epicenter of the high-tech gold rush, where the people most qualified to succeed are the least capable of handling success. A collaboration between Mike Judge and Alec Berg, the series stars Thomas Middleditch, T.J. Miller, Zach Woods, Kumail Nanjiani, Martin Starr, Josh Brener, Amanda Crew, Matt Ross, Suzanne Cryer and Jimmy O. Yang. Mike Judge, Alec Berg, Michael Rotenberg and Tom Lassally executive produce. The series was created by Mike Judge & John Altschuler & Dave Krinsky.



[02/26/21 - 08:06 AM]
Video: "Shadow and Bone" - Teaser Trailer - Netflix
Sinister forces plot against a young soldier when she reveals a magical power that might unite her world.


[02/26/21 - 12:01 AM]
Video: "The One" - Official Trailer - Netflix
Love - and lies - spiral when a DNA researcher helps discover a way to find the perfect partner, and creates a bold new matchmaking service.


[02/25/21 - 05:50 PM]
Video: New Family Tree First Look - "The Proud Family: Louder and Prouder" - Disney+
Get the latest lowdown on the characters headed to the new series.


[02/25/21 - 05:01 AM]
Video: "Army of the Dead" - Official Teaser - Netflix
Following a zombie outbreak in Las Vegas, a group of mercenaries take the ultimate gamble, venturing into the quarantine zone to pull off the greatest heist ever attempted.


[02/24/21 - 12:01 PM]
Video: Trailer Debut - Hulu's "Solar Opposites" Season Two
The series returns with eight all-new episodes Friday, March 26, only on Hulu.


[02/24/21 - 11:25 AM]
Video: OWN Releases Official Trailer & Key Art for New Drama "Delilah," Premiering on Tuesday, March 9
Maahra Hill stars as Delilah Connolly, a headstrong, highly principled lawyer living in Charlotte, North Carolina.


[02/24/21 - 07:01 AM]
Video: "Zero Chill" New Series Trailer - Netflix Futures
Kayla and Mac both make magic on the ice, but their approaches are poles apart.


[02/24/21 - 03:31 AM]
Video: "Dealer" - Official Trailer - Netflix
Tensions erupt when two filmmakers infiltrate an area ruled by gangs to shoot a music video for a rapper in this gritty found-footage series.


[02/24/21 - 03:01 AM]
Video: "Caught by a Wave" - Official Trailer - Netflix
In a sunny summer in Sicily, Sara and Lorenzo meet for the first time.


[02/23/21 - 07:31 PM]
Video: Hulu Original Documentary "kid 90" Trailer Debut
Soleil Moon Frye's Hulu Original documentary premieres on March 12, only on Hulu.


[02/23/21 - 01:07 PM]
Video: Showtime(R) Debuts Trailer for Season Two of "City on a Hill"
Season two centers on a federal housing project in the Roxbury neighborhood of Boston that is plagued with drug violence and a rightful distrust in local law enforcement.


[02/23/21 - 01:05 PM]
Video: Showtime(R) Releases Trailer for "Couples Therapy" Premiering Sunday, April 18 at 10 PM ET/PT
New episodes will continue to air back-to-back on Sunday nights for four weeks, with the finale airing on May 16.


[02/23/21 - 01:02 PM]
Video: AMC Networks' Newly-Rebranded Streaming Platform ALLBLK Releases Trailer for Powerful Makeover Docuseries "My Mane Problem" Premiering Thursday, March 4
The series features celebrity hairstylist Dr. Boogie - an industry veteran whose clients include Taraji P. Henson, Eve, and Vivica Fox - rescuing clients struggling with deeply affecting hair trauma.


[02/23/21 - 11:00 AM]
Video: TBS Debuts Official Trailer and Photography for "Chad" Premiering April 6
A 14-year-old pubescent Persian boy (Nasim Pedrad) navigates his first year of high school on a mission to become popular.


[02/23/21 - 08:01 AM]
Video: "Murder Among the Mormons" - Official Trailer - Netflix
High-stakes exploits turn deadly - and shake a global church to its core - in this extraordinary true crime story.