[04/06/16 - 12:36 PM]
Video: "Deadbeat" Key Art + Teaser
The show's complete third season drops on Wednesday, April 20.
---
[via press release from Hulu]
Deadbeat Key Art + Teaser
Today we launched the Deadbeat season three key art and teaser trailer. See attached for the art and below for a link to the trailer: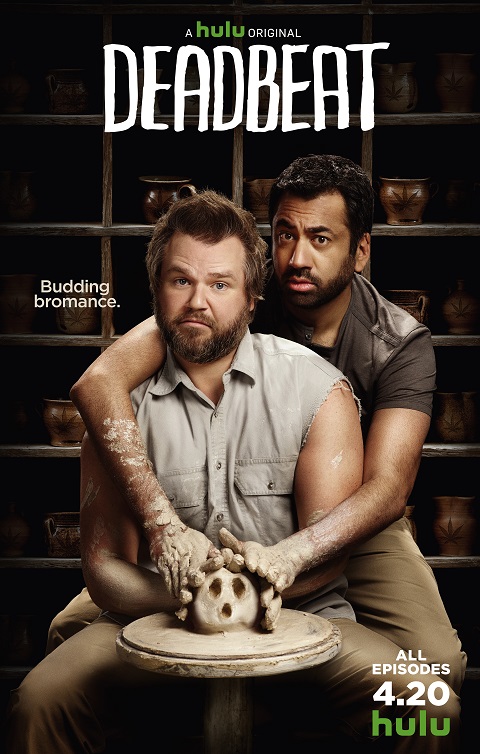 Synopsis:
Kevin "Pac" Pacalioglu (Tyler Labine) is a lazy, overweight slacker who can see ghosts. Needing to make a fresh start after losing both his ghost girlfriend and best friend/drug dealer, Pac moves into the apartment of "stoner entrepreneur" Clyde Shapiro (Kal Penn), an equally aimless Brooklynite who Pac meets in jail. When Clyde learns about how Pac is able to help send ghosts into the Light by resolving their unfinished issues, he excitedly offers to help Pac monetize his gift by going into business with him.
Deadbeat is produced by Lionsgate Television and created by Cody Heller and Brett Konner and executive produced by Heller, Konner and showrunner, Dan Lagana.



[12/07/18 - 07:02 AM]
Video: "The American Meme" - Official Trailer - Netflix
The film explores the journeys of four distinct social media disruptors, Paris Hilton, Josh Ostrovsky, Brittany Furlan and Kirill Bichutsky, as they hustle to build empires out of their online footprints, redefining the paradigm for the American Dream.


[12/06/18 - 10:04 AM]
Video: WE tv Reveals a Dramatic Sneak Peek of the Highly Anticipated Return of "Growing Up Hip Hop" Season 4
WE tv's hit series "Growing Up Hip Hop" returns Thursday, January 10 at 9:00/8:00c.


[12/04/18 - 05:17 PM]
Video: The Trailer for "Chilling Adventures of Sabrina: A Midwinter's Tale" Special Has Arrived
The special drops December 14, only on Netflix.


[12/04/18 - 01:40 PM]
Video: Showtime(R) Announces Airdate and Releases First Look at the New Documentary Film "American Dream/American Knightmare" from Director/Producer Antoine Fuqua
The documentary, due on December 21, offers an uncensored look into the life of notorious rap mogul Marion "Suge" Knight.


[12/04/18 - 11:01 AM]
Video: USA Network Drops Revealing "Temptation Island" Trailer, Announces Couples
The revival kicks off Tuesday, January 15 at 10:00/9:00c on the cable channel.


[12/04/18 - 06:05 AM]
Video: Official Trailer for Netflix's "Ellen DeGeneres: Relatable"
Ellen DeGeneres is "Relatable" in her debut Netflix original comedy special premiering December 18.


[12/03/18 - 09:54 AM]
Video: truTV Releases Trailer for Season Two of "I'm Sorry" Returning Wednesday, January 9 at 10pm ET/PT
Guest stars this season include Adam Scott, Lennon Parham, June Diane Raphael, Scott Aukerman, Rob Huebel, Anne Ramsay, Kurt Braunohler, Rose Mclver, Brian Stepanek and Rich Eisen.


[12/03/18 - 06:39 AM]
Video: Trailer Debut - "The Innocent Man" - New Netflix Series - Launching December 14
The six-part documentary series focuses on two murders that shook the small town of Ada, Oklahoma, in the 1980s - and the controversial chain of events that followed.


[11/30/18 - 10:22 AM]
Video: YouTube Premium and AwesomenessTV Debut Official Trailer and Key Art for New Female Led Comedy "Overthinking with Kat & June"
The half hour comedy series, due on December 19, will focus on the inner thoughts of two women as they form a strange but beautiful friendship.


[11/29/18 - 11:02 AM]
Video: Official Trailer and Key Art: "Marvel's Runaways" Season 2
Look for all episodes Friday, December 21, only on Hulu.


[11/27/18 - 03:01 PM]
Video: "Fuller House" Season 4 - Official Trailer - Netflix
The Tanner-Fuller-Gibblers are back with big laughs, unexpected guests and exciting new relationships.


[11/27/18 - 09:09 AM]
Video: "The Ranch" Part 6 - Official Trailer - Netflix
It takes a family to raise a ranch. The Bennetts are back.


[11/27/18 - 09:01 AM]
Video: "The Grand Tour" Season 3 - Official Trailer - Prime Video
Jeremy Clarkson, Richard Hammond and James May are back with a new season on January 18.


[11/27/18 - 07:05 AM]
Video: "Springsteen on Broadway" - Official Trailer - Netflix
The critically acclaimed, three times extended, Broadway phenomenon makes its global debut on Netflix.


[11/26/18 - 09:37 AM]
Video: Patty Jenkins and Chris Pine Introduce New "I Am the Night" Trailer
TNT's highly anticipated limited suspense drama premieres Monday, January 28 at 9:00/8:00c.