NO GUTS, NO GLORY!
STARZ RELEASES NEW TEASER TRAILER AND PHOTO FOR "ASH VS EVIL DEAD"
Season Two Returns October 2016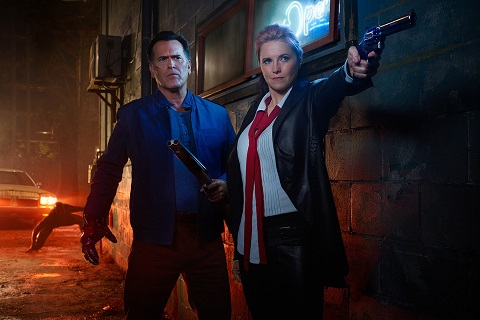 Beverly Hills, Calif., July 6, 2016 - STARZ released a new teaser trailer and photo today for the highly anticipated 10-episode second season of the half-hour series executive produced by Sam Raimi, Rob Tapert, Bruce Campbell, Ivan Raimi, and Craig DiGregorio who serves as executive producer and showrunner.
The second season roars back into action with Ash leaving his beloved Jacksonville and returning to his hometown of Elk Grove. There, he confronts Ruby. The former enemies have to form an uneasy alliance as Elk Grove soon becomes the nucleus of evil.
The cast is led by Bruce Campbell (Evil Dead, "Burn Notice") in the role of Ash Williams; Lucy Lawless ("Salem," "Spartacus") as Ruby, who now possesses the powerful Necronomicon; Ray Santiago ("Touch," Meet the Fockers) as Pablo Simon Bolivar, Ash's loyal sidekick dealing with the trauma he suffered in the cabin; and Dana DeLorenzo (A Very Harold & Kumar 3D Christmas) as Kelly Maxwell, who, grief-stricken after the death of her parents, plots revenge against The Evil Dead.
As previously announced, Lee Majors, Ted Raimi, and Michelle Hurd join the cast this season as Brock Williams, Ash's father, Chet Kaminski, Ash's childhood best friend, and Linda, Ash's high school love respectively.
Watch Season One: The full first season of "Ash vs Evil Dead" can be viewed now on the Starz App on Chromecast, Apple TV (4th generation and newer), iPhones and iPads running iOS 7.0 or higher, Google Nexus Player, Sony Android TV, as well as most Android phones, tablets, and TV devices.
About Starz
Starz (NASDAQ: STRZA, STRZB) is a leading integrated global media and entertainment company with operating units that provide premium subscription video programming on domestic U.S. pay television networks (Starz Networks) and global content distribution (Starz Distribution), www.starz.com. The Starz Networks operating unit is home to the flagship STARZ(R) brand with 24.0 million subscribers in the United States as of March 31, 2016, with the STARZ ENCORESM network at 32.4 million subscribers. Through STARZ, the company provides high quality, entertaining premium subscription video programming with 17 premium pay TV channels and associated on-demand and online services. STARZ is sold through U.S. multichannel video distributors, including cable operators, satellite television providers, telecommunications companies, and other online and digital platforms. Starz offers subscribers more than 5,000 distinct premium television episodes and feature films every year and up to 1,500 every month, including STARZ Original series, first-run movies and other popular movie and television programming. The Starz Distribution operating unit is home to the Anchor Bay Entertainment, Starz Digital, and Starz Worldwide Distribution divisions. In addition to STARZ Original series, Starz Distribution develops, produces and acquires movies, television and other entertainment content for worldwide home video, digital, and television licensing and sales.