[08/04/16 - 08:35 AM]
Video: Netflix Releases Official Trailer for XOXO
The film follows six strangers whose lives collide in one frenetic, dream-chasing, hopelessly romantic night.
---
[via press release from Netflix]
NETFLIX RELEASES OFFICIAL TRAILER FOR XOXO
THE ULTIMATE SUMMER PARTY MOVIE FEATURING SARAH HYLAND LAUNCHES GLOBALLY ON FRIDAY, AUGUST 26TH
OFFICIAL 16-TRACK XOXO SOUNDTRACK AVAILABLE FOR PRE-ORDER TOMORROW ALONGSIDE NEW TRACK FROM GALANTIS AND EAST & YOUNG
XOXO is an ensemble, coming-of-age movie about a group of early 20-somethings on a crazy adventure to the biggest EDM festival in America, XOXO. The film follows six strangers whose lives collide in one frenetic, dream-chasing, hopelessly romantic night. At the center is Ethan, a young DJ who gets a last minute slot to perform after his tracks go viral online days before the festival. This is a huge opportunity... if he can just make it there in one piece. XOXO will launch globally on Netflix on August 26, 2016.
The film stars Sarah Hyland (Modern Family), Graham Phillips (The Good Wife), Brett DelBuono, Chris D'Elia (Undateable), Haley Kiyoko (Jem & The Holograms), Colin Woodell (Masters of Sex), Ryan Hansen (Party Down, 2 Broke Girls), Ian Anthony Dale (Hawaii Five-0) and Ione Skye (Say Anything). XOXO is directed by Christopher Louie and written by Dylan Meyer. Max Leitman, Joe Russell p.g.a., Christopher Louie p.g.a., Pete Tong, and Dan Shafer serve as producers. Pete Tong also serves as Music Supervisor.
As an early treat, check out the first track off the official 16-track XOXO Soundtrack a new song from Grammy nominated electronic duo Galantis and East & Young called "Make Me Feel" (http://smarturl.it/MakeMeFeelYT). This track is available for download tomorrow alongside the pre-order for the soundtrack (http://smarturl.it/MakeMeFeeliTunes) arriving globally via Big Beat Records alongside the film release on August 26th.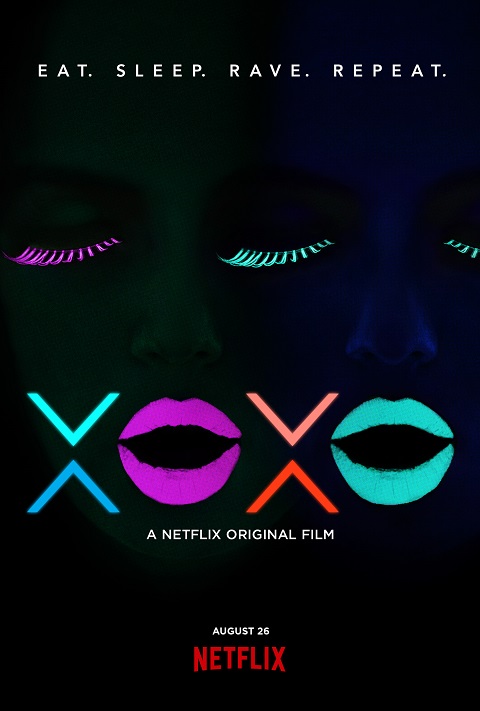 Follow #xoxothemovie on Facebook and Instagram.



[01/18/19 - 10:50 AM]
Video: Trailer - Hulu Original Comedy "PEN15"
All 10 episodes will premiere Friday, February 8, only on Hulu.


[01/18/19 - 09:16 AM]
Video: New Trailer Released - truTV Season 2 of "At Home with Amy Sedaris"
This season, Sedaris welcomes an impressive list of guest stars, including: Rose Byrne, Matthew Broderick, Justin Theroux, Susan Sarandon, Gillian Jacobs, Juliette Lewis, Ellie Kemper, Fred Armisen, Michael Shannon and more!


[01/17/19 - 09:09 AM]
Video: IFC Releases First Trailer for the Highly-Anticipated Return of the Emmy(R)-Nominated "Documentary Now!"
This season's all-star line-up of guest stars includes Cate Blanchett, Michael Keaton, Owen Wilson, Michael C. Hall, John Mulaney, Taran Killam, Renee Elise Goldsberry, Bobby Moynihan, Natasha Lyonne, Paula Pell, Richard Kind, James Urbaniak and more.


[01/17/19 - 08:01 AM]
Video: New Trailer for Steven Soderbergh's "High Flying Bird" Starring Andre Holland and Zazie Beetz
The film will debut Friday, February 8 exclusively on Netflix.


[01/16/19 - 01:48 PM]
Video: "Happy!" - Season 2 Official Trailer - Syfy
The next insane season premieres Wednesday, March 27 on the cable channel.


[01/16/19 - 10:44 AM]
Video: "Better Things" - Season 3: Official Trailer - FX
As previously announced, the series returns Thursday, February 28 at 10:00/9:00c.


[01/16/19 - 10:01 AM]
Video: WGN America Unveils February 27 Premiere Date and First Trailer for Crime Drama "Gone"
Chris Noth, Leven Rambin and Danny Pino star in the 12-part limited series.


[01/16/19 - 08:03 AM]
Video: "Unbreakable Kimmy Schmidt" Final Episodes - Official Trailer - Netflix
Look for the show's swan song on Friday, January 25.


[01/15/19 - 07:31 AM]
Video: Trailer Debut - "Black Earth Rising" Launches January 25 on Netflix
The limited series is a contemporary thriller that follows the journey of Kate Ashby (Michaela Coel), a Rwandan orphaned by the genocide, raised in London by an adoptive mother and trying to discover the truth of her past.


[01/14/19 - 09:42 AM]
Video: Trailer Debut - "Conversations with a Killer: The Ted Bundy Tapes" Launches January 24
The series features exclusive, never-before-heard audio interviews with Ted Bundy from death row.


[01/14/19 - 08:06 AM]
Video: "Fyre Fraud" Now Streaming on Hulu
The film features an exclusive interview with Billy McFarland, the convicted con-man behind the festival.


[01/14/19 - 08:05 AM]
Video: Netflix Debuts Trailer & Key Art for "Paddleton"
Ray Romano and Mark Duplass star in the film, due on February 22.


[01/13/19 - 06:00 PM]
Video: "Game of Thrones" Returns April 14
HBO aired a new tease tonight, which announced the debut date for the show's six-episode, eighth and final season.


[01/10/19 - 10:11 AM]
Video: Trailer - "Fyre: The Greatest Party That Never Happened"
The Netflix documentary launches Friday, January 18.


[01/10/19 - 08:46 AM]
Video: Trailer Released for Sony Crackle's "The Oath" Season 2
The series returns with eight all-new episodes on Thursday, February 21 with a sneak peek on Amazon devices through the Sony Crackle app starting Monday, February 11.