[09/26/16 - 07:03 AM]
Video: Netflix Releases Ava DuVernay's 13TH Trailer
The documentary explores how mass incarceration evolved to its current epic proportions and what the ramifications are for communities of color across the country.
---
[via press release from Netflix]
Netflix Releases Ava DuVernay's 13TH Trailer
Today, Netflix debuted the trailer and key art for 13TH. Directed and produced by Ava DuVernay, 13TH explores how mass incarceration evolved to its current epic proportions and what the ramifications are for communities of color across the country.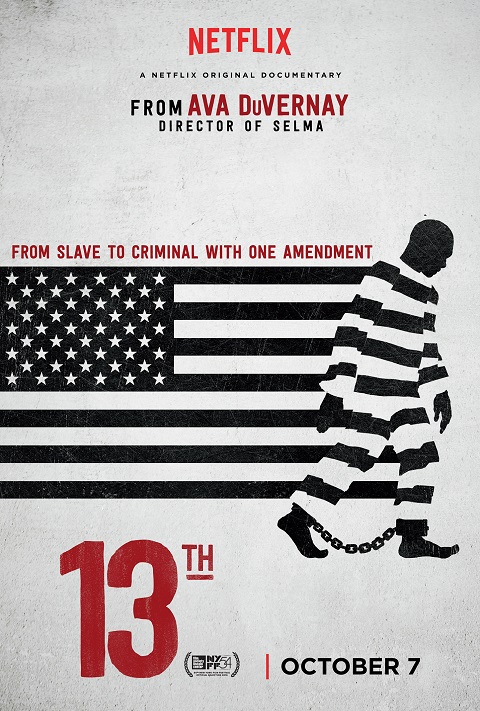 13TH will premiere at the New York Film Festival on Friday, September 30, which is the first time a nonfiction work will open the festival. The film will launch globally on Netflix October 7, including a limited theatrical release.
Synopsis
The title of Ava DuVernay's extraordinary and galvanizing documentary refers to the 13th Amendment to the Constitution, which reads "Neither slavery nor involuntary servitude, except as a punishment for crime whereof the party shall have been duly convicted, shall exist within the United States..." The progression from that second qualifying clause to the horrors of mass criminalization and the sprawling American prison industry is laid out by DuVernay with bracing lucidity. With a potent mixture of archival footage and testimony from a dazzling array of activists, politicians, historians, and formerly incarcerated women and men, DuVernay creates a work of grand historical synthesis.
About Ava DuVernay
Nominated for two Academy Awards and four Golden Globes, writer/director Ava DuVernay's most recent feature "Selma" was one of 2015's most critically-acclaimed films. Winner of the 2012 Sundance Film Festival's Best Director Prize for her feature "Middle of Nowhere," DuVernay's earlier directorial work includes "I Will Follow," "Venus Vs," and "This is The Life." In Fall of 2016, her first television series as executive producer, writer and director, "Queen Sugar," debuted on Oprah Winfrey's network, OWN. DuVernay distributes and amplifies the work of other people of color and women directors through her film collective ARRAY, named one of Fast Company's Most Innovative Companies in Hollywood for 2016.



[09/21/17 - 06:10 AM]
Video: "Def Comedy Jam 25" - Official Trailer - Netflix
Dave Chappelle, Martin Lawrence, Steve Harvey, Cedric the Entertainer, Adele Givens, Tracy Morgan, Sheryl Underwood, D.L. Hughley and many more celebrate one of comedy's greatest institutions.


[09/20/17 - 09:01 AM]
Video: "The Meyerowitz Stories (New and Selected)" - Official Trailer - Netflix
Adam Sandler, Ben Stiller, Dustin Hoffman, Elizabeth Marvel, Grace Van Patten and Emma Thompson star in Noah Baumbach's latest film.


[09/20/17 - 07:31 AM]
Video: "Marvel's The Punisher" - Official Trailer - Netflix
They killed Frank Castle's family to get to him. Now, the Punisher exacts his revenge.


[09/19/17 - 10:12 AM]
Video: Behind the Scenes of "Star Trek: Discovery" with the Series' Cast and Creators
The newest edition of the "Star Trek" franchise is set to premiere this Sunday, September 24.


[09/15/17 - 06:54 AM]
Video: Oh Mylanta, We're 30?! The "Fuller House" Season Three Trailer Is Here!
The series returns to Netflix on Friday, September 22.


[09/14/17 - 04:18 PM]
Video: Cinemax - "Tales from the Tour Bus" Trailer - Debuts September 22
Mike Judge co-created, narrates and serves as an executive producer on the series, which recounts the raucous adventures of these musicians, as told by those who knew them best.


[09/14/17 - 12:08 PM]
Video: Showtime(R) Unveils Poster Art and Behind-the-Scenes Look at Its New Comedy "White Famous"
The series will now premiere its first two episodes back-to-back on Sunday, October 15 at 10:00/9:00c.


[09/14/17 - 09:32 AM]
Video: Starz Releases Official Trailer for New Original Documentary "Nude" to Premiere October 29th at 10 PM ET/PT
The feature-length documentary explores perceptions of nudity in art by chronicling the creative process of fashion photographer David Bellemere.


[09/14/17 - 09:15 AM]
Video: Watch First Season Two "Search Party" Trailer; Series Returns November 19
The TBS series stars Alia Shawkat, Meredith Hagner, John Early, John Reynolds and Brandon Micheal Hall.


[09/14/17 - 06:07 AM]
Video: Netflix - "Kingdom of Us" - Trailer & Key Art Debut
The Netflix original documentary will premiere at the BFI London Film Festival on October 7 ahead of its global launch on Netflix on October 13.


[09/13/17 - 12:14 PM]
Video: Rob Schneider Returns in "Real Rob"
This season's guest stars include Adam Sandler, Eugenio Derbez, Michael Madsen, Danny Trejo, Angela Kinsey, Haylie Duff, Chris Kattan, Bobby Lee, Monica Huarte, Karyme Lozano and James Hong.


[09/13/17 - 09:41 AM]
Video: Crackle Releases Original Key Art and Trailer for Halloween Special "SuperMansion: Drag Me to Halloween" Streaming Thursday, October 5th
In the all-new stop-motion animated Crackle original special, the League of Freedom experiences all the fun and adventures of Halloween.


[09/12/17 - 10:19 AM]
Video: Netflix Debuts the Trailer for "The Death and Life of Marsha P. Johnson"
Having played a pivotal role in the previous year's Stonewall Riots, in 1970, Johnson and fellow trans icon Sylvia Rivera formed the world's first trans-rights organization, STAR (Street Transvestites Action Revolutionaries).


[09/12/17 - 09:30 AM]
Video: First Look at the "Star Trek: Discovery" Main Title Scoring Session
The series invites fans to go behind the scenes for a first look at the main title scoring session for the series, featuring a 60-piece orchestra conducted by Emmy(R)-winning composer Jeff Russo.


[09/12/17 - 08:46 AM]
Video: WE tv's "Marriage Boot Camp Reality Stars" Debuts New Supertease - Season 9 Premieres October 13!
The season will feature a brand new house of dysfunctional couples including Kailyn Lowry and Javi Marroquin, Juelia Kinney and JJ Lane, Bobby Panahi and Asifa Mirza, Peter Gunz and Amina Buddafly and Mehgan James and DeAndre Perry.