[09/26/16 - 07:03 AM]
Video: Netflix Releases Ava DuVernay's 13TH Trailer
The documentary explores how mass incarceration evolved to its current epic proportions and what the ramifications are for communities of color across the country.
---
[via press release from Netflix]
Netflix Releases Ava DuVernay's 13TH Trailer
Today, Netflix debuted the trailer and key art for 13TH. Directed and produced by Ava DuVernay, 13TH explores how mass incarceration evolved to its current epic proportions and what the ramifications are for communities of color across the country.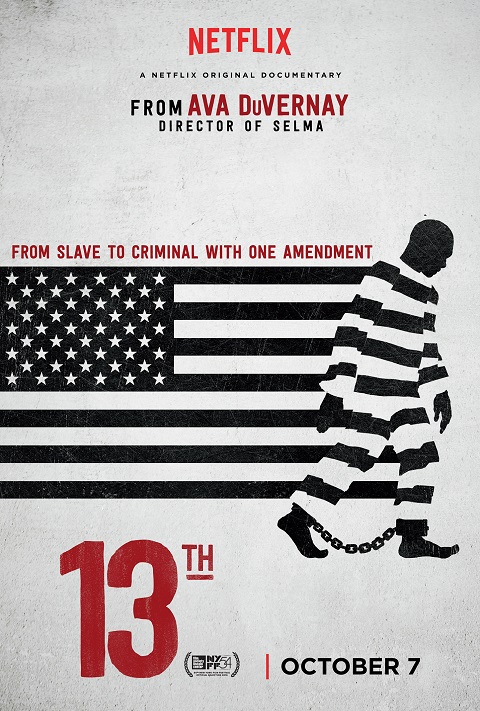 13TH will premiere at the New York Film Festival on Friday, September 30, which is the first time a nonfiction work will open the festival. The film will launch globally on Netflix October 7, including a limited theatrical release.
Synopsis
The title of Ava DuVernay's extraordinary and galvanizing documentary refers to the 13th Amendment to the Constitution, which reads "Neither slavery nor involuntary servitude, except as a punishment for crime whereof the party shall have been duly convicted, shall exist within the United States..." The progression from that second qualifying clause to the horrors of mass criminalization and the sprawling American prison industry is laid out by DuVernay with bracing lucidity. With a potent mixture of archival footage and testimony from a dazzling array of activists, politicians, historians, and formerly incarcerated women and men, DuVernay creates a work of grand historical synthesis.
About Ava DuVernay
Nominated for two Academy Awards and four Golden Globes, writer/director Ava DuVernay's most recent feature "Selma" was one of 2015's most critically-acclaimed films. Winner of the 2012 Sundance Film Festival's Best Director Prize for her feature "Middle of Nowhere," DuVernay's earlier directorial work includes "I Will Follow," "Venus Vs," and "This is The Life." In Fall of 2016, her first television series as executive producer, writer and director, "Queen Sugar," debuted on Oprah Winfrey's network, OWN. DuVernay distributes and amplifies the work of other people of color and women directors through her film collective ARRAY, named one of Fast Company's Most Innovative Companies in Hollywood for 2016.



[03/22/17 - 08:00 AM]
Video: Trailer Just Released for "Love Actually" Reunion Film - "Red Nose Day Actually" - Airing in NBC's "Red Nose Day Special" on May 25
From an original script by Richard Curtis, the founder of Red Nose Day, the short film revisits the characters of the 2003 film "Love Actually" to discover what they're up to in 2017.


[03/22/17 - 07:02 AM]
Video: "Hot Girls Wanted: Turned On" Launches Globally on Netflix Friday, April 21
Produced by Rashida Jones, Jill Bauer and Ronna Gradus, "Hot Girls Wanted: Turned On" is a six-part anthology series, based off their acclaimed feature documentary, "Hot Girls Wanted."


[03/20/17 - 09:46 AM]
Video: "The Wizard of Lies" - Tease (HBO)
Starring Robert De Niro and Michelle Pfeiffer as Bernie and Ruth Madoff, the film examines Bernie Madoff's Ponzi scheme - his deception, lies and cover-up, all as the financier's wife and sons are catapulted into a harsh and unrelenting spotlight.


[03/15/17 - 01:18 PM]
Video: "The Immortal Life of Henrietta Lacks" - Official Trailer (HBO)
Oprah Winfrey and Rose Byrne star in this adaptation of Rebecca Skloot's critically acclaimed, bestselling nonfiction book of the same name.


[03/15/17 - 09:30 AM]
Video: "American Gods" Debuts New Trailer in Anticipation of April 30th Premiere
Fans will get a closer look into the epic journey of Shadow Moon and Mr. Wednesday with new footage from the fantasy series.


[03/14/17 - 08:21 AM]
Video: Chappelle's Back - See the Official Trailer
In his first concert specials in 12 years, Dave Chappelle is back - with two highly anticipated stand-up comedy specials premiering only on Netflix.


[03/13/17 - 01:48 PM]
Video: BBC America Releases First Official "Doctor Who" New Season Trailer
The sizzle reveals the incredible adventures that this season has in store for the Doctor (Peter Capaldi), his new (and fearless) companion Bill (Pearl Mackie) and assistant Nardole (Matt Lucas).


[03/13/17 - 07:42 AM]
Video: truTV Announces Season One Celebrity Contestants and Debuts First Trailer of New Series, "Talk Show the Game Show"
Celebrity contestants in the series first season will include Chelsea Handler, Maria Bamford, Wanda Sykes, Moby, Ana Navarro, Bridgett Everett, Kelis, Margaret Cho, Kyle Kinane, Wendi McLendon-Covey, and Julie Klausner, among others.


[03/10/17 - 12:04 PM]
Video: TNT's "Animal Kingdom" First Look Clip from the Season 2 Premiere
In celebration of Animal Kingdom coming to South by Southwest this Saturday, March 11, TNT is releasing a first-look clip from the Season 2 premiere.


[03/09/17 - 12:01 PM]
Video: E! Releases Exclusive Trailer of "Keeping Up with the Kardashians" as New Season Launches Sunday, March 12 at 9 PM ET/PT
This season the family welcomes a dreamy bundle of joy, embraces new beginnings and tests their resilience in the face of adversity.


[03/09/17 - 11:43 AM]
Video: Showtime(R) Releases Poster Art and Behind the Scenes Video for New Six-Part Limited Event Series "Guerrilla"
The series stars Screen Actors Guild Award(R) winner Freida Pinto (Slumdog Millionaire) and Babou Ceesay (Getting On).


[03/09/17 - 06:35 AM]
Video: "The Get Down - Part II" - Official Trailer - Netflix
Part Two of The Get Down picks up in 1978, one year after the events of Part One.


[03/08/17 - 11:35 AM]
Video: "The Handmaid's Tale" Teaser Trailer
The 10-episode first season premieres on Wednesday, April 26.


[03/06/17 - 12:17 PM]
Video: Showtime(R) Releases Official Trailer for "Disgraced," New Documentary Film Chronicling Murder and Scandal in Big-Time College Basketball
The film will make its anticipated world premiere at the SXSW(R) Film Festival on Sunday, March 12 and its television premiere on Friday, March 31.


[03/03/17 - 09:08 AM]
Video: HBO(R) Celebrates Standing as the Best Destination for Theatrical Films by Giving Beloved Saturday Night Feature Intro an Update
The original HBO Feature Presentation intro has undergone several facelifts over the course of HBO's history, while maintaining a legendary status among viewers.