[09/27/16 - 06:09 AM]
Video: Get Ready for "The Crown" - Official Trailer, Key Art and Brand New Images Released
"The Crown" tells the inside story of Queen Elizabeth II's early reign, revealing the personal intrigues, romances, and political rivalries behind the great events that shaped the second half of the 20th Century.
---
[via press release from Netflix]
Get Ready for THE CROWN - Official Trailer, Key Art and Brand New Images Released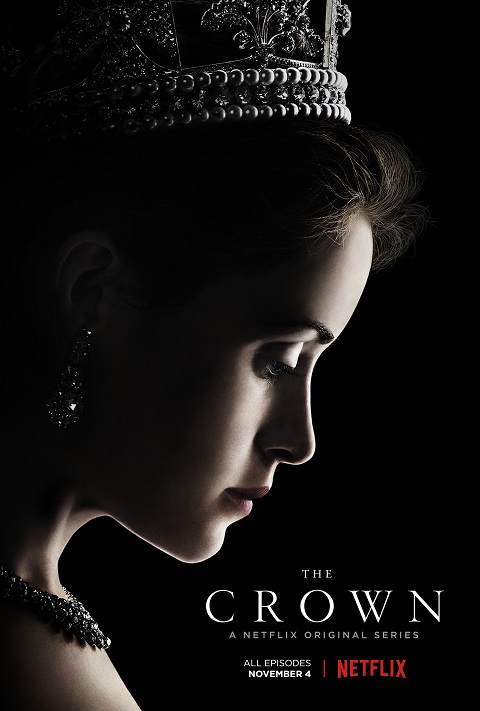 On Friday, November 4th, audiences around the world will be introduced to the Netflix original series The Crown and given a sneak behind the curtain on the personal, political and deeply private world of Queen Elizabeth II's struggle to reconcile her personal life and public role, the Monarchy, and its precarious position in shifting the sands of post-war politics.
About The Crown
The Crown reunites acclaimed writer Peter Morgan (The Queen, Frost/Nixon) with director Stephen Daldry (Billy Elliot, The Hours) and producer Andy Harries (The Queen). Based on the award-winning play, The Audience, The Crown tells the inside story of Queen Elizabeth II's early reign, revealing the personal intrigues, romances, and political rivalries behind the great events that shaped the second half of the 20th Century.
The Crown stars Claire Foy as Queen Elizabeth II, Matt Smith as Prince Phillip, John Lithgow as Sir Winston Churchill, Victoria Hamilton as the Queen Mother, Jared Harris as King George VI, Vanessa Kirby as Princess Margaret and Dame Eileen Atkins as Queen Mary, among others.
Series Description: A Netflix original series, The Crown focuses on Queen Elizabeth II as a 25-year-old newlywed faced with the daunting prospect of leading the world's most famous monarchy while forging a relationship with legendary Prime Minister, Sir Winston Churchill. The British Empire is in decline, the political world is in disarray, and a young woman takes the throne....a new era is dawning. Peter Morgan's masterfully researched scripts reveal the Queen's private journey behind the public facade with daring frankness. Prepare to be welcomed into the coveted world of power and privilege and behind locked doors in Westminster and Buckingham Palace....the leaders of an empire await.
For more information in the coming months on #TheCrown follow @TheCrownNetflix on Twitter and on Facebook at www.fb.com/TheCrownNetflix.



[10/22/18 - 01:32 PM]
Video: Come Visit Orphelin Bay - "Tidelands" Launches December 14
The Netflix series follows Cal McTeer, played by Charlotte Best, a young woman who returns home to the small fishing village of Orphelin Bay after 10 years in juvenile detention then jail.


[10/22/18 - 07:34 AM]
Video: "Disenchantment" - Announcement: New Episodes Coming Soon - Netflix
Look for new episodes coming in 2019, 2020 and 2021.


[10/22/18 - 07:09 AM]
Video: Second Official Trailer - Amazon Prime Video's "Homecoming" Starring Julia Roberts
Heidi Bergman (Roberts) is a caseworker at the Homecoming Transitional Support Center, a Geist Group facility helping soldiers transition back to civilian life.


[10/19/18 - 10:31 AM]
Video: Showtime(R) Drops the Trailer for New Comedy "Black Monday" on Anniversary of the Historic Stock Market Crash
Don Cheadle, Andrew Rannells and Regina Hall star in the series, premiering Sunday, January 20 at 10:00/9:00c.


[10/19/18 - 08:02 AM]
Video: Sundance TV Releases "Jonestown: Terror in the Jungle" Trailer in Advance of Two-Night Special Event
Look for said event on Saturday, November 17 and Sunday, November 18 at 9:00/8:00c.


[10/18/18 - 09:32 AM]
Video: Trailer Debut - Netflix's "The Degenerates" Original Comedy Special Series
The series consists of six 30-minute episodes full of no-holds-barred comedy for mature audiences from the likes of rising comics Big Jay Oakerson, Joey Diaz, Liza Treyger, Yamaneika Saunders, Christina P., and Brad Williams.


[10/18/18 - 07:04 AM]
Video: We'll Start You Off with a Sample - "Narcos: Mexico" Trailer Debut
"Narcos: Mexico" will explore the origins of the modern drug war by going back to its roots, beginning at a time when the Mexican trafficking world was a loose and disorganized confederation of independent growers and dealers.


[10/17/18 - 06:32 AM]
Video: "Patriot Act with Hasan Minhaj" - Studio Spot - Netflix
In a never before seen sneak peek of the weekly topical show, Minhaj treated viewers via Instagram to a hint of the show's high tech, interactive set.


[10/16/18 - 12:02 PM]
Video: Trailer Debut - "The Final Table" - A Global Cooking Competition
The Netflix series features 12 teams of two chefs from around the world cooking the national dishes of Mexico, Spain, England, Brazil, France, Japan, the U.S., India and Italy.


[10/16/18 - 08:03 AM]
Video: Featurette Debut - Inside the Bewitching World of Sabrina Spellman
The 10-episode Netflix original series premieres October 26.


[10/12/18 - 07:01 AM]
Video: Trailer & Key Art Debut - Michael Douglas and Alan Arkin Return to TV in "The Kominsky Method"
The Netflix series also features Nancy Travis, Sarah Baker and guest stars including Lisa Edelstein, Emily Osment, Graham Rogers, Danny Devito, Ann-Margret, Jay Leno, Patti LaBelle, Ashleigh LaThorpe and more.


[10/11/18 - 11:45 AM]
Video: IFC's "Baroness von Sketch Show" Season 3 Trailer Revealed
The new season premieres with two back to back episodes Thursday, November 8 at 9:00/8:00c.


[10/10/18 - 01:30 PM]
Video: USA Network Reveals First Promo and Key Art for Music Showcase Series "Real Country" Featuring Shania Twain, Jake Owen and Travis Tritt
From Wilshire Studios, the eight-part series will premiere Tuesday, November 13 at 10:00/9:00c.


[10/10/18 - 10:10 AM]
Video: YouTube Premium Debuts New Trailer for AwesomenessTV's Hit Comedy "Foursome"
The longest running YouTube Original show will launch its fourth season on Wednesday, October 24.


[10/10/18 - 09:02 AM]
Video: "Best. Worst. Weekend. Ever." - Official Trailer - Netflix
The limited series follows four friends as they make the most of their last weekend before high school.