[09/27/16 - 06:09 AM]
Video: Get Ready for "The Crown" - Official Trailer, Key Art and Brand New Images Released
"The Crown" tells the inside story of Queen Elizabeth II's early reign, revealing the personal intrigues, romances, and political rivalries behind the great events that shaped the second half of the 20th Century.
---
[via press release from Netflix]
Get Ready for THE CROWN - Official Trailer, Key Art and Brand New Images Released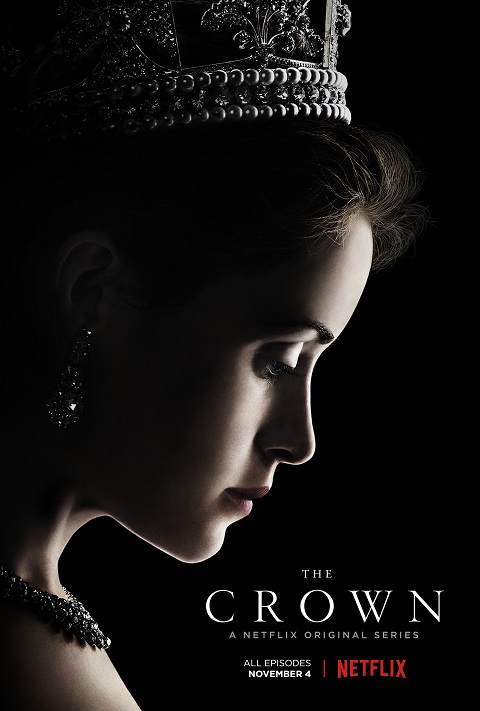 On Friday, November 4th, audiences around the world will be introduced to the Netflix original series The Crown and given a sneak behind the curtain on the personal, political and deeply private world of Queen Elizabeth II's struggle to reconcile her personal life and public role, the Monarchy, and its precarious position in shifting the sands of post-war politics.
About The Crown
The Crown reunites acclaimed writer Peter Morgan (The Queen, Frost/Nixon) with director Stephen Daldry (Billy Elliot, The Hours) and producer Andy Harries (The Queen). Based on the award-winning play, The Audience, The Crown tells the inside story of Queen Elizabeth II's early reign, revealing the personal intrigues, romances, and political rivalries behind the great events that shaped the second half of the 20th Century.
The Crown stars Claire Foy as Queen Elizabeth II, Matt Smith as Prince Phillip, John Lithgow as Sir Winston Churchill, Victoria Hamilton as the Queen Mother, Jared Harris as King George VI, Vanessa Kirby as Princess Margaret and Dame Eileen Atkins as Queen Mary, among others.
Series Description: A Netflix original series, The Crown focuses on Queen Elizabeth II as a 25-year-old newlywed faced with the daunting prospect of leading the world's most famous monarchy while forging a relationship with legendary Prime Minister, Sir Winston Churchill. The British Empire is in decline, the political world is in disarray, and a young woman takes the throne....a new era is dawning. Peter Morgan's masterfully researched scripts reveal the Queen's private journey behind the public facade with daring frankness. Prepare to be welcomed into the coveted world of power and privilege and behind locked doors in Westminster and Buckingham Palace....the leaders of an empire await.
For more information in the coming months on #TheCrown follow @TheCrownNetflix on Twitter and on Facebook at www.fb.com/TheCrownNetflix.



[03/27/17 - 07:32 AM]
Video: Premiere Episode of IFC's New Series "Brockmire" Available Today on the Networks's VOD, Digital, Social and Mobile Platforms
The series premieres on IFC Wednesday, April 5 at 10:00/9:00c with two back-to-back episodes, followed by six episodes airing weekly.


[03/23/17 - 09:06 AM]
Video: "The Handmaid's Tale" Full-Length Trailer Now Available
The series premieres with three episodes on April 26 with subsequent episodes streaming weekly on Wednesdays.


[03/23/17 - 07:02 AM]
Video: WE tv's "Marriage Boot Camp: Family Edition" Releases New Supertease!
The most extreme relationship therapy boot camp is now trading couples for kin in "Marriage Boot Camp: Reality Stars Family Edition."


[03/22/17 - 10:08 AM]
Video: "Mystery Science Theater 3000" - New Season Trailer
A Kickstarter starter campaign, spearheaded by Joel Hodgson and Shout! Factory, surpassed the goal of funding the production of 14 new episodes and set the world record as the highest-funded film and TV crowdfunding campaign in history.


[03/22/17 - 08:00 AM]
Video: Trailer Just Released for "Love Actually" Reunion Film - "Red Nose Day Actually" - Airing in NBC's "Red Nose Day Special" on May 25
From an original script by Richard Curtis, the founder of Red Nose Day, the short film revisits the characters of the 2003 film "Love Actually" to discover what they're up to in 2017.


[03/22/17 - 07:02 AM]
Video: "Hot Girls Wanted: Turned On" Launches Globally on Netflix Friday, April 21
Produced by Rashida Jones, Jill Bauer and Ronna Gradus, "Hot Girls Wanted: Turned On" is a six-part anthology series, based off their acclaimed feature documentary, "Hot Girls Wanted."


[03/20/17 - 09:46 AM]
Video: "The Wizard of Lies" - Tease (HBO)
Starring Robert De Niro and Michelle Pfeiffer as Bernie and Ruth Madoff, the film examines Bernie Madoff's Ponzi scheme - his deception, lies and cover-up, all as the financier's wife and sons are catapulted into a harsh and unrelenting spotlight.


[03/15/17 - 01:18 PM]
Video: "The Immortal Life of Henrietta Lacks" - Official Trailer (HBO)
Oprah Winfrey and Rose Byrne star in this adaptation of Rebecca Skloot's critically acclaimed, bestselling nonfiction book of the same name.


[03/15/17 - 09:30 AM]
Video: "American Gods" Debuts New Trailer in Anticipation of April 30th Premiere
Fans will get a closer look into the epic journey of Shadow Moon and Mr. Wednesday with new footage from the fantasy series.


[03/14/17 - 08:21 AM]
Video: Chappelle's Back - See the Official Trailer
In his first concert specials in 12 years, Dave Chappelle is back - with two highly anticipated stand-up comedy specials premiering only on Netflix.


[03/13/17 - 01:48 PM]
Video: BBC America Releases First Official "Doctor Who" New Season Trailer
The sizzle reveals the incredible adventures that this season has in store for the Doctor (Peter Capaldi), his new (and fearless) companion Bill (Pearl Mackie) and assistant Nardole (Matt Lucas).


[03/13/17 - 07:42 AM]
Video: truTV Announces Season One Celebrity Contestants and Debuts First Trailer of New Series, "Talk Show the Game Show"
Celebrity contestants in the series first season will include Chelsea Handler, Maria Bamford, Wanda Sykes, Moby, Ana Navarro, Bridgett Everett, Kelis, Margaret Cho, Kyle Kinane, Wendi McLendon-Covey, and Julie Klausner, among others.


[03/10/17 - 12:04 PM]
Video: TNT's "Animal Kingdom" First Look Clip from the Season 2 Premiere
In celebration of Animal Kingdom coming to South by Southwest this Saturday, March 11, TNT is releasing a first-look clip from the Season 2 premiere.


[03/09/17 - 12:01 PM]
Video: E! Releases Exclusive Trailer of "Keeping Up with the Kardashians" as New Season Launches Sunday, March 12 at 9 PM ET/PT
This season the family welcomes a dreamy bundle of joy, embraces new beginnings and tests their resilience in the face of adversity.


[03/09/17 - 11:43 AM]
Video: Showtime(R) Releases Poster Art and Behind the Scenes Video for New Six-Part Limited Event Series "Guerrilla"
The series stars Screen Actors Guild Award(R) winner Freida Pinto (Slumdog Millionaire) and Babou Ceesay (Getting On).