Netflix Releases Trailer for the Upcoming Original Documentary Sky Ladder: The Art of Cai Guo-Qiang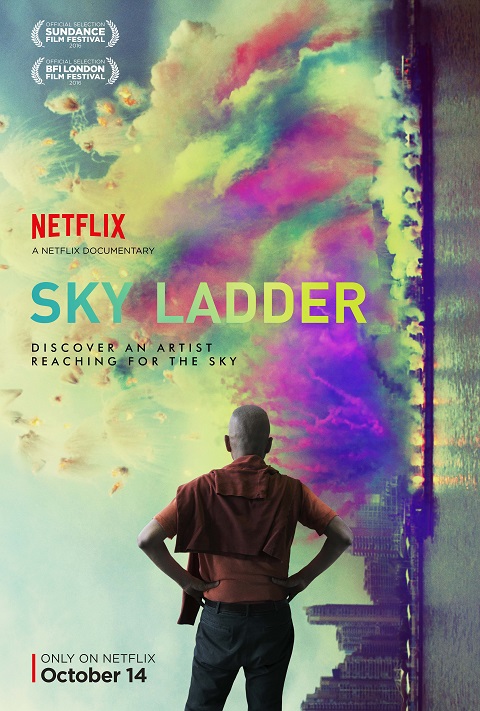 The trailer for Sky Ladder: The Art of Cai Guo-Qiang, directed by Kevin Macdonald (The Last King of Scotland, Touching the Void, Academy Award(R)-winner One Day in September), was released this morning and can be found here. Key art for the film can be found here. Originally acquired by Netflix at Sundance, Sky Ladder: The Art of Cai Guo-Qiang can be seen in select theaters and on Netflix on October 14, 2016 and will have a European premiere next week on October 6 at the London Film Festival.
About Sky Ladder: The Art of Cai Guo-Qiang:
Acclaimed filmmaker Kevin Macdonald has unfettered access to world-renowned artist, Cai Guo-Qiang, whose frequent use of gunpowder serves as both an ancestral homage and an acknowledgement of humanity's fleeting nature. Creating ambitious signature pieces on the largest imaginable scales, Cai's electrifying work often transcends physical permanence all while burning its philosophies into the audience's mind forever. Told through the artist's own words and those of family, friends and vigilant observers, Sky Ladder: The Art of Cai Guo-Qiang tracks his meteoric rise and examines how and why he engineers artworks that stretch as far as the eye can see and wow millions, such as a six mile-long gunpowder fuse stemming from the Great Wall into the Gobi Desert or the astounding opening and closing ceremonies of the 2008 Beijing Summer Olympics.
With the documentary's ambitious namesake - a 1,650-foot ladder of fire climbing into the skies above his hometown - the film captures Cai's work, which unites Eastern philosophy with contemporary social issues. Sky Ladder: The Art of Cai Guo-Qiang (produced by Wendi Murdoch, Fisher Stevens and Hugo Shong, with Executive Producer Bennett Miller) is an in-depth portrait of a contemporary creative icon with an ever-present social-political consciousness, a man whose captivating works are visually imposing with implications just as grandiose.
About Netflix
Netflix is the world's leading Internet television network with over 83 million members in over 190 countries enjoying more than 125 million hours of TV shows and movies per day, including original series, documentaries and feature films. Members can watch as much as they want, anytime, anywhere, on nearly any Internet-connected screen. Members can play, pause and resume watching, all without commercials or commitments.