[10/08/16 - 01:00 PM]
Video: Netflix Announces "Trollhunters" Premiere Date & Debuts Trailer at NYCC
The panel opened with the debut of the official trailer and the premiere date announcement for this all-new epic animated series launching globally December 23.
---
[via press release from Netflix]
NETFLIX ANNOUNCES "TROLLHUNTERS" PREMIERE DATE & DEBUTS TRAILER AT NYCC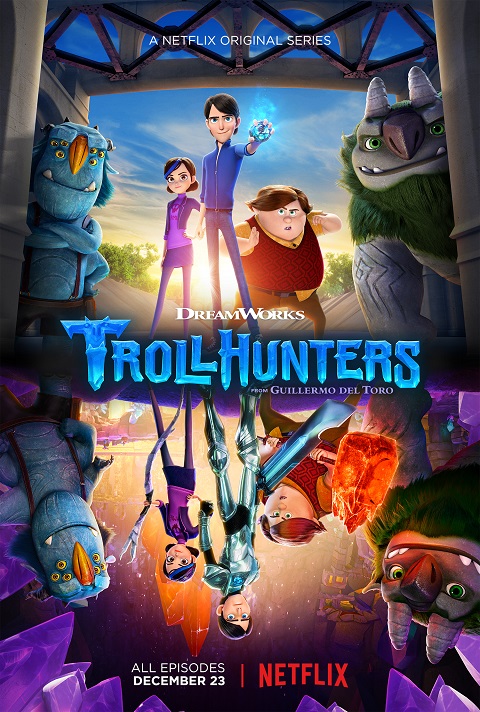 Today, a special advanced screening of DreamWorks' Trollhunters took place at New York Comic-Con inside Madison Square Garden in front of a 5,600 seat audience, followed by a panel discussion with creator and executive producer Guillermo del Toro (Pan's Labyrinth, Hellboy), voice talent Kelsey Grammer (Frasier, The Simpsons), Ron Perlman (Sons of Anarchy, Hellboy), Steven Yeun (The Walking Dead) and Charlie Saxton (Betas), and executive producers Marc Guggenheim (Arrow, Legends of Tomorrow) and Rodrigo Blaas (Alma). The panel opened with the debut of the official Trollhunters trailer and the premiere date announcement for this all-new epic animated series launching globally December 23, 2016 at 12:01am PT on Netflix.
About Trollhunters:
From the limitless imagination of master storyteller Guillermo Del Toro comes a tale of two worlds set to collide in the epic saga DreamWorks' Trollhunters. When ordinary teenager Jim Lake Jr. stumbles upon a mystical amulet on his way to school one morning, he inadvertently discovers an extraordinary secret civilization of mighty trolls beneath his small town of Arcadia. Strong-willed and seeking adventure but wholly unprepared for the responsibilities thrust upon him, Jim is forced to take on the exalted mantle of Trollhunter, sworn to protect the good trolls from powerful enemies bent on revenge. The first human ever to hold the honor, Jim abruptly goes from fighting his way through the daily mayhem of high school to joining a war that has raged for centuries, a conflict that now threatens all of mankind and troll-kind alike. Accompanied by his closest human friends and a few key troll allies, the courageous fifteen-year-old must plunge headlong into a fantastical world of astonishing creatures, glorious cities, and fierce enemies desperate to destroy him. Suddenly destined to play a crucial role in an ancient battle of good and evil with stakes that couldn't be higher, Jim is determined to save the world - right after gym class. DreamWorks' Trollhunters is a heroic tale that uncoils with ambitious, complex storytelling and stunning visuals that raise the bar for animated series, creating an event series that will thrill the entire family.



[01/15/18 - 08:21 AM]
Video: Netflix Reflects on "Black Mirror" Season 4 with Six All-New, Behind-the-Scenes Videos
"Black Mirror" Season 4 is now streaming on Netflix.


[01/14/18 - 01:45 PM]
Video: Crackle Releases Trailer and Key Art for New Original Scripted Series, "The Oath," from Curtis "50 Cent" Jackson and His G-Unit Film & Television Inc., to Premiere Thursday, March 8th
The show stars Ryan Kwanten, Cory Hardrict, Katrina Law, Arlen Escarpeta, J.J. Soria and Sean Bean.


[01/12/18 - 12:31 PM]
Video: "Genius: Picasso" - Trailer - National Geographic
Antonio Banderas plays the title role on the new season, premiering Tuesday, April 24.


[01/12/18 - 07:14 AM]
Video: Get a Rare Glimpse Behind the "Black Mirror" with All-New Season 4 Featurette
The video features in-depth interviews from creator, writer and executive producer Charlie Brooker, executive producer Annabel Jones and "Arkangel" director Jodie Foster.


[01/11/18 - 09:02 AM]
Video: Trailer for Hulu's "The Looming Tower"
Based on the Pulitzer-Prize winning book, "The Looming Tower" traces the rising threat of Osama Bin Laden and Al-Qaeda in the late 1990s and how the rivalry between the FBI and CIA during that time may have inadvertently set the path for the tragedy of 9/11.


[01/11/18 - 07:49 AM]
Video: Explore "Altered Carbon" Here with the Official Season 1 Trailer
Based on the classic cyberpunk noir novel by Richard K. Morgan, "Altered Carbon" is an intriguing story of murder, love, sex, and betrayal, set more than 300 years in the future.


[01/10/18 - 09:47 AM]
Video: Crackle Announces February 8 Premiere and Reveals Trailer, Key Art and First-Look Images for "In the Cloud"
"In the Cloud" takes place in the near future after dozens of people are killed in attacks by a serial terrorist bomber.


[01/10/18 - 09:09 AM]
Video: Trailer for "Dirty Money" - A Netflix Original Documentary Series, Available Globally on January 26
From Academy Award-winning director Alex Gibney, this thrilling six-part investigative series provides an up-close and personal view into untold stories of scandal and corruption in the world of business.


[01/09/18 - 03:26 PM]
Video: Season Three of "UnREAL" Returns February 26 - Brand New Season 3 Extended Two-Minute Promo
Caitlin FitzGerald takes the reins as Everlasting's female "suitress," Serena.


[01/09/18 - 11:10 AM]
Video: "Trust" - Season 1: Official Trailer - FX
From Academy Award winners Danny Boyle, Simon Beaufoy and Christian Colson, FX's new series will premiere March 25.


[01/06/18 - 05:36 PM]
Video: Showtime(R) Releases Official Trailer for "Our Cartoon President" Premiering on Sunday, February 11 at 8 PM ET/PT
The network will give viewers an early preview of the series, making the first episode available across multiple platforms online and On Demand on Sunday, January 28.


[01/06/18 - 05:34 PM]
Video: Showtime(R) Unveils Official Trailer for "Patrick Melrose" Starring Benedict Cumberbatch
Set to debut later this year, the series is based on the acclaimed Patrick Melrose series of semi-autobiographical novels written by Edward St. Aubyn.


[01/06/18 - 05:33 PM]
Video: Showtime(R) Releases "Homeland" Posters and New Teaser for Season Seven
The network's No. 1 drama series, "Homeland" is currently filming in Richmond, Virginia.


[01/06/18 - 05:31 PM]
Video: Showtime(R) Releases New Trailer for "The Chi" Premiering This Sunday, January 7 at 10 PM ET/PT
Produced entirely in its namesake city, the series is a timely coming-of-age story centering on a group of residents who become linked by coincidence but bonded by the need for connection and redemption.


[01/04/18 - 11:06 AM]
Video: Start the New Year with an All-New Trailer for "One Day at a Time" Season 2
A reimagining of the iconic Norman Lear's classic sitcom, "One Day at a Time" is an hilarious and heartfelt comedy that follows three generations of a Cuban-American family navigating the ups and downs of life.