[10/08/16 - 01:00 PM]
Video: Netflix Announces "Trollhunters" Premiere Date & Debuts Trailer at NYCC
The panel opened with the debut of the official trailer and the premiere date announcement for this all-new epic animated series launching globally December 23.
---
[via press release from Netflix]
NETFLIX ANNOUNCES "TROLLHUNTERS" PREMIERE DATE & DEBUTS TRAILER AT NYCC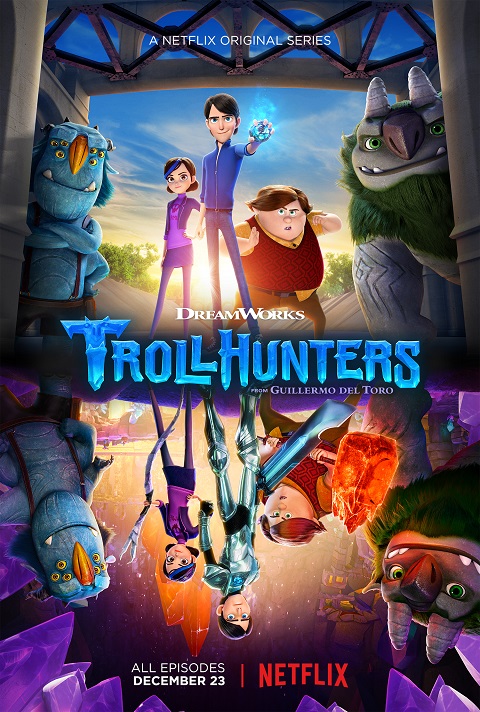 Today, a special advanced screening of DreamWorks' Trollhunters took place at New York Comic-Con inside Madison Square Garden in front of a 5,600 seat audience, followed by a panel discussion with creator and executive producer Guillermo del Toro (Pan's Labyrinth, Hellboy), voice talent Kelsey Grammer (Frasier, The Simpsons), Ron Perlman (Sons of Anarchy, Hellboy), Steven Yeun (The Walking Dead) and Charlie Saxton (Betas), and executive producers Marc Guggenheim (Arrow, Legends of Tomorrow) and Rodrigo Blaas (Alma). The panel opened with the debut of the official Trollhunters trailer and the premiere date announcement for this all-new epic animated series launching globally December 23, 2016 at 12:01am PT on Netflix.
About Trollhunters:
From the limitless imagination of master storyteller Guillermo Del Toro comes a tale of two worlds set to collide in the epic saga DreamWorks' Trollhunters. When ordinary teenager Jim Lake Jr. stumbles upon a mystical amulet on his way to school one morning, he inadvertently discovers an extraordinary secret civilization of mighty trolls beneath his small town of Arcadia. Strong-willed and seeking adventure but wholly unprepared for the responsibilities thrust upon him, Jim is forced to take on the exalted mantle of Trollhunter, sworn to protect the good trolls from powerful enemies bent on revenge. The first human ever to hold the honor, Jim abruptly goes from fighting his way through the daily mayhem of high school to joining a war that has raged for centuries, a conflict that now threatens all of mankind and troll-kind alike. Accompanied by his closest human friends and a few key troll allies, the courageous fifteen-year-old must plunge headlong into a fantastical world of astonishing creatures, glorious cities, and fierce enemies desperate to destroy him. Suddenly destined to play a crucial role in an ancient battle of good and evil with stakes that couldn't be higher, Jim is determined to save the world - right after gym class. DreamWorks' Trollhunters is a heroic tale that uncoils with ambitious, complex storytelling and stunning visuals that raise the bar for animated series, creating an event series that will thrill the entire family.



[05/24/17 - 09:46 AM]
Video: "Game of Thrones" Season 7 - Official Trailer (HBO)
The new season rolls out Sunday, July 16 on the pay channel.


[05/22/17 - 11:31 AM]
Video: OWN Unveils Season Two Trailer of Acclaimed Drama Series "Queen Sugar"
The new season will debut with a two-night premiere on Tuesday, June 20 and Wednesday, June 21.


[05/22/17 - 11:30 AM]
Video: "Flaked" - Season 2 - Official Trailer
Season two launches globally on Netflix on Friday, June 2.


[05/22/17 - 10:27 AM]
Video: Final Trailer Released for BBC America's "Orphan Black"
Get a final look at what to expect this season on the network's award-winning clone drama before the series returns Saturday, June 10.


[05/22/17 - 09:16 AM]
Video: New Showtime Drama Series "I'm Dying Up Here" Available Now for Early Sampling
Starting today, consumers who do not subscribe to Showtime can watch the series premiere for free on YouTube and SHO.com.


[05/22/17 - 09:10 AM]
Video: First Look at "Bobcat Goldthwait's Misfits & Monsters" on truTV
In early 2018, truTV will premiere the new anthology series that features twisted morality tales.


[05/18/17 - 09:51 AM]
Video: The CW's First Look Trailers for 2017-18
The network releases the sizzle reels for "Life Sentence," "Black Lightning," "Dynasty" and "Valor."


[05/18/17 - 03:01 AM]
Video: Okja Comes to Life in Official Trailer for Bong Joon Ho's Latest Film
Tilda Swinton, Paul Dano, Byun Heebong, Steven Yeun, Lily Collins, Giancarlo Esposito and Jake Gyllenhaal star in the Netflix original movie.


[05/17/17 - 03:37 PM]
Video: "Snowfall" - Last Words Official Trailer
"Snowfall," FX's new original series, premieres July 5.


[05/17/17 - 02:31 PM]
Video: "Star Trek: Discovery" Unveils First Look Trailer and Key Art; Series Coming to CBS All Access This Fall
Additionally, the series will feature 15 episodes, up from the previously announced 13, and include a companion after-show, "Talking Trek," presented on CBS All Access.


[05/17/17 - 02:30 PM]
Video: First Look at CBS's New Series for Fall 2017
The network releases trailers for all six of its newcomers due this fall.


[05/17/17 - 01:22 PM]
Video: What Is Upfront? - 2017 Sizzle - truTV
The talent of truTV reveals how they really feel about the Upfronts.


[05/17/17 - 09:13 AM]
Video: TNT Drops First Trailer for "The Alienist"
Set in 1896 amidst the vast wealth, extreme poverty and technological innovation of New York during the Gilded Age, the series follows the hunt for a series killer responsible for the gruesome murders of boy prostitutes.


[05/16/17 - 02:05 PM]
Video: Trailer - "Casual" Season 3
The first three episodes of the third season will launch a week from today - Tuesday, May 23 - with one each following Tuesday.


[05/16/17 - 01:00 PM]
Video: New ABC Shows - Trailers
Get your first look at new fall series "The Good Doctor," "The Mayor," "The Gospel of Kevin" and more!