[10/08/16 - 01:00 PM]
Video: Netflix Announces "Trollhunters" Premiere Date & Debuts Trailer at NYCC
The panel opened with the debut of the official trailer and the premiere date announcement for this all-new epic animated series launching globally December 23.
---
[via press release from Netflix]
NETFLIX ANNOUNCES "TROLLHUNTERS" PREMIERE DATE & DEBUTS TRAILER AT NYCC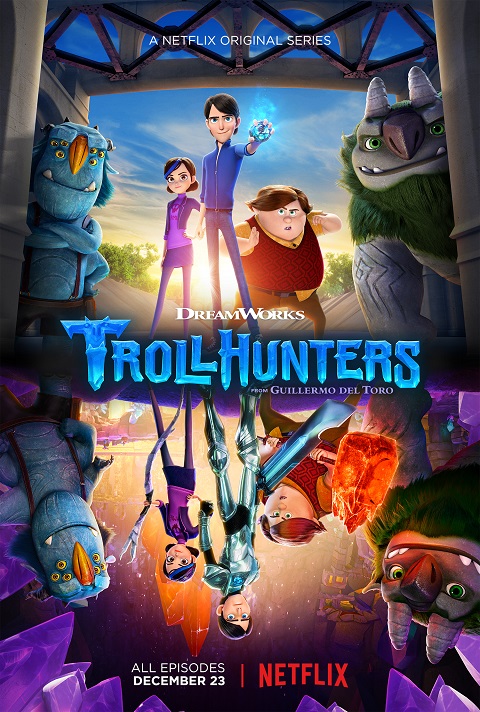 Today, a special advanced screening of DreamWorks' Trollhunters took place at New York Comic-Con inside Madison Square Garden in front of a 5,600 seat audience, followed by a panel discussion with creator and executive producer Guillermo del Toro (Pan's Labyrinth, Hellboy), voice talent Kelsey Grammer (Frasier, The Simpsons), Ron Perlman (Sons of Anarchy, Hellboy), Steven Yeun (The Walking Dead) and Charlie Saxton (Betas), and executive producers Marc Guggenheim (Arrow, Legends of Tomorrow) and Rodrigo Blaas (Alma). The panel opened with the debut of the official Trollhunters trailer and the premiere date announcement for this all-new epic animated series launching globally December 23, 2016 at 12:01am PT on Netflix.
About Trollhunters:
From the limitless imagination of master storyteller Guillermo Del Toro comes a tale of two worlds set to collide in the epic saga DreamWorks' Trollhunters. When ordinary teenager Jim Lake Jr. stumbles upon a mystical amulet on his way to school one morning, he inadvertently discovers an extraordinary secret civilization of mighty trolls beneath his small town of Arcadia. Strong-willed and seeking adventure but wholly unprepared for the responsibilities thrust upon him, Jim is forced to take on the exalted mantle of Trollhunter, sworn to protect the good trolls from powerful enemies bent on revenge. The first human ever to hold the honor, Jim abruptly goes from fighting his way through the daily mayhem of high school to joining a war that has raged for centuries, a conflict that now threatens all of mankind and troll-kind alike. Accompanied by his closest human friends and a few key troll allies, the courageous fifteen-year-old must plunge headlong into a fantastical world of astonishing creatures, glorious cities, and fierce enemies desperate to destroy him. Suddenly destined to play a crucial role in an ancient battle of good and evil with stakes that couldn't be higher, Jim is determined to save the world - right after gym class. DreamWorks' Trollhunters is a heroic tale that uncoils with ambitious, complex storytelling and stunning visuals that raise the bar for animated series, creating an event series that will thrill the entire family.



[05/23/18 - 11:00 AM]
Video: Official Trailer Revealed for Season Two of TNT's "Claws"
As previously announced, the series returns Sunday, June 10 at 9:00/8:00c.


[05/23/18 - 10:02 AM]
Video: CBS All Access Reveals Official Trailer and Additional Key Art for "Strange Angel"
Based on George Pendle's book of the same name, the series is inspired by the real life story of Jack Parsons and explores the dramatic intersection between genius and madness, science and science fiction.


[05/22/18 - 10:44 AM]
Video: WE tv Reveals a Jaw-Dropping Sneak Peek of the Highly-Anticipated Return of Season 2 of "Mama June: From Not to Hot" Premiering June 15 at 9:00PM ET/PT
Mama June is headed back to the pageant circuit on the season two return of "Mama June: From Not to Hot."


[05/22/18 - 07:06 AM]
Video: Trailer Debut - "The Staircase" on Netflix June 8
"The Staircase" follows the compelling story of Michael Peterson, a crime novelist accused of killing wife Kathleen after she is found dead at the bottom of a staircase in their home, and the 16 year judicial battle that followed.


[05/22/18 - 06:31 AM]
Video: A Very Important Man, A Very Dangerous Secret, A Very Unexpected Problem - "A Very English Scandal" Arrives June 29
Hugh Grant and Ben Whishaw star in the shocking true story of the first British politician to stand trial for conspiracy to murder.


[05/21/18 - 07:08 AM]
Video: AMC Releases All-New "Preacher" Promo in Anticipation of the Season Three Premiere on Sunday, June 24 at 10:00 PM ET/PT
The fiery new promo raises the curtain on our sinister cast of characters including Jesse, Cassidy, Tulip, Gran'ma, Allfather, God Dog, and many more.


[05/18/18 - 03:06 PM]
Video: Showtime(R) Debuts Trailer for "Just Another Immigrant"
The 10-episode, half-hour series will air back-to-back episodes on Fridays beginning on June 8 at 9:00/8:00c.


[05/18/18 - 12:12 PM]
Video: Netflix Releases All New Trailer & Key Art for "The Break with Michelle Wolf," Every Sunday Beginning May 27th
Wolf shares a first look of what's to come each week with this trailer: sketches, guests, and jokes Michelle could only get away with on Netflix.


[05/17/18 - 09:05 AM]
Video: The CW's New Fall Series Teasers & Extended First Looks
The network offers a first look at newcomers "Charmed" and "All American."


[05/17/18 - 08:00 AM]
Video: One Last Mission - The "Sense8" Finale Trailer Is Here!
The "Sense8" series finale launches globally on June 8, only on Netflix.


[05/16/18 - 02:32 PM]
Video: First Look Trailers of CBS' New Series for Fall 2018
Get your first look at dramas "Magnum P.I.," "FBI" and "God Friended Me"; plus comedies "Happy Together," "Murphy Brown" and "The Neighborhood."


[05/16/18 - 12:11 PM]
Video: "Five Points" Trailer from Kerry Washington + Facebook Watch
Premiering June 4, "Five Points" will debut with three episodes available at 9am PT/12pm ET.


[05/16/18 - 11:03 AM]
Video: Netflix Releases New Trailer for "Unbreakable Kimmy Schmidt"
The first six episodes of the fourth season premieres Wednesday, May 30 on Netflix.


[05/16/18 - 07:00 AM]
Video: See What's to Come This Season on "Total Bellas"
Season three will follow Nikki Bella and John Cena through their ups and downs as they plan their wedding and face the challenges that go into preparing for the big day.


[05/15/18 - 01:00 PM]
Video: Trailers of ABC's New Series
Get your first look at "The Rookie," "Whiskey Cavalier," "Single Parents," "The Kids Are Alright," "Grand Hotel," "A Million Little Things" and "The Fix."