[10/08/16 - 01:00 PM]
Video: Netflix Announces "Trollhunters" Premiere Date & Debuts Trailer at NYCC
The panel opened with the debut of the official trailer and the premiere date announcement for this all-new epic animated series launching globally December 23.
---
[via press release from Netflix]
NETFLIX ANNOUNCES "TROLLHUNTERS" PREMIERE DATE & DEBUTS TRAILER AT NYCC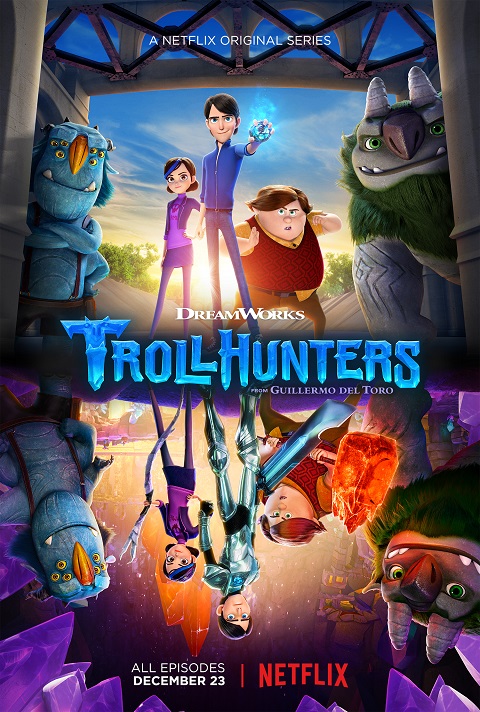 Today, a special advanced screening of DreamWorks' Trollhunters took place at New York Comic-Con inside Madison Square Garden in front of a 5,600 seat audience, followed by a panel discussion with creator and executive producer Guillermo del Toro (Pan's Labyrinth, Hellboy), voice talent Kelsey Grammer (Frasier, The Simpsons), Ron Perlman (Sons of Anarchy, Hellboy), Steven Yeun (The Walking Dead) and Charlie Saxton (Betas), and executive producers Marc Guggenheim (Arrow, Legends of Tomorrow) and Rodrigo Blaas (Alma). The panel opened with the debut of the official Trollhunters trailer and the premiere date announcement for this all-new epic animated series launching globally December 23, 2016 at 12:01am PT on Netflix.
About Trollhunters:
From the limitless imagination of master storyteller Guillermo Del Toro comes a tale of two worlds set to collide in the epic saga DreamWorks' Trollhunters. When ordinary teenager Jim Lake Jr. stumbles upon a mystical amulet on his way to school one morning, he inadvertently discovers an extraordinary secret civilization of mighty trolls beneath his small town of Arcadia. Strong-willed and seeking adventure but wholly unprepared for the responsibilities thrust upon him, Jim is forced to take on the exalted mantle of Trollhunter, sworn to protect the good trolls from powerful enemies bent on revenge. The first human ever to hold the honor, Jim abruptly goes from fighting his way through the daily mayhem of high school to joining a war that has raged for centuries, a conflict that now threatens all of mankind and troll-kind alike. Accompanied by his closest human friends and a few key troll allies, the courageous fifteen-year-old must plunge headlong into a fantastical world of astonishing creatures, glorious cities, and fierce enemies desperate to destroy him. Suddenly destined to play a crucial role in an ancient battle of good and evil with stakes that couldn't be higher, Jim is determined to save the world - right after gym class. DreamWorks' Trollhunters is a heroic tale that uncoils with ambitious, complex storytelling and stunning visuals that raise the bar for animated series, creating an event series that will thrill the entire family.



[11/22/17 - 06:30 AM]
Video: Watch the Trailer for the Netflix Film "El Camino Christmas," Launching December 8
Tim Allen, Vincent D'Onofrio, Luke Grimes, Dax Shepard, Jessica Alba, Kurtwood Smith and Michelle Mylett make up the ensemble cast.


[11/20/17 - 12:07 PM]
Video: The Wait Is Finally Over - Here's the Official Trailer for Season 3 of "The Magicians"
Look for the new season to roll out Wednesday, January 10 on Syfy.


[11/17/17 - 09:02 AM]
Video: "Dave Chappelle: Equanimity" - New Stand-Up Special Teaser - Netflix
Dave Chappelle's brand new stand-up special premieres December 31 on Netflix.


[11/17/17 - 08:38 AM]
Video: "Easy" Season 2 Returns to Netflix December 1 - Watch the New Trailer
Aubrey Plaza, Dave Franco, Aya Cash, Judy Greer, Kate Berlant, Joe Lo Truglio, Zazie Beetz, Elizabeth Reaser, Kate Micucci, Michael Chernus, Jane Adams, Jacqueline Toboni, Evan Jonigkeit, Marz Timms, and Kiersey Clemons star in the upcoming season.


[11/16/17 - 11:31 AM]
Video: Showtime(R) Releases Full Trailer and Official Poster for "The Chi" Premiering January 7 at 10 PM ET/PT
Produced entirely in its namesake city, "The Chi" is a timely coming-of-age story centering on a group of residents who become linked by coincidence but bonded by the need for connection and redemption.


[11/16/17 - 07:11 AM]
Video: The Making of "The Grand Tour" Season Two - "It's a Half-a-Romeo"
In a brand-new behind-the-scenes video, Jeremy, Richard and James try to come up with an alternative to last year's "Celebrity Brain Crash" segment, with questionable results.


[11/14/17 - 11:16 AM]
Video: Paramount Network Debuts New "Waco" Trailer
The six-part series launches Wednesday, January 24 at 10:00/9:00c on Paramount Network.


[11/09/17 - 07:12 AM]
Video: Netflix Unveils the Gripping Official Trailer for "Dark," Its First German Original Series
"Dark," premiering on Netflix on December 1, is set in a German town in present day where the disappearance of two young children exposes the double lives and fractured relationships among four families.


[11/08/17 - 10:54 AM]
Video: Season 2 Trailer for Hulu Original Series "Shut Eye"
All 10 episodes of Season 2 premiere Wednesday, December 6 only on Hulu.


[11/06/17 - 06:03 AM]
Video: Netflix Bequeaths "The Crown" Season Two Trailer
Strength comes through struggle in season two of "The Crown," launching on Netflix globally Friday, December 8.


[11/02/17 - 10:50 AM]
Video: Starz Releases Official Trailer and Premiere Date for New Spy Thriller "Counterpart"
Academy Award(R)-winner J.K. Simmons stars in two roles in this spy thriller from creator Justin Marks and MRC, and executive producers Gilbert Films and Anonymous Content.


[11/02/17 - 10:33 AM]
Video: Watch the New Trailer for "Voyeur" - Launches Globally on Netflix and in Select Theaters December 1
The documentary follows Gay Talese, the 84-year-old giant of modern journalism, as he reports one of the most controversial stories of his career: a portrait of a Colorado motel owner, Gerald Foos.


[11/02/17 - 06:58 AM]
Video: Trailer Debut for New Netflix Documentary "Saving Capitalism" Launching November 21
Directed by Jacob Kornbluth and based on Robert Reich's 2015 book, the film explores the reasons why the economic system that once made America strong is suddenly failing, as well as how it can be fixed.


[11/01/17 - 06:01 AM]
Video: Amazing Brand New Footage of "The Grand Tour" Released in the Official Trailer for Season 2
The highly anticipated second season of "The Grand Tour," Amazon's number one global hit show, will launch exclusively on Prime Video on December 8.


[10/31/17 - 11:58 AM]
Video: WGN America Releases All-New Teaser Trailer for "Shoot the Messenger" Premiering Early 2018
The eight-part, one-hour series stars Elyse Levesque as Daisy Channing, Lyriq Bent as Kevin Lutz, Lucas Bryant as Simon Olenski and Alex Kingston as Mary Foster.