[10/17/16 - 07:04 AM]
Video: Trailer - Werner Herzog's Into the Inferno
The film heads just where its title suggests: into the red-hot magma-filled craters of some of the world's most active and astonishing volcanoes - taking the filmmaker on one of the most extreme tours of his long career.
---
[via press release from Netflix]
Today, Netflix debuted the trailer and key art for Into the Inferno. Directed by Werner Herzog, Into the Inferno heads just where its title suggests: into the red-hot magma-filled craters of some of the world's most active and astonishing volcanoes - taking the filmmaker on one of the most extreme tours of his long career.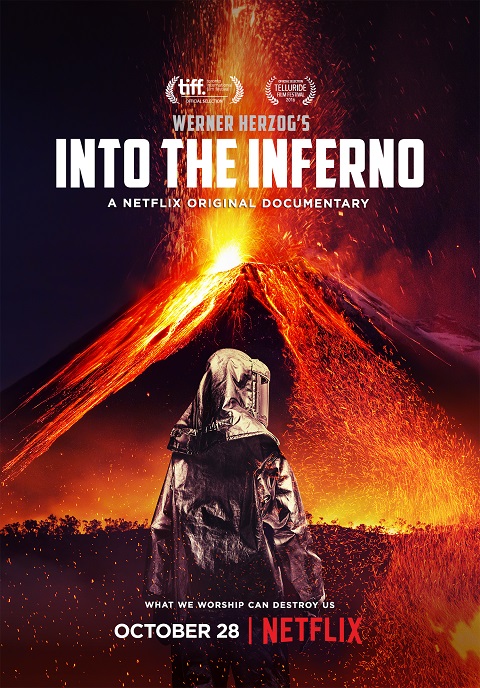 Into the Inferno premiered at the Telluride Film Festival and Toronto International Film Festival. The film will launch globally on Netflix on October 28, including a limited theatrical release.
Synopsis
Werner Herzog and volcanologist Clive Oppenheimer embark upon a global journey exploring some of the world's most mythical volcanoes in North Korea, Ethiopia, Iceland and the Vanuatu Archipelago. Speaking with scientists and indigenous peoples alike, they seek to understand the complex and deeply rooted relationship between mankind and one of nature's greatest wonders. Produced by Spring Films, Werner Herzog Film and Matter of Fact Media, Into the Inferno artfully blends reportage, history and philosophy into a riveting cinematic experience.
About Werner Herzog
Werner Herzog is a German film director, producer, screenwriter, author, actor and opera director. He is considered one of the greatest figures of the New German Cinema. He has made dozens of feature films and documentaries, directed opera and theatre, and written several books. His documentary film about Antarctica, Encounters at the End of the World, was nominated for an Academy Award in 2009. It was during the making of this film that he met Clive Oppenheimer.



[04/20/18 - 07:27 AM]
Video: Light Up This 4/20 with Season 2 of IFC's "Brockmire"
The show's season premiere, "The Getaway Game," is now available to watch on various platforms in advance of its linear debut.


[04/20/18 - 07:19 AM]
Video: Netflix Unveils Trailer for "Safe," As Michael C. Hall Returns to Television in Harlan Coben's Crime Thriller
After his teenage daughter goes missing, widowed surgeon Tom Delaney (Michael C. Hall) begins unearthing dark secrets about the people closest to him.


[04/19/18 - 09:01 AM]
Video: Trailer for Netflix Film "Anon" - Starring Clive Owen and Amanda Seyfried
Sal Frieland (Owen) is a detective in a world with no privacy, ignorance, or anonymity; where everyone's lives are transparent, traceable, and recorded by the authorities; where crime almost ceases to exist.


[04/13/18 - 09:36 AM]
Video: Showtime Releases New Poster and Video for Season Two of "I'm Dying Up Here"
The fictional drama series explores L.A.'s famed '70s stand-up comedy scene, with an ensemble cast led by Academy Award(R) winner Melissa Leo and Ari Graynor.


[04/12/18 - 02:28 PM]
Video: Showtime Debuts Official Trailer for Highly-Anticipated Documentary Series "The Fourth Estate"
Examining the inner workings of The New York Times during President Donald J. Trump's first year in office, the four-episode docu-series will be available across Showtime platforms including On Demand and streaming on Sunday, May 27.


[04/12/18 - 10:00 AM]
Video: She's Back! Get Your First Look at Kristin Cavallari's New Show "Very Cavallari" Coming to E! This Summer
This season on "Very Cavallari," Kristin is making Nashville the headquarters of her rapidly expanding fashion and lifestyle brand, Uncommon James.


[04/12/18 - 09:31 AM]
Video: "The Adventures of Rocky and Bullwinkle" - Official Trailer - Amazon Kids
The world-famous talking moose and flying squirrel are back in the all-new series, due May 11 on Prime Video.


[04/12/18 - 08:00 AM]
Video: The Robinsons Reveal What It Takes to Venture Into Space - Netflix's "Lost in Space" Launches April 13
Mina Sundwall (Penny Robinson), Molly Parker (Maureen Robinson), Taylor Russell (Judy Robinson) and Parker Posey (Dr. Smith) reveal why anything is possible for their characters.


[04/11/18 - 10:01 AM]
Video: "Picnic at Hanging Rock" - Official Trailer - Prime Video
"Picnic at Hanging Rock" is based on the timeless Australian novel by Joan Lindsay and starring Natalie Dormer, with all six episodes of the mini-series available to stream on May 25.


[04/11/18 - 07:33 AM]
Video: Trailer - "Bobby Kennedy for President" - Launches on Netflix April 27
The eye-opening and transformative four-part documentary series Bobby Kennedy for President utilizes rare and never-before-seen archival footage to transport us to a turbulent and dynamic era, letting Bobby's voice and viewpoint be the guiding force.


[04/10/18 - 06:05 AM]
Video: Trailer Debut - "End Game" - Launches May 4 on Netflix
The documentary short was an Official Selection of the 2018 Sundance Film Festival and San Francisco International Film Festival.


[04/09/18 - 10:38 AM]
Video: These Women Are Out of This World - Meet the "Mercury 13"
The Netflix documentary is a remarkable story of the women who were tested for spaceflight in 1961 before their dreams were dashed in being the first to make the trip beyond Earth.


[04/06/18 - 09:01 AM]
Video: Showtime Debuts Poster Art and New Tease for "Patrick Melrose"
Based on the acclaimed Patrick Melrose series of semi-autobiographical novels written by Edward St. Aubyn, the series will premiere on Saturday, May 12 at 9:00/8:00c.


[04/04/18 - 09:01 AM]
Video: Showtime(R) Releases Poster Art and New Teaser for Season Four of "The Affair"
The series, starring Golden Globe nominee Dominic West, Golden Globe winner Ruth Wilson, Emmy(R) Award nominee and Golden Globe winner Maura Tierney and Screen Actors Guild Award(R) nominee Joshua Jackson, will premiere on Sunday, June 17.


[04/03/18 - 08:01 AM]
Video: "Cargo" - Official Trailer Released - Starring Martin Freeman - Premieres on Netflix May 18th
Stranded in rural Australia in the aftermath of a violent pandemic, an infected father desperately seeks a new home for his infant child, and a means to protect her from his own changing nature.