[10/17/16 - 07:04 AM]
Video: Trailer - Werner Herzog's Into the Inferno
The film heads just where its title suggests: into the red-hot magma-filled craters of some of the world's most active and astonishing volcanoes - taking the filmmaker on one of the most extreme tours of his long career.
---
[via press release from Netflix]
Today, Netflix debuted the trailer and key art for Into the Inferno. Directed by Werner Herzog, Into the Inferno heads just where its title suggests: into the red-hot magma-filled craters of some of the world's most active and astonishing volcanoes - taking the filmmaker on one of the most extreme tours of his long career.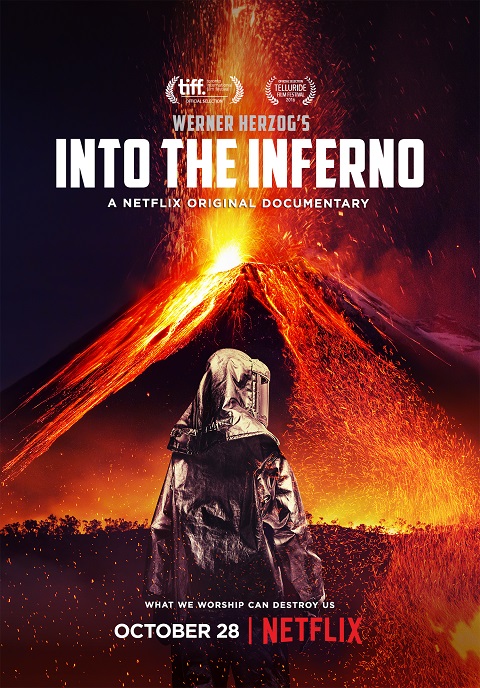 Into the Inferno premiered at the Telluride Film Festival and Toronto International Film Festival. The film will launch globally on Netflix on October 28, including a limited theatrical release.
Synopsis
Werner Herzog and volcanologist Clive Oppenheimer embark upon a global journey exploring some of the world's most mythical volcanoes in North Korea, Ethiopia, Iceland and the Vanuatu Archipelago. Speaking with scientists and indigenous peoples alike, they seek to understand the complex and deeply rooted relationship between mankind and one of nature's greatest wonders. Produced by Spring Films, Werner Herzog Film and Matter of Fact Media, Into the Inferno artfully blends reportage, history and philosophy into a riveting cinematic experience.
About Werner Herzog
Werner Herzog is a German film director, producer, screenwriter, author, actor and opera director. He is considered one of the greatest figures of the New German Cinema. He has made dozens of feature films and documentaries, directed opera and theatre, and written several books. His documentary film about Antarctica, Encounters at the End of the World, was nominated for an Academy Award in 2009. It was during the making of this film that he met Clive Oppenheimer.



[05/24/17 - 09:46 AM]
Video: "Game of Thrones" Season 7 - Official Trailer (HBO)
The new season rolls out Sunday, July 16 on the pay channel.


[05/22/17 - 11:31 AM]
Video: OWN Unveils Season Two Trailer of Acclaimed Drama Series "Queen Sugar"
The new season will debut with a two-night premiere on Tuesday, June 20 and Wednesday, June 21.


[05/22/17 - 11:30 AM]
Video: "Flaked" - Season 2 - Official Trailer
Season two launches globally on Netflix on Friday, June 2.


[05/22/17 - 10:27 AM]
Video: Final Trailer Released for BBC America's "Orphan Black"
Get a final look at what to expect this season on the network's award-winning clone drama before the series returns Saturday, June 10.


[05/22/17 - 09:16 AM]
Video: New Showtime Drama Series "I'm Dying Up Here" Available Now for Early Sampling
Starting today, consumers who do not subscribe to Showtime can watch the series premiere for free on YouTube and SHO.com.


[05/22/17 - 09:10 AM]
Video: First Look at "Bobcat Goldthwait's Misfits & Monsters" on truTV
In early 2018, truTV will premiere the new anthology series that features twisted morality tales.


[05/18/17 - 09:51 AM]
Video: The CW's First Look Trailers for 2017-18
The network releases the sizzle reels for "Life Sentence," "Black Lightning," "Dynasty" and "Valor."


[05/18/17 - 03:01 AM]
Video: Okja Comes to Life in Official Trailer for Bong Joon Ho's Latest Film
Tilda Swinton, Paul Dano, Byun Heebong, Steven Yeun, Lily Collins, Giancarlo Esposito and Jake Gyllenhaal star in the Netflix original movie.


[05/17/17 - 03:37 PM]
Video: "Snowfall" - Last Words Official Trailer
"Snowfall," FX's new original series, premieres July 5.


[05/17/17 - 02:31 PM]
Video: "Star Trek: Discovery" Unveils First Look Trailer and Key Art; Series Coming to CBS All Access This Fall
Additionally, the series will feature 15 episodes, up from the previously announced 13, and include a companion after-show, "Talking Trek," presented on CBS All Access.


[05/17/17 - 02:30 PM]
Video: First Look at CBS's New Series for Fall 2017
The network releases trailers for all six of its newcomers due this fall.


[05/17/17 - 01:22 PM]
Video: What Is Upfront? - 2017 Sizzle - truTV
The talent of truTV reveals how they really feel about the Upfronts.


[05/17/17 - 09:13 AM]
Video: TNT Drops First Trailer for "The Alienist"
Set in 1896 amidst the vast wealth, extreme poverty and technological innovation of New York during the Gilded Age, the series follows the hunt for a series killer responsible for the gruesome murders of boy prostitutes.


[05/16/17 - 02:05 PM]
Video: Trailer - "Casual" Season 3
The first three episodes of the third season will launch a week from today - Tuesday, May 23 - with one each following Tuesday.


[05/16/17 - 01:00 PM]
Video: New ABC Shows - Trailers
Get your first look at new fall series "The Good Doctor," "The Mayor," "The Gospel of Kevin" and more!