SHOWTIME(R) UNVEILS THE POSTER ART AND TEASER FOR SEASON TWO OF ITS POWERFUL HIT SERIES "BILLIONS"
Starring Emmy(R) and Golden Globe(R) Winners Paul Giamatti and Damian Lewis, BILLIONS Premieres On Sunday, February 19 At 10 PM ET/PT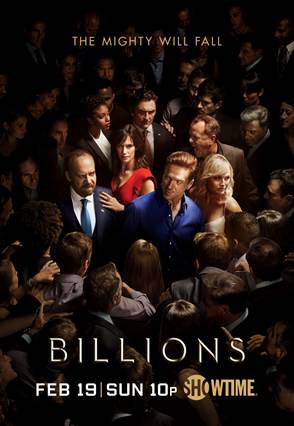 NEW YORK - December 15, 2016 - SHOWTIME has released the poster art and teaser for the highly-anticipated second season of its hit drama series BILLIONS. The series, starring Oscar(R) nominee and Emmy and Golden Globe winner Paul Giamatti and Emmy and Golden Globe winner Damian Lewis, will premiere its second season on Sunday, February 19 at 10 p.m. ET/PT. To watch and share the BILLIONS teaser, go to: https://youtu.be/lS0VKs2pDfM.
Season two picks up immediately after the season one finale, as hard-charging U.S. Attorney Chuck Rhoades (Giamatti) squares off against billionaire hedge fund king Bobby "Axe" Axelrod (Lewis), scorching the earth in a costly war for personal domination. It's law versus money, with power, sex, and the soul of New York in the balance. Maggie Siff stars as Wendy Rhoades, Chuck's estranged wife and the top performance coach in the hedge fund world. Malin Akerman plays Lara Axelrod, Axe's fiercely loyal and street-smart wife. Season two finds the characters vying for control in a changing world that presents an existential threat. For all of them, it's a choice between evolution and extinction. Toby Leonard Moore, David Costabile and Condola Rashad also star. Guest stars this season include Rob Morrow, Dan Soder, Kelly AuCoin, Mary-Louise Parker, Danny Strong, James Wolk, Christopher Denham, Glenn Fleshler and Eric Bogosian. BILLIONS is created, written and executive produced by showrunners Brian Koppelman and David Levien. The series is also created and executive produced by Andrew Ross Sorkin.
SHOWTIME is currently available to subscribers via cable, DBS and telco providers, and as a stand-alone streaming service through Apple(R), Roku(R), Amazon and Google. Consumers can also subscribe to SHOWTIME via Amazon Channels, Hulu and Sony PlayStation(R) Vue. For more information about BILLIONS, visit http://s.sho.com/BillionsOnShowtime, follow on Twitter, Instagram and Facebook, and join the conversation using #Billions.