CRACKLE RELEASES TRAILER AND KEY ART FROM NEW ORIGINAL FILM, MAD FAMILIES, STARRING CHARLIE SHEEN, LEAH REMINI, FINESSE MITCHELL AND NAYA RIVERA
Multi-generational Comedy Premieres Thursday, January 12, 2017
Written by Fred Wolf and David Spade, Sheen also serves as Executive Producer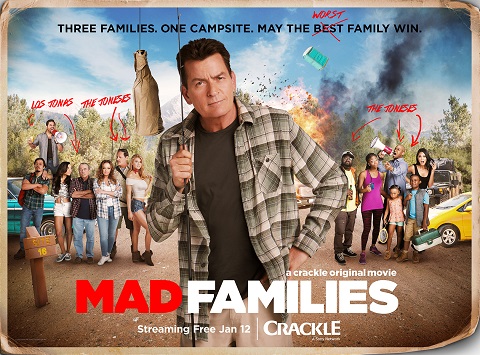 CULVER CITY, Calif. (December, 20, 2016) - Crackle, Sony's streaming service, today released the trailer and key art from the network's new original film, Mad Families, premiering on Thursday, January 12, 2017. The comedy stars Charlie Sheen, who also serves as executive producer; Leah Remini ("King of Queens," "The Talk"); Finesse Mitchell ("Roadies," "Brother's in Atlanta") and Naya Rivera ("Glee," "Devious Maids").
Directed and produced by Fred Wolf (Drunk Parents, Joe Dirt 2: Beautiful Loser), from a script by Wolf & David Spade, Mad Families centers on three families - one Hispanic, one African American, one Caucasian - who find themselves annoyingly sharing the same campsite during a busy Fourth of July holiday weekend. After realizing it was all because of a silly booking error, no one volunteers to vacate. So, they try to cohabitate peacefully, but shortly thereafter, madness ensues. From there, the male family members turn to a series of outlandish camp competitions to determine the one family who gets to stay.
As the hysterical contests occur, the brassy, biting Charlie Jones (Charlie Sheen) begins to take the lead in learning what's really important in life.
Leah Remini ("King of Queens," "The Talk") plays Charlie's step-mother, Cheyenne. The film also stars: Finesse Mitchell ("Roadies," "Brother's in Atlanta"), Juan Gabriel Pareja ("Goliath"), Charlotte McKinney (Joe Dirt 2: Beautiful Loser), Naya Rivera ("Glee," "Devious Maids"), Chris Mulkey (Whiplash, "CSI: Cyber"), Clint Howard ("Arrested Development," "Key & Peele"), Chanel Iman (Dope), Barry Shabaka Henley ("Brother's in Atlanta," "Better Call Saul"), Lil Rel Howery ("The Carmichael Show"), Tiffany Haddish ("The Carmichael Show"), Efren Ramirez ("Eastbound and Down," Napoleon Dynamite) and Danny Mora ("Chop Shop," McFarland, USA).
The project marks the second union between Crackle and Wolf, who wrote (with David Spade) and directed, Joe Dirt 2: Beautiful Loser, for the network. The film, which starred Spade, was the first ever digital sequel to a major motion picture and went on to garner more than 2 million views in the first two and a half weeks of streaming on the network.
Mad Families builds on Crackle's growing slate of scripted original programing, including the original movies: Joe Dirt 2: Beautiful Loser and Dead Rising: Watchtower, starring Jesse Metcalfe, Virginia Madsen and Rob Riggle. Original dramas include "StartUp," starring Martin Freeman, Adam Brody, Edi Gathegi and Otmara Marrero; "The Art of More," starring Dennis Quaid, Kate Bosworth, Christian Cooke and Cary Elwes, which returned for its second season on November 16th; and the upcoming "Snatch," based on the iconic British film and starring Rupert Grint, Dougray Scott, Luke Pasqualino and Lucien Laviscount. Other programming on the streaming network includes the stop-motion animated comedy series "SuperMansion," with Bryan Cranston, Seth Green, Keegan-Michael Key, Chris Pine and Jillian Bell - which Key and Pine recently received Emmy(R) nominations for in the Character Voice-Over Performance category, and the upcoming special "SuperMansion: War on Christmas" which premiered on December 8th; Crackle's weekly live game show series "Sports Jeopardy!" with Emmy(R) award-winning sportscaster Dan Patrick; and its flagship award-winning series "Comedians in Cars Getting Coffee" with Jerry Seinfeld, which recently wrapped up its eighth season and received an Emmy(R) nomination this year for Outstanding Variety Talk Series, marking the first-ever digital series nomination in this category and the first time the show was nominated outside the short-form category.
Follow @Crackle and @MadFamilies for real-time updates.
About Crackle
Crackle, a unit of Sony Pictures Television, programs movies, popular TV shows, original series and feature films for the worlds connected audience. Available in 21 countries on every screen, Crackle is always freely accessible with no subscription required. The streaming TV network houses a robust library of original programming available anytime, anywhere on every connected device. Follow @Crackle on twitter for real time updates. For additional information, please go to www.crackle.com