[01/17/17 - 08:01 AM]
Video: All New Official Trailer and Key Art for Netflix's "Santa Clarita Diet"
The new Netflix series stars Drew Barrymore and Timothy Olyphant.
---
[via press release from Netflix]
Get Your Fill. All New Official Trailer and Key Art for Netflix's "Santa Clarita Diet"
Satisfy your cravings with the official trailer and key art for "Santa Clarita Diet," the new Netflix series starring Drew Barrymore and Timothy Olyphant. Below please find links to both all-new assets from the comedy series premiering on Netflix globally on February 3, 2017.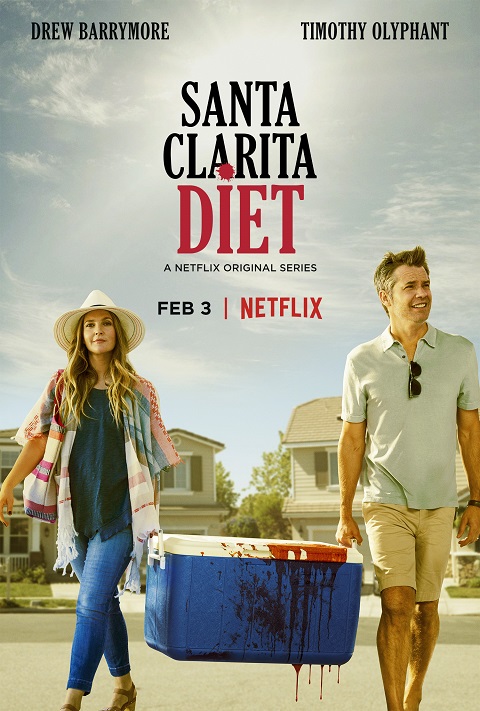 Santa Clarita Diet premieres only on Netflix, worldwide, on February 3, 2017.
Series Description:
In Santa Clarita Diet, Joel (Timothy Olyphant, Justified) and Sheila (Drew Barrymore, Blended) are husband and wife realtors leading vaguely discontented lives in the L.A. suburb of Santa Clarita with their teenaged daughter Abby (Liv Hewson), until Sheila goes through a dramatic change sending their lives down a road of death and destruction...but in a good way.
Santa Clarita Diet stars Drew Barrymore as Sheila Hammond, Timothy Olyphant as Joel Hammond, Liv Hewson as Abby Hammond and Skylar Gisondo as Eric Bemis.
Showrunner Victor Fresco, Drew Barrymore, Timothy Olyphant, Aaron Kaplan, Tracy Katsky, Chris Miller and Ember Truesdell are executive producers on the series. Nancy Juvonen is a producer. Santa Clarita Diet is a Netflix production and is available globally only on Netflix on February 3, 2017.



[10/19/18 - 10:31 AM]
Video: Showtime(R) Drops the Trailer for New Comedy "Black Monday" on Anniversary of the Historic Stock Market Crash
Don Cheadle, Andrew Rannells and Regina Hall star in the series, premiering Sunday, January 20 at 10:00/9:00c.


[10/19/18 - 08:02 AM]
Video: Sundance TV Releases "Jonestown: Terror in the Jungle" Trailer in Advance of Two-Night Special Event
Look for said event on Saturday, November 17 and Sunday, November 18 at 9:00/8:00c.


[10/18/18 - 09:32 AM]
Video: Trailer Debut - Netflix's "The Degenerates" Original Comedy Special Series
The series consists of six 30-minute episodes full of no-holds-barred comedy for mature audiences from the likes of rising comics Big Jay Oakerson, Joey Diaz, Liza Treyger, Yamaneika Saunders, Christina P., and Brad Williams.


[10/18/18 - 07:04 AM]
Video: We'll Start You Off with a Sample - "Narcos: Mexico" Trailer Debut
"Narcos: Mexico" will explore the origins of the modern drug war by going back to its roots, beginning at a time when the Mexican trafficking world was a loose and disorganized confederation of independent growers and dealers.


[10/17/18 - 06:32 AM]
Video: "Patriot Act with Hasan Minhaj" - Studio Spot - Netflix
In a never before seen sneak peek of the weekly topical show, Minhaj treated viewers via Instagram to a hint of the show's high tech, interactive set.


[10/16/18 - 12:02 PM]
Video: Trailer Debut - "The Final Table" - A Global Cooking Competition
The Netflix series features 12 teams of two chefs from around the world cooking the national dishes of Mexico, Spain, England, Brazil, France, Japan, the U.S., India and Italy.


[10/16/18 - 08:03 AM]
Video: Featurette Debut - Inside the Bewitching World of Sabrina Spellman
The 10-episode Netflix original series premieres October 26.


[10/12/18 - 07:01 AM]
Video: Trailer & Key Art Debut - Michael Douglas and Alan Arkin Return to TV in "The Kominsky Method"
The Netflix series also features Nancy Travis, Sarah Baker and guest stars including Lisa Edelstein, Emily Osment, Graham Rogers, Danny Devito, Ann-Margret, Jay Leno, Patti LaBelle, Ashleigh LaThorpe and more.


[10/11/18 - 11:45 AM]
Video: IFC's "Baroness von Sketch Show" Season 3 Trailer Revealed
The new season premieres with two back to back episodes Thursday, November 8 at 9:00/8:00c.


[10/10/18 - 01:30 PM]
Video: USA Network Reveals First Promo and Key Art for Music Showcase Series "Real Country" Featuring Shania Twain, Jake Owen and Travis Tritt
From Wilshire Studios, the eight-part series will premiere Tuesday, November 13 at 10:00/9:00c.


[10/10/18 - 10:10 AM]
Video: YouTube Premium Debuts New Trailer for AwesomenessTV's Hit Comedy "Foursome"
The longest running YouTube Original show will launch its fourth season on Wednesday, October 24.


[10/10/18 - 09:02 AM]
Video: "Best. Worst. Weekend. Ever." - Official Trailer - Netflix
The limited series follows four friends as they make the most of their last weekend before high school.


[10/10/18 - 08:02 AM]
Video: "Haunted" - Official Trailer - Netflix
Real people, real stories, real horror: Netflix's "Haunted" arrives October 19.


[10/10/18 - 06:00 AM]
Video: Netflix Debuts Teaser Trailer & Key Art for "The Christmas Chronicles"
The holiday adventure tells the story of sister and brother, Kate (Darby Camp) and Teddy Pierce (Judah Lewis), whose Christmas Eve plan to catch Santa Claus (Kurt Russell) on camera turns into an unexpected journey that most kids could only dream about.


[10/10/18 - 12:12 AM]
Video: "The Night Comes for Us" - Official Trailer - Netflix
After sparing a girl's life during a massacre, an elite Triad assassin is targeted by an onslaught of murderous gangsters.