[03/09/17 - 11:43 AM]
Video: Showtime(R) Releases Poster Art and Behind the Scenes Video for New Six-Part Limited Event Series "Guerrilla"
The series stars Screen Actors Guild Award(R) winner Freida Pinto (Slumdog Millionaire) and Babou Ceesay (Getting On).
---
[via press release from Showtime]
SHOWTIME(R) RELEASES POSTER ART AND BEHIND THE SCENES VIDEO FOR NEW SIX-PART LIMITED EVENT SERIES "GUERRILLA"
Created By Oscar(R) Winner John Ridley, GUERRILLA Will Premiere On Sunday, April 16 At 9 PM
NEW YORK - March 9, 2017 - SHOWTIME has released the poster art and new behind the scenes video for its highly anticipated six-part limited event series GUERRILLA, premiering on Sunday, April 16 at 9 p.m. ET/PT. Created by Academy Award(R) winner John Ridley (12 Years a Slave, American Crime), GUERRILLA is a love story set against the backdrop of one of the most politically explosive times in U.K. history. The series stars Screen Actors Guild Award(R) winner Freida Pinto (Slumdog Millionaire) and Babou Ceesay (Getting On).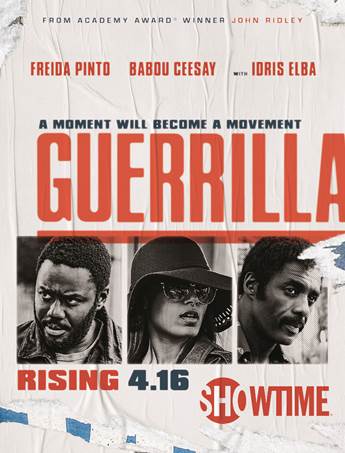 GUERRILLA tells the story of a couple whose relationship and values are tested when they liberate a political prisoner and form a radical underground cell in 1970s London. Their ultimate target becomes the Black Power Desk, a true-life, secretive counter-intelligence unit within the Special Branch dedicated to crushing all forms of black activism. While the series is set against a background of social and political activism, at its heart GUERRILLA is about a relationship under pressure, and the reality that for any couple there comes a point when the choices they make have real and lasting consequences. Golden Globe(R) winner Idris Elba (Luther, Beasts of No Nation) also stars and serves as an executive producer through his Green Door Pictures. Additional cast includes Laurence Olivier Award winner Rory Kinnear (PENNY DREADFUL), Nathaniel Martello-White (Deadmeat), Daniel Mays (Line of Duty), Denise Gough (People, Places & Things), Brandon Scott (Grey's Anatomy), Zawe Ashton (Fresh Meat) and Nicholas Pinnock (Fortitude).
Along with Ridley and Elba, the executive producers on GUERRILLA are Michael J. McDonald for Stearns Castle, Patrick Spence and Katie Swinden for Fifty Fathoms and Tracy Underwood for ABC Signature. Ridley wrote the majority of the episodes and directs the first two and the finale, with Emmy(R) Award nominee Sam Miller (Luther, Fortitude, American Crime) directing the remaining episodes. Yvonne Isimeme Ibazebo serves as producer for Fifty Fathoms. GUERRILLA is a co-production between Fifty Fathoms and ABC Signature, in association with SKY UK. For more information about GUERRILLA, follow @SHO_Guerrilla and https://www.facebook.com/GuerrillaOnShowtime, and join the conversation using #Guerrilla.



[11/21/18 - 12:33 PM]
Video: "Tidelands" Season 1 - Official Trailer - Netflix
The series follows Cal McTeer, played by Charlotte Best, a young woman who returns home to the small fishing village of Orphelin Bay after ten years in juvenile detention then jail.


[11/21/18 - 06:02 AM]
Video: "Perfume" - Official Trailer - Netflix
Patrick Süskind's best-selling novel about smell, passion and serial killing gets a shocking contemporary spin.


[11/20/18 - 11:18 AM]
Video: Official Teaser Trailer for Season 2 of Seth Rogen's "Future Man"
The comedy series returns Friday, January 11, only on Hulu.


[11/19/18 - 09:31 AM]
Video: "Bumping Mics with Jeff Ross & Dave Attell" - Official Trailer - Netflix
The three-part stand-up event premieres November 27 on the streaming service.


[11/19/18 - 08:31 AM]
Video: "Pine Gap" Season 1 - Official Trailer - Netflix
The Australian television series will be available December 7 on the streaming service.


[11/19/18 - 08:01 AM]
Video: "Death by Magic" - Official Trailer - Netflix
In the most extreme magic show ever attempted, British magician DMC travels the globe to recreate the stunts that have cost famous magicians their lives.


[11/19/18 - 07:41 AM]
Video: Super Trailer - VH1's "Love & Hip Hop: New York"
From marriage woes and legal battles to career resets and new beginnings, the drama returns to the place it all began.


[11/16/18 - 01:04 PM]
Video: "Young Justice: Outsiders" - Teaser
The animated series comes to DC Universe on Friday, January 4.


[11/16/18 - 10:02 AM]
Video: Showtime Debuts New Trailer for "SMILF" Season Two
The Frankie Shaw-led comedy returns Sunday, January 20 at 10:30/9:30c on the pay channel.


[11/15/18 - 03:21 PM]
Video: Bravo's "Dirty John" Premiere Episode Is Available Now on YouTube, BravoTV.com, VOD and the Bravo App
Ahead of the premiere on Sunday, November 25, Bravo has made the entire first episode of "Dirty John" available for a pre-linear preview.


[11/15/18 - 10:02 AM]
Video: Comedy Central Releases Trailer for "The Other Two" - New Series from Chris Kelly and Sarah Schneider Premieres January 24
Guest stars for the debut season include, Beck Bennett, Kate Berlant, Michael Che, Andy Cohen, Heidi Gardner, Jackie Hoffman, Daniel K. Isaac, Brandon Scott Jones, Richard Kind, Greta Lee, Tinsley Mortimer, Andy Ridings, Josh Segarra, Wanda Sykes, Julio Torres, JJ Totah and Patrick Wilson.


[11/15/18 - 09:01 AM]
Video: "The Kominsky Method" - Official Trailer #2 - Netflix
On November 16, meet Sandy (Michael Douglas) and Norman (Alan Arkin), two lifelong friends who are navigating the ups and downs of life with humor, dignity, and a little bit of help from their families.


[11/15/18 - 08:01 AM]
Video: "The Fix" - Official Trailer - Netflix
In each episode, host Jimmy Carr and team captains D.L. Hughley and Katherine Ryan are joined by guest comics to debate and discuss one of the biggest challenges facing the world in a team panel format.


[11/15/18 - 07:31 AM]
Video: Netflix Debuts Trailer & Key Art for "A Christmas Prince: The Royal Wedding"
Rose McIver and Ben Lamb star in the film, due on November 30.


[11/15/18 - 07:01 AM]
Video: "Nicky Jam: El Ganador" - Official Trailer - Netflix
From his humble and troubled start in Boston, to his downfall on the streets, to becoming the king of one of the most popular musical genres, this is not only the life of Nicky Jam, but the history of reggaeton itself.