[04/10/17 - 07:30 AM]
Video: Survive. Together... "Sense8" Season 2 Trailer Is Now Available!
The second season of "Sense8" launches globally on Netflix on Friday, May 5.
---
[via press release from Netflix]
Survive. Together... SENSE8 Season 2 Trailer is Now Available!
Sensates by their nature are a threat to secrecy. They must band together and fight for their survival. See how their epic journey unfolds in the new trailer for Sense8 season 2.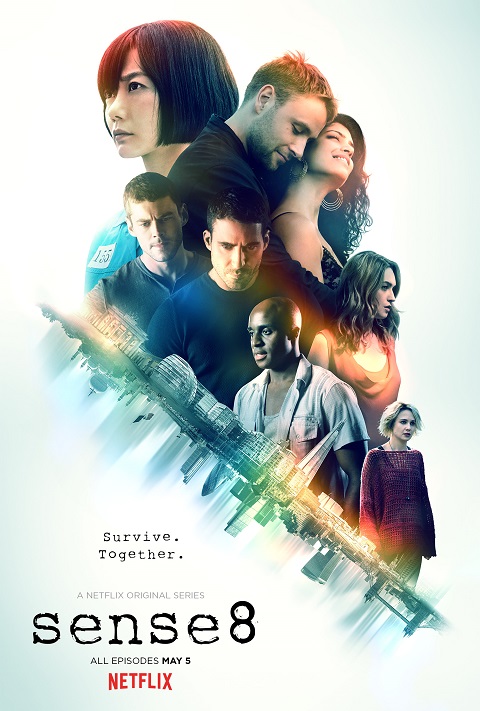 From renowned creative geniuses Lana Wachowski, Grant Hill (The Matrix, Cloud Atlas) and J. Michael Straczynski (Clint Eastwood's Changeling, World War Z), Sense8 is centered around eight characters, from different parts of the world, who experience a violent vision, and soon find themselves mentally connected by the experience. They become connected, able to see and talk to each other as though they were in the same place, with access to each other's deepest secrets. Not only must the eight adapt to this new ability and to each other, they must figure out why their lives are now in jeopardy. In Season 2, dark forces continue to track the cluster of eight connected characters. The sensates will learn more about BPO, the secret organization searching for their cluster and others like them, and will work to protect themselves from this organization that is out to hunt and kill them.
The second season of Sense8 launches globally on Netflix on Friday, May 5.
For more information, follow the Sense8 social pages: instagram.com/sense8 twitter.com/sense8 facebook.com/sense8TV sense8.tumblr.com



[09/23/20 - 09:02 AM]
Video: New Trailer - Hulu's "Helstrom"
Tom Austen and Sydney Lemmon star in the series, due on Friday, October 16.


[09/23/20 - 09:00 AM]
Video: AMC Releases Official Trailer for "The Salisbury Poisonings"
The four-part drama tells the remarkable story of how ordinary people and public services reacted to a crisis on their doorstep, displaying extraordinary heroism as their city became the focus of an unprecedented national emergency.


[09/23/20 - 07:04 AM]
Video: "David Attenborough: A Life on Our Planet" - Official Trailer - Netflix
Coming to October 4, the film addresses some of the biggest challenges facing life on our planet, providing a snapshot of global nature loss in a single lifetime.


[09/23/20 - 06:31 AM]
Video: "The Cabin with Bert Kreischer" - Official Trailer - Netflix
Featuring Anthony Anderson, Big Jay Oakerson, Bobby Lee, Caitlyn Jenner, Deon Cole, Donnell Rawlings, Fortune Feimster, Gabriel Iglesias, Joel McHale, Joey Diaz, Kaley Cuoco, Nikki Glaser, and Tom Segura.


[09/23/20 - 06:01 AM]
Video: "The Haunting of Bly Manor" - Official Trailer - Netflix
The new installment stars Victoria Pedretti, Henry Thomas, Oliver Jackson-Cohen, Kate Siegel, T'Nia Miller, Rahul Kohli, Benjamin Evan Ainsworth, Amelie Smith and Amelia Eve.


[09/23/20 - 05:55 AM]
Video: "The Trial of the Chicago 7" - Official Trailer - Netflix Film
In 1968, with the whole world watching, democracy refused to back down.


[09/23/20 - 12:07 AM]
Video: "Barbarians" - Official Teaser - Netflix
During the battle of the Teutoburg forest in 9 AD the fates of three lives are connected to each other when the Germanic tribes attempted to halt the spread of the Roman Empire.


[09/22/20 - 01:32 PM]
Video: New Trailer - Hulu's "Books of Blood"
The feature takes audiences on a journey into uncharted and forbidden territory through three uncanny tales tangled in space and time.


[09/22/20 - 12:39 PM]
Video: Trailer for Max Original "Haute Dog," Meet the Fierce Contestants of the Dog Grooming Competition Series Premiering September 24 on HBO Max
Meet some of these fierce competitors ahead of the series premiere this Thursday and tune-in to see the winning transformations.


[09/22/20 - 10:00 AM]
Video: CBS All Access Releases Trailer and Key Art for New Docuseries "That Animal Rescue Show"
The 10-episode docuseries follows the animal rescue community in and around Austin, Texas.


[09/22/20 - 09:59 AM]
Video: HBO Special Event "David Byrne's American Utopia" Directed by Spike Lee Debuts October 17
Featuring David Byrne and an ensemble of eleven musicians from around the globe, the show invites audiences into a joyous dreamworld where human connection, self-evolution, and social justice are paramount.


[09/22/20 - 06:31 AM]
Video: "Over the Moon" - Official Trailer #2 - Netflix
The film is directed by Oscar(R)-winning filmmaker & animator Glen Keane and produced by Gennie Rim and Peilin Chou.


[09/22/20 - 12:05 AM]
Video: Netflix Debuts Main Trailer for First Norwegian Netflix Film "Cadaver"
The film is written and directed by the young and talented director Jarand Herdal and stars Gitte Witt, Thorbjørn Harr and Thomas Gullestad.


[09/21/20 - 10:38 AM]
Video: David E. Kelley's "Big Sky" First Look
The new drama premieres Tuesday, November 17 on ABC.


[09/21/20 - 09:01 AM]
Video: "Mr. Mercedes" - Official Trailer - Peacock
The series makes its debut on the streaming service on Thursday, October 15.