[04/10/17 - 07:30 AM]
Video: Survive. Together... "Sense8" Season 2 Trailer Is Now Available!
The second season of "Sense8" launches globally on Netflix on Friday, May 5.
---
[via press release from Netflix]
Survive. Together... SENSE8 Season 2 Trailer is Now Available!
Sensates by their nature are a threat to secrecy. They must band together and fight for their survival. See how their epic journey unfolds in the new trailer for Sense8 season 2.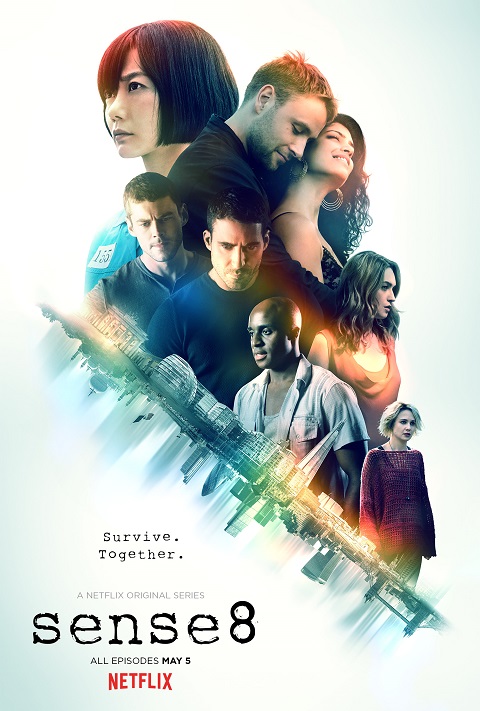 From renowned creative geniuses Lana Wachowski, Grant Hill (The Matrix, Cloud Atlas) and J. Michael Straczynski (Clint Eastwood's Changeling, World War Z), Sense8 is centered around eight characters, from different parts of the world, who experience a violent vision, and soon find themselves mentally connected by the experience. They become connected, able to see and talk to each other as though they were in the same place, with access to each other's deepest secrets. Not only must the eight adapt to this new ability and to each other, they must figure out why their lives are now in jeopardy. In Season 2, dark forces continue to track the cluster of eight connected characters. The sensates will learn more about BPO, the secret organization searching for their cluster and others like them, and will work to protect themselves from this organization that is out to hunt and kill them.
The second season of Sense8 launches globally on Netflix on Friday, May 5.
For more information, follow the Sense8 social pages: instagram.com/sense8 twitter.com/sense8 facebook.com/sense8TV sense8.tumblr.com



[08/18/17 - 08:20 AM]
Video: WE tv Releases Cast & Sneak Peek for Season 9 of Hit Series "Marriage Boot Camp Reality Stars"
The season will feature a brand new house of dysfunctional couples including Kailyn Lowry and Javi Marroquin, Bobby Panahi and Asifa Mirza, Juelia Kinney and JJ Lane, Peter Gunz and Amina Buddafly & Mehgan James and DeAndre Perry.


[08/17/17 - 08:06 AM]
Video: "Fire Chasers" - Netflix Original Documentary Series
"Fire Chasers" takes viewers into the heart of California's devastating recent wildfires alongside the brave men and women of Cal Fire and the Los Angeles County Fire Department.


[08/17/17 - 07:33 AM]
Video: Final Trailer for the Netflix Original Series "Marvel's The Defenders"
This is the story of four solitary figures, burdened with their own personal challenges, who realize they just might be stronger when teamed together.


[08/16/17 - 11:41 AM]
Video: Watch the New Trailer for TNT's "Good Behavior"
The new season will premiere Sunday, October 15, now at the later time of 10:00/9:00c.


[08/15/17 - 11:20 AM]
Video: Netflix Announces the Launch Date and Debuts Trailer for Original Documentary Short "Resurface"
The film premiered at the Tribeca Film Festival where it won a Special Jury Mention and will launch globally on Netflix on September 1.


[08/15/17 - 08:01 AM]
Video: "The Meyerowitz Stories (New and Selected)" Teaser Released
Adam Sandler, Ben Stiller, Elizabeth Marvel and Dustin Hoffman star in Noah Baumbach's Netflix film.


[08/14/17 - 05:01 PM]
Video: Let the Countdown to the Netflix Original Series "Marvel's The Defenders" Begin!
Netflix releases a behind the scenes featurette of its street level heroes.


[08/10/17 - 07:00 AM]
Video: Netflix Announces the Launch Date for "The Crown" Season 2 Along with a First Look at the Series
The second season bears witness to the end of the age of deference, and ushers in the revolutionary era of the 1960s.


[08/09/17 - 09:01 AM]
Video: Robert Redford and Jane Fonda Reunite in "Our Souls at Night" Teaser
The film, based on the best-selling novel written by Kent Haruf, will be released on Netflix and in select theaters on September 29.


[08/08/17 - 03:29 PM]
Video: Showtime(R) Offers the Season Premieres of "Episodes" and "Dice" for Early Sampling
Watch the season premieres to both series right here as well as Showtime's various outlets.


[08/08/17 - 02:30 PM]
Video: Watch the World Premiere of the All-New "Empire"/"Star" Music Video
Plus: get at sneak peek of the upcoming season of "Empire."


[08/08/17 - 10:57 AM]
Video: Watch an All-New Sneak Peek at FOX's New Family Adventure Series, "The Gifted," That Just Debuted at TCA!
The newcomer premieres Monday, October 2 at 9:00/8:00c on the network.


[08/08/17 - 10:00 AM]
Video: Netflix Releases Trailer for Kathy Bates Sitcom "Disjointed"
Academy Award winner Kathy Bates plays Ruth, a lifelong advocate for legalization who is finally living her dream as the owner of an Los Angeles cannabis dispensary, Ruth's Alternative Caring.


[08/07/17 - 01:09 PM]
Video: MTV Unveils Star-Studded Performer Line-Up for 2017 "VMAs"
Miley Cyrus, Ed Sheeran, Fifth Harmony, Lorde, Katy Perry, The Weeknd, Thirty Seconds to Mars and Shawn Mendes are all on tap.


[08/07/17 - 12:36 PM]
Video: Crackle Releases New Trailer and Key Art for Sophomore Season of the Network's Original Drama Series, "StartUp" to Debut Thursday, September 28th
In addition, the free, AVOD service shared plans to release an interactive and immersive virtual reality experience based on the series to debut on PlayStation(R) VR and other platforms later fall.