[04/10/17 - 07:30 AM]
Video: Survive. Together... "Sense8" Season 2 Trailer Is Now Available!
The second season of "Sense8" launches globally on Netflix on Friday, May 5.
---
[via press release from Netflix]
Survive. Together... SENSE8 Season 2 Trailer is Now Available!
Sensates by their nature are a threat to secrecy. They must band together and fight for their survival. See how their epic journey unfolds in the new trailer for Sense8 season 2.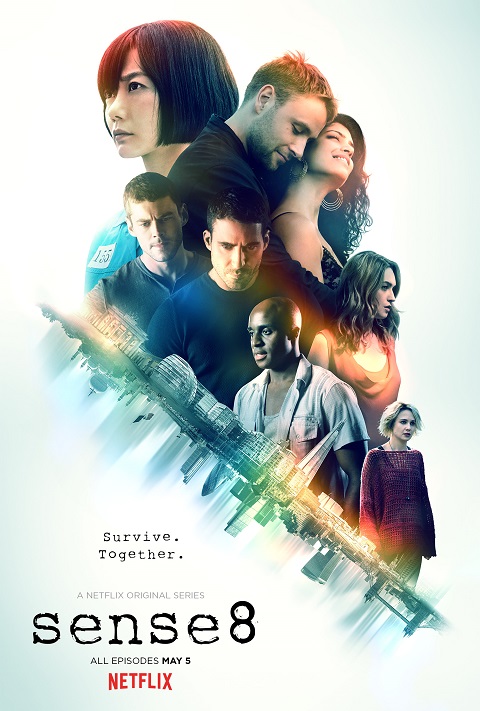 From renowned creative geniuses Lana Wachowski, Grant Hill (The Matrix, Cloud Atlas) and J. Michael Straczynski (Clint Eastwood's Changeling, World War Z), Sense8 is centered around eight characters, from different parts of the world, who experience a violent vision, and soon find themselves mentally connected by the experience. They become connected, able to see and talk to each other as though they were in the same place, with access to each other's deepest secrets. Not only must the eight adapt to this new ability and to each other, they must figure out why their lives are now in jeopardy. In Season 2, dark forces continue to track the cluster of eight connected characters. The sensates will learn more about BPO, the secret organization searching for their cluster and others like them, and will work to protect themselves from this organization that is out to hunt and kill them.
The second season of Sense8 launches globally on Netflix on Friday, May 5.
For more information, follow the Sense8 social pages: instagram.com/sense8 twitter.com/sense8 facebook.com/sense8TV sense8.tumblr.com



[09/22/17 - 09:00 AM]
Video: truTV Debuts Trailer for "At Home with Amy Sedaris"
Amy cordially invites you into her home, where she will show off diverse but necessary homemaking skills.


[09/22/17 - 08:32 AM]
Video: "Fuller House" Cast Looks Back on 30 Years
From new additions to the family to regrettable hairstyles, a lot has changed in the last 30 years.


[09/21/17 - 06:10 AM]
Video: "Def Comedy Jam 25" - Official Trailer - Netflix
Dave Chappelle, Martin Lawrence, Steve Harvey, Cedric the Entertainer, Adele Givens, Tracy Morgan, Sheryl Underwood, D.L. Hughley and many more celebrate one of comedy's greatest institutions.


[09/20/17 - 09:01 AM]
Video: "The Meyerowitz Stories (New and Selected)" - Official Trailer - Netflix
Adam Sandler, Ben Stiller, Dustin Hoffman, Elizabeth Marvel, Grace Van Patten and Emma Thompson star in Noah Baumbach's latest film.


[09/20/17 - 07:31 AM]
Video: "Marvel's The Punisher" - Official Trailer - Netflix
They killed Frank Castle's family to get to him. Now, the Punisher exacts his revenge.


[09/19/17 - 10:12 AM]
Video: Behind the Scenes of "Star Trek: Discovery" with the Series' Cast and Creators
The newest edition of the "Star Trek" franchise is set to premiere this Sunday, September 24.


[09/15/17 - 06:54 AM]
Video: Oh Mylanta, We're 30?! The "Fuller House" Season Three Trailer Is Here!
The series returns to Netflix on Friday, September 22.


[09/14/17 - 04:18 PM]
Video: Cinemax - "Tales from the Tour Bus" Trailer - Debuts September 22
Mike Judge co-created, narrates and serves as an executive producer on the series, which recounts the raucous adventures of these musicians, as told by those who knew them best.


[09/14/17 - 12:08 PM]
Video: Showtime(R) Unveils Poster Art and Behind-the-Scenes Look at Its New Comedy "White Famous"
The series will now premiere its first two episodes back-to-back on Sunday, October 15 at 10:00/9:00c.


[09/14/17 - 09:32 AM]
Video: Starz Releases Official Trailer for New Original Documentary "Nude" to Premiere October 29th at 10 PM ET/PT
The feature-length documentary explores perceptions of nudity in art by chronicling the creative process of fashion photographer David Bellemere.


[09/14/17 - 09:15 AM]
Video: Watch First Season Two "Search Party" Trailer; Series Returns November 19
The TBS series stars Alia Shawkat, Meredith Hagner, John Early, John Reynolds and Brandon Micheal Hall.


[09/14/17 - 06:07 AM]
Video: Netflix - "Kingdom of Us" - Trailer & Key Art Debut
The Netflix original documentary will premiere at the BFI London Film Festival on October 7 ahead of its global launch on Netflix on October 13.


[09/13/17 - 12:14 PM]
Video: Rob Schneider Returns in "Real Rob"
This season's guest stars include Adam Sandler, Eugenio Derbez, Michael Madsen, Danny Trejo, Angela Kinsey, Haylie Duff, Chris Kattan, Bobby Lee, Monica Huarte, Karyme Lozano and James Hong.


[09/13/17 - 09:41 AM]
Video: Crackle Releases Original Key Art and Trailer for Halloween Special "SuperMansion: Drag Me to Halloween" Streaming Thursday, October 5th
In the all-new stop-motion animated Crackle original special, the League of Freedom experiences all the fun and adventures of Halloween.


[09/12/17 - 10:19 AM]
Video: Netflix Debuts the Trailer for "The Death and Life of Marsha P. Johnson"
Having played a pivotal role in the previous year's Stonewall Riots, in 1970, Johnson and fellow trans icon Sylvia Rivera formed the world's first trans-rights organization, STAR (Street Transvestites Action Revolutionaries).