[04/10/17 - 07:30 AM]
Video: Survive. Together... "Sense8" Season 2 Trailer Is Now Available!
The second season of "Sense8" launches globally on Netflix on Friday, May 5.
---
[via press release from Netflix]
Survive. Together... SENSE8 Season 2 Trailer is Now Available!
Sensates by their nature are a threat to secrecy. They must band together and fight for their survival. See how their epic journey unfolds in the new trailer for Sense8 season 2.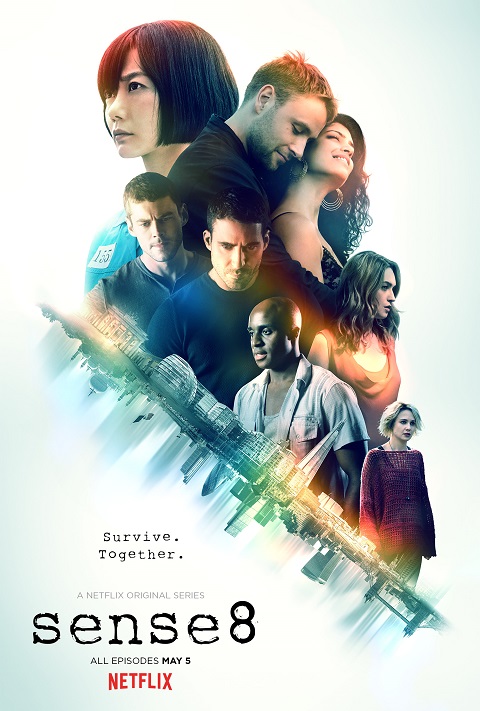 From renowned creative geniuses Lana Wachowski, Grant Hill (The Matrix, Cloud Atlas) and J. Michael Straczynski (Clint Eastwood's Changeling, World War Z), Sense8 is centered around eight characters, from different parts of the world, who experience a violent vision, and soon find themselves mentally connected by the experience. They become connected, able to see and talk to each other as though they were in the same place, with access to each other's deepest secrets. Not only must the eight adapt to this new ability and to each other, they must figure out why their lives are now in jeopardy. In Season 2, dark forces continue to track the cluster of eight connected characters. The sensates will learn more about BPO, the secret organization searching for their cluster and others like them, and will work to protect themselves from this organization that is out to hunt and kill them.
The second season of Sense8 launches globally on Netflix on Friday, May 5.
For more information, follow the Sense8 social pages: instagram.com/sense8 twitter.com/sense8 facebook.com/sense8TV sense8.tumblr.com



[06/18/18 - 10:07 AM]
Video: Trailer Released for Sundance Now's "Next of Kin," Making Its U.S. Debut on Thursday, June 21st
All episodes of the six-part drama star Archie Panjabi and Jack Davenport, and will be available to binge at once.


[06/18/18 - 06:00 AM]
Video: Set Sail with Netflix's New Trailer for "Like Father" Starring Kristen Bell and Kelsey Grammer
When a workaholic young executive (Kristen Bell), is left at the altar, she ends up on her Caribbean honeymoon cruise with the last person she ever expected: her estranged and equally workaholic father (Kelsey Grammer).


[06/15/18 - 09:03 AM]
Video: Enter a New Reality When "Kiss Me First" Launches on Netflix June 29 - Trailer Debut
Netflix's YA drama series follows a young woman who recently lost her mother and has been left adrift in London.


[06/14/18 - 10:01 AM]
Video: "Mindhunter" - The Making of a Serial Killer
Cameron Britton pulls back the curtain to reveal his process as he transforms from nice guy actor into disturbed serial killer Ed Kemper.


[06/14/18 - 10:00 AM]
Video: RuPaul's Drag Race Queens Recap Season 1 of TNT's "Claws"
Watch as these fierce ladies pay homage to the badass women behind the Nail Artisans of Manatee County.


[06/12/18 - 09:30 AM]
Video: Sony Crackle Gets Your Heart Pumping This Summer with Official Trailer for Travis Pastrana's "Action Figures 2"
The sequel to Pastrana's hit 2015 action sports movie "Action Figures" pays homage to old-school action sports videos and highlights extreme human performance.


[06/12/18 - 07:02 AM]
Video: "Marvel's Luke Cage" Final Trailer Released - Harlem's Queen Rises and Confronts New Menace
In the final trailer, Mariah Dillard is faced with an imminent and formidable threat to her hold over Harlem - the unstoppable Bushmaster.


[06/11/18 - 10:14 AM]
Video: TNT & R29 Reveal "French Fries" Official Trailer, Latest in "Shatterbox Anthology"
The film explores a young, hip African-American foodie couple's fight to resolve communication problems in a modern marriage of six years, four months and three and a half days.


[06/11/18 - 07:31 AM]
Video: Trailer Debut - Here We "GLOW" Again - Watch the Season Two Trailer Now!
Season two follows the women of GLOW as they become local celebrities, confronting the good, the bad, and the ugly realities of their newfound fame.


[06/10/18 - 05:15 PM]
Video: Netflix Loves Tonys - First Look at Tony Danza and Josh Groban in "The Good Cop"
Danza plays Tony Sr. - a lovable yet not exactly honorable, former NYPD officer who never followed the rules - who lives with his son, Tony Jr. (Groban) - a brilliant, straight-laced NYPD detective who makes a point of always following the rules while solving Brooklyn's toughest cases.


[06/07/18 - 08:04 AM]
Video: Trailer Debut - "Queer Eye" Season 2
Queer Eye is back and ready to transform the stylistically challenged into hip and happening savants at the hands of the new Fab Five.


[06/04/18 - 12:45 PM]
Video: "Lip Sync Battle" Sneak Peek - New Episodes Return Thursday, June 14 on Paramount Network
Alicia Silverstone, Mena Suvari, Derek Hough, Ben Higgins, Rachel Lindsay, Ramona Singer, Melissa Gorga and Karrueche Tran are all slated to appear.


[06/04/18 - 07:39 AM]
Video: "3%" - Season 3 Announcement - Netflix
You can't tell what's going to happen in season three... but she's coming.


[06/01/18 - 09:35 AM]
Video: Bridget Everett Records New "Brockmire"-Inspired Version of Her Song, "Rock Bottom" for Season Finale Promo
The acclaimed comedian, actress and singer Bridget Everett has recorded a new version of her blues song "Rock Bottom," featuring customized lyrics highlighting the booze-soaked antics of baseball announcer Jim Brockmire.


[05/30/18 - 12:31 PM]
Video: Netflix Unveils Trailer for Its First Comic Book, "The Magic Order"
This series will be six issues long and will be available for sale in comic stores beginning June 13.