[04/11/17 - 07:32 AM]
Video: "Orange Is the New Black" - Season 5 First Look
Netflix has released the heart-stopping first moments back in Litchfield in this :60 second first look clip from the premiere episode of season five.
---
[via press release from Netflix]
LIFE AT LITCHFIELD WILL NEVER BE THE SAME. YOUR FIRST LOOK IS HERE.
In anticipation of the upcoming season of Orange Is The New Black (June 9), which takes place in real time and over the course of three days, Netflix has released the heart-stopping first moments back in Litchfield in this :60 second first look clip from the premiere episode of season five.
Season four of Orange Is The New Black left us on the edge of our seats. An explosive riot sparked by Poussey's untimely death combined with the rage and grief felt by the inmates quickly escalated into utter chaos. In the final moments, it all comes to a head with a determined Daya now in possession of a gun -- and it becomes clear that, no matter what the outcome, life at Litchfield will never be the same.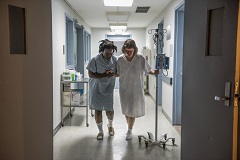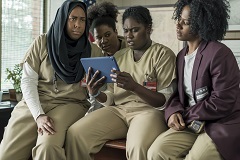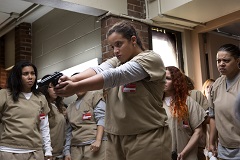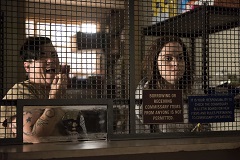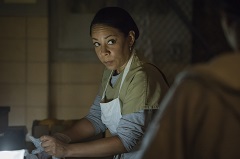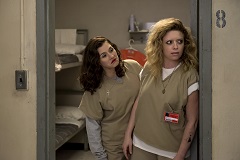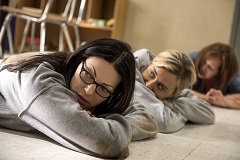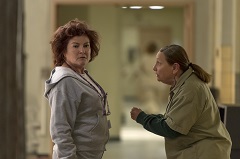 Orange Is The New Black Season Five Debuts Friday, June 9 on Netflix
A riot sparked by Poussey's death quickly escalates when the inmates gain control of the prison. Once they get a taste of power, chaos erupts in the halls of Litchfield. The unprecedented season will take place in real time and over the course of just three days, leaving the inmates' lives forever changed as they are emboldened to fight for redemption, resolution and the respect they deserve. The series will debut on Friday, June 9 exclusively in all Netflix territories.



[01/18/18 - 12:21 PM]
Video: "Brockmire" Returns to the Booth in the Big Easy - First Season 2 Teaser Released
In a first look, Jim Brockmire (Hank Azaria) arrives in New Orleans, seeking redemption while wallowing in excess and looking to get his once-legendary baseball broadcast career back on track.


[01/18/18 - 11:52 AM]
Video: A Series Inspired by the Greatest Corruption Scandal of All Time - "The Mechanism" Will Be Revealed on March 23
Get ready to join a small group of dogged investigators on the hunt to discover the inner workings of the biggest corruption scheme of all time and the impact their pursuit will have on everyone involved - including themselves.


[01/18/18 - 10:32 AM]
Video: Starz Releases "Ash vs Evil Dead" Season 3 Key Art and Trailer
The third season finds Ash, having gone from murderous urban legend to humanity-saving hometown hero, discovering that he has a long lost daughter who's been entrusted in his care.


[01/18/18 - 10:12 AM]
Video: Hard Work. Dedication. Teamwork. "Coach Snoop" Coming to Netflix February 2
"Coach Snoop" follows the legendary rapper outside the studio and on the field, as he coaches a team of teenagers in the Snoop Youth Football League.


[01/17/18 - 07:03 AM]
Video: First Look at the New Season of "Queer Eye" Launching Exclusively on Netflix February 7
The series returns to Netflix and is going global, introducing audiences around the world to a modern aesthetic, diverse perspective and a brand new Fab Five.


[01/16/18 - 06:30 AM]
Video: "Breathe" - Official Trailer - Prime Video
"Breathe" is an Indian drama that explores the lives of ordinary men faced with extraordinary circumstances.


[01/15/18 - 08:21 AM]
Video: Netflix Reflects on "Black Mirror" Season 4 with Six All-New, Behind-the-Scenes Videos
"Black Mirror" Season 4 is now streaming on Netflix.


[01/14/18 - 01:45 PM]
Video: Crackle Releases Trailer and Key Art for New Original Scripted Series, "The Oath," from Curtis "50 Cent" Jackson and His G-Unit Film & Television Inc., to Premiere Thursday, March 8th
The show stars Ryan Kwanten, Cory Hardrict, Katrina Law, Arlen Escarpeta, J.J. Soria and Sean Bean.


[01/12/18 - 12:31 PM]
Video: "Genius: Picasso" - Trailer - National Geographic
Antonio Banderas plays the title role on the new season, premiering Tuesday, April 24.


[01/12/18 - 07:14 AM]
Video: Get a Rare Glimpse Behind the "Black Mirror" with All-New Season 4 Featurette
The video features in-depth interviews from creator, writer and executive producer Charlie Brooker, executive producer Annabel Jones and "Arkangel" director Jodie Foster.


[01/11/18 - 09:02 AM]
Video: Trailer for Hulu's "The Looming Tower"
Based on the Pulitzer-Prize winning book, "The Looming Tower" traces the rising threat of Osama Bin Laden and Al-Qaeda in the late 1990s and how the rivalry between the FBI and CIA during that time may have inadvertently set the path for the tragedy of 9/11.


[01/11/18 - 07:49 AM]
Video: Explore "Altered Carbon" Here with the Official Season 1 Trailer
Based on the classic cyberpunk noir novel by Richard K. Morgan, "Altered Carbon" is an intriguing story of murder, love, sex, and betrayal, set more than 300 years in the future.


[01/10/18 - 09:47 AM]
Video: Crackle Announces February 8 Premiere and Reveals Trailer, Key Art and First-Look Images for "In the Cloud"
"In the Cloud" takes place in the near future after dozens of people are killed in attacks by a serial terrorist bomber.


[01/10/18 - 09:09 AM]
Video: Trailer for "Dirty Money" - A Netflix Original Documentary Series, Available Globally on January 26
From Academy Award-winning director Alex Gibney, this thrilling six-part investigative series provides an up-close and personal view into untold stories of scandal and corruption in the world of business.


[01/09/18 - 03:26 PM]
Video: Season Three of "UnREAL" Returns February 26 - Brand New Season 3 Extended Two-Minute Promo
Caitlin FitzGerald takes the reins as Everlasting's female "suitress," Serena.