[04/19/17 - 01:03 PM]
Video: Freeform Releases First Trailer and Photo from Upcoming Marvel Television Series "Marvel's Cloak & Dagger"
The network has ordered 10 one-hour episodes slated to debut early 2018.
---
[via press release from Freeform]
FREEFORM RELEASES FIRST TRAILER AND PHOTO FROM UPCOMING MARVEL TELEVISION SERIES "MARVEL'S CLOAK & DAGGER"; 10 EPISODES SET TO PREMIERE EARLY 2018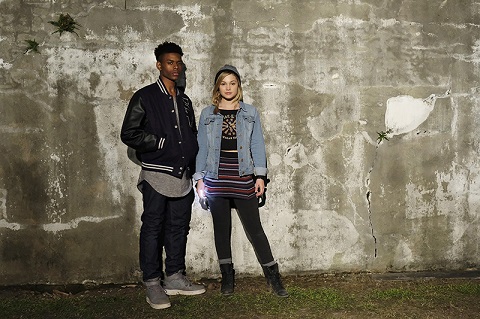 "Marvel's Cloak & Dagger" is the story of Tandy Bowen (Olivia Holt) and Tyrone Johnson (Aubrey Joseph) - two teenagers from very different backgrounds, who find themselves burdened and awakened to newly acquired superpowers which are mysteriously linked to one another. Tandy can emit light daggers and Tyrone has the ability to engulf others in darkness. They quickly learn they are better together than apart, but their feelings for each other make their already complicated world even more challenging. The network has ordered 10 one-hour episodes slated to debut early 2018. "Marvel's Cloak & Dagger" stars Olivia Holt, Aubrey Joseph, Andrea Roth, Gloria Reuben, Miles Mussenden, Carl Lundstedt, James Saito and J.D. Evermore. The series is co-produced by Marvel Television and ABC Signature Studios. Joe Pokaski ("Underground," "Heroes") serves as showrunner and executive producer; Jeph Loeb ("Marvel's The Punisher," "Marvel's The Defenders"), Marvel's head of Television, and Jim Chory ("Marvel's The Punisher," "Marvel's The Defenders") also serve as executive producers. Gina Prince-Bythewood ("Love & Basketball") directed the first episode.



[05/25/17 - 09:37 AM]
Video: Sneak Peaks from Netflix's "Friends from College" - Premieres July 14th
Soak up all of the immature use of mature language in four all new NSFW sneak peeks at the new Netflix original series.


[05/25/17 - 08:59 AM]
Video: All-New Hack into "Broad City!" Communication Barriers Keep Abbi & Ilana From Successfully Playing Synchronized Solitaire
Season four premieres on Wednesday, August 23 on Comedy Central.


[05/25/17 - 07:04 AM]
Video: EPIX Releases First Trailer for "Get Shorty"
The series is based in part on the 1990 Elmore Leonard novel of the same name.


[05/24/17 - 09:46 AM]
Video: "Game of Thrones" Season 7 - Official Trailer (HBO)
The new season rolls out Sunday, July 16 on the pay channel.


[05/22/17 - 11:31 AM]
Video: OWN Unveils Season Two Trailer of Acclaimed Drama Series "Queen Sugar"
The new season will debut with a two-night premiere on Tuesday, June 20 and Wednesday, June 21.


[05/22/17 - 11:30 AM]
Video: "Flaked" - Season 2 - Official Trailer
Season two launches globally on Netflix on Friday, June 2.


[05/22/17 - 10:27 AM]
Video: Final Trailer Released for BBC America's "Orphan Black"
Get a final look at what to expect this season on the network's award-winning clone drama before the series returns Saturday, June 10.


[05/22/17 - 09:16 AM]
Video: New Showtime Drama Series "I'm Dying Up Here" Available Now for Early Sampling
Starting today, consumers who do not subscribe to Showtime can watch the series premiere for free on YouTube and SHO.com.


[05/22/17 - 09:10 AM]
Video: First Look at "Bobcat Goldthwait's Misfits & Monsters" on truTV
In early 2018, truTV will premiere the new anthology series that features twisted morality tales.


[05/18/17 - 09:51 AM]
Video: The CW's First Look Trailers for 2017-18
The network releases the sizzle reels for "Life Sentence," "Black Lightning," "Dynasty" and "Valor."


[05/18/17 - 03:01 AM]
Video: Okja Comes to Life in Official Trailer for Bong Joon Ho's Latest Film
Tilda Swinton, Paul Dano, Byun Heebong, Steven Yeun, Lily Collins, Giancarlo Esposito and Jake Gyllenhaal star in the Netflix original movie.


[05/17/17 - 03:37 PM]
Video: "Snowfall" - Last Words Official Trailer
"Snowfall," FX's new original series, premieres July 5.


[05/17/17 - 02:31 PM]
Video: "Star Trek: Discovery" Unveils First Look Trailer and Key Art; Series Coming to CBS All Access This Fall
Additionally, the series will feature 15 episodes, up from the previously announced 13, and include a companion after-show, "Talking Trek," presented on CBS All Access.


[05/17/17 - 02:30 PM]
Video: First Look at CBS's New Series for Fall 2017
The network releases trailers for all six of its newcomers due this fall.


[05/17/17 - 01:22 PM]
Video: What Is Upfront? - 2017 Sizzle - truTV
The talent of truTV reveals how they really feel about the Upfronts.